Burley caregivers ease holiday blues for elderly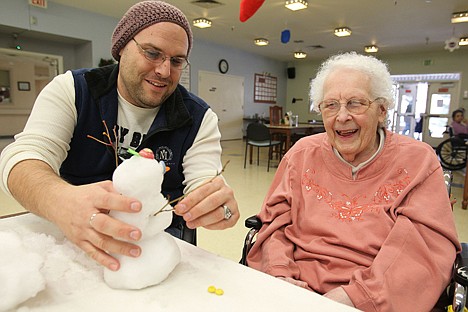 <p>Michael Thompson, activities assistant at Countryside Care & Rehabilitation in Rupert, helps Ramona Garner build a snowman out of real snow on Dec. 6.</p>
by
Laurie Welch
|
December 26, 2010 8:00 PM
BURLEY - Holidays can represent a time of warmth that comes from reconnecting with family and friends.
But for Idaho seniors isolated from their loved ones by death or distance, the season can become one of loneliness and depression.
Eighty-year-old George Heald, who lives at Countryside Care & Rehabilitation in Rupert, said although he doesn't have family in the area who can visit him during the holidays, he takes the season in stride.
"It's what you make of it," Heald said. "You can make it a tough place or you can make it a good place and I choose to make it a good place. I've noticed that some people here get a little down in the dumps during Christmas, but life's too short to get that way. I don't let anything get the best of me."
Heald said he enjoys the friendships he has cultivated at the care center, adding that sometimes it's nicer to spend time with friends who are chosen rather than family. He especially enjoys the visiting therapy dogs that are brought to his room.
But not everyone takes to the season of holiday change as well as Heald. College of Southern Idaho Office on Aging spokeswoman Shawna Wasko said that when people get older they don't always tolerate the holiday festivities as well.
"Sometimes they're just tired and it's just too much excitement," Wasko said.
Regardless of their methods or location, the caretakers of Idaho's elderly and infirm are put in a unique situation during the holidays. Tasked daily with ensuring residents' well-being, they must also care for emotions strained by the holiday's stresses and memories of family either lost or too far away to connect with.
At the Mini-Cassia Care Center in Burley, 2 1/2 pounds of black and white Shih Tzu fluff bobs up and down along a wooden gate in Administrator Joshua Thompson's office.
Several residents pause at the doorway to greet Thompson and the puppy named Maximus.
At just a few weeks old, the pup is already in training to become a therapy dog, just one of the programs in place to cheer center residents.
Thompson oversees the 68-bed nursing home that provides care for residents with behavioral issues. Not all of the residents are seniors, but all live away from their families.
"We take people from all over not just Idaho which means that they are often isolated from their families," Thompson said.
Most of those families are good about trying to visit as often as possible. But distance and weather can be prohibiting factors, especially during the holidays.
"It's a tough time of the year and the residents deal with loneliness," Thompson said. "Many of our residents are detached from a significant other. If they are married, one may be here and one still at home."
Thompson said the best way to ease residents' pain is to keep them really busy.
"We want to keep them occupied and having fun because depression worsens negative behavior," Thompson said.
Wasko said caregivers at nursing homes and assisted-living facilities walk a fine line during the holidays. While many provide a slate of activities meant to keep residents active, Wasko said that a better option may be to chart out how much each individual should attend. She added that people who are recently widowed often don't feel like celebrating Christmas at all.
"Sometimes changing what they have for the holiday meal and decorating the tree differently can help," Wasko said. "They need to start new traditions."
Wasko said she encourages seniors or others who have lost a partner to adopt a child from an angel tree for Christmas.
"For those feeling lost and alone it can show them they are not the only ones having trouble," Wasko said. "Giving to those less fortunate is one of the best things we can do."
During the holidays, Mini-Cassia Care Center staff members pull out all the stops. They donate money to rent Santa Claus and Mrs. Claus suits for the center's Christmas party and every employee draws two residents' names for a gift exchange.
Thompson said his employees require little coaching on how to keep their own spirits high during the holidays, adding that their positive outlook provides extra meaning and joy for those who live there.
"This place is different from any other building that I've ever worked in," Thompson said. "The staff really cares for the residents like they are family."
Loralei Anderson, a 78-year-old resident at the Countryside facility in Rupert, is the mother of seven children many who live close enough to visit regularly and attend the center's holiday dinners.
Although Anderson doesn't always participate in the nursing home's scheduled activities, she likes to watch the children who are brought in to perform.
"The children are important. I always go to see the babies when they bring them in to dance," she said. "They are so cute and adorable. The kids are Christmas."
Anderson said the camaraderie she feels with her roommate and the nurses also helps during times her family members can't visit.
Angel Bethke, Countryside's activities director, said center staff works hard to make the holidays special and hosts large family dinners for both Thanksgiving and Christmas. Employees also take residents to Christmas tree festivals and provide transportation for residents who can go to a local family member's home for the holidays.
Minidoka County Senior Center Director Penny Schell said the holidays can be equally challenging for elderly residents who remain in their homes.
"It seems to be especially hard for them. Sometimes they have so little and are all alone," Schell said. "It can be a very lonely time for them."
Recent Headlines
---