'Every child should believe'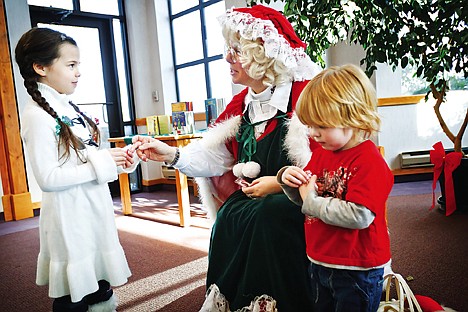 <p>Kimberly Mumford visits with Brooklyn Hiaasen, 6, and her brother, Lake, 2, as she hands out candy canes Tuesday dressed as Mrs. Claus at the Hayden Library.</p>
by
BILL BULEY
Staff Writer
|
December 25, 2010 8:00 PM
COEUR d'ALENE - Mrs. Claus was busy at the North Pole on Monday night, baking and decorating dozens of cookies for kids.
Christmas sugar cookies, gingerbread cookies, chocolate chip cookies and Christmas spritz cookies.
"I love baking," she said.
And she loves delivering Christmas cheer through story, song and treats to the young, the old and everyone in between.
It's what Santa's wife does best.
Which is why Kimberly Mumford doesn't just play the role of Mrs. Claus. In a way, she is Mrs. C - and has been for more than two decades. She has visited libraries, hospitals, fire departments and assisted living centers, spreading the season's spirit.
It's about giving back, she says. It's about cheering up someone who may be down.
"I like to put a smile on a child's face, make the elderly feel they're not forgotten at Christmas time," the Coeur d'Alene woman said. "Giving to others is what it's about."
Mumford visited the Hayden Library on Tuesday. Donning her Mrs. Claus suit, she read "Twas the Night Before Christmas" to children, helped them make gingerbread houses and led a boisterous, wildly enthusiastic version of "Rudolph the Red-nosed Reindeer."
Wednesday, she was off to visit residents at Beehive Homes, despite a sprained ankle.
"I tell the kids I slipped and fell on the ice," Mumford said, laughing.
Fortunately, that doesn't happen too often, because Mrs. Claus is nearly as busy as her famous hubby in the red suit and black boots.
Mumford's mom made the Mrs. C costume for her daughter when she was 15 to wear at a Christmas party at their Pennsylvania home. Instead of rebelling, the teen relished the rosy role and by 16, was playing Mrs. Claus for community events and reading to young and old in Pennsylvania towns and cities like Dickson City, Throop, Olyphant, Jessup and Scranton.
When she grew up, she kept at it and even made a name for herself. The Penn State marketing graduate has been in parades, the main attraction at malls and joined the weatherman on TV for Christmas predictions.
Over the years, Mrs. Claus has arrived at celebrations by fire truck, by train, by limousine, by helicopter and yes, by sleigh and reindeer, too.
Today, she lives in Coeur d'Alene with her husband, a member of the military. They're headed to Japan next year.
"That way I'll be able to play Mrs. Claus in another country," Mumford said.
Occasionally, Mrs. Claus takes a paying job, but primarily, it's all volunteer - for the love of Christmas.
"I do this for the kids," she said. "And there's so many elderly by themselves at Christmas. I love going in there to cheer them up. It makes you think back to when you were children."
Sometimes, Santa takes a break from overseeing the toy operation to accompany his wife - but only sometimes. There's far too many toys to be made and gifts to be wrapped by Dec. 25.
"Santa is really busy up there at the North Pole," she said. "I hope he stays out of the bakery and doesn't eat all the cookies."
Mumford tells children to leave cookies for Santa and carrots for the reindeer. She's a believer in letting them believe in the magic of Kris Kringle.
"Every child should believe in things, have an imagination, be creative," she said.
After 23 years as Mrs. C, Mumford hasn't grown weary of her second life. Mainly, because it's not work.
"This is one job you don't have to retire. You just age gracefully," she said with a laugh.
As for her own Christmas wishes, Mrs. Claus doesn't want diamonds or gold or even an iPhone.
No, what she's after is free.
It's up to each of us to see that she gets it.
"I want peace on Earth. I want everybody to be happy at Christmas," she said. "And remember your family. Always remember your family."
Recent Headlines
---