Dashing through the snow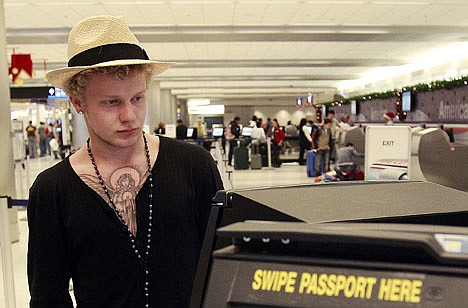 <p>Petja Piiroinen, of Finland, performs a self check in on his way to New York at Miami International Airport in Miami, Thursday, Dec. 23, 2010. (AP Photo/Alan Diaz)</p>
|
December 25, 2010 8:00 PM
NASHVILLE, Tenn. (AP) - A Christmas Eve snow storm that blanketed parts of the Midwest was headed southeast, expected to bring rare Christmas Day snowfall to Kentucky, Tennessee and even Georgia.
After dumping 9 inches of snow in Iowa by Friday morning, the storm was likely to dip south into Tennessee and Georgia on Saturday, then perhaps move north Sunday. Winter weather advisories were in effect from Kansas east to Kentucky and from Minnesota south to Arkansas on Friday.
The National Weather Service said that for the first Christmas in 17 years, Nashville and Atlanta could get more than just a dusting of snow.
Karla Winfrey returned to Nashville from her current home in Atlanta to do some last minute running around Thursday for her mother who's cooking Christmas dinner.
"I wanted to make sure I was here before it started accumulating," said Winfrey, a multimedia journalist. "I've only missed one Christmas in my entire life from being home, so it was important for me to be here to get a taste of Tennessee for Christmas."
The snow made traveling tough Friday in northeastern Iowa, where the bulk of the storm hovered.
Scott and Lori Whiting left Chicago for Colorado Springs, Colo., with their nine children Thursday evening. By morning, they had only reached Des Moines, a trip that normally takes about four hours, Lori Whiting said.
"The cars are really sliding around up there," Lori Whiting said. "It's kind of slushy. Some parts it's packed, and you don't think it's going to be slick and all of a sudden your car is fishtailing."
Scott Whiting got into a fender bender at a Des Moines truck stop. Still, Lori Whiting said they hoped to make it to Colorado Springs for Christmas Eve.
"Depending on the number of potty breaks, you understand," she said.
Recent Headlines
---