There's room at this inn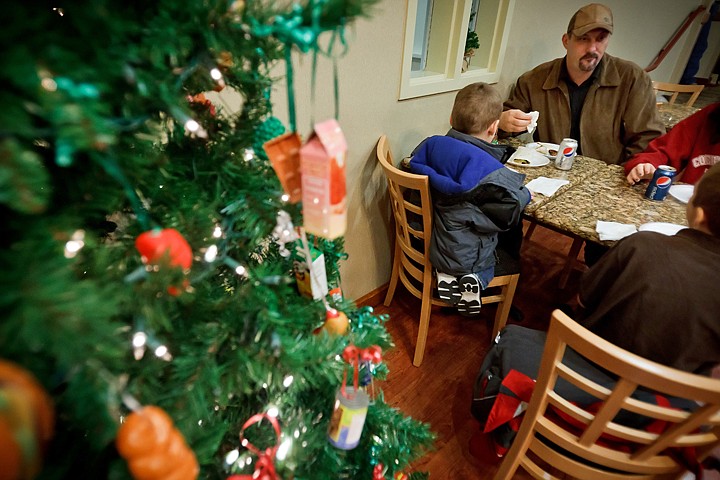 <p>Adam Achziger enjoys a meal with his children Thursday at the Holiday Inn Express & Suites in Coeur d'Alene after a family outing to see a movie. Achziger and his family, who have been staying at various churches through Family Promise of North Idaho, were provided a week's stay at the hotel as a "worry-free" break during Christmas.</p>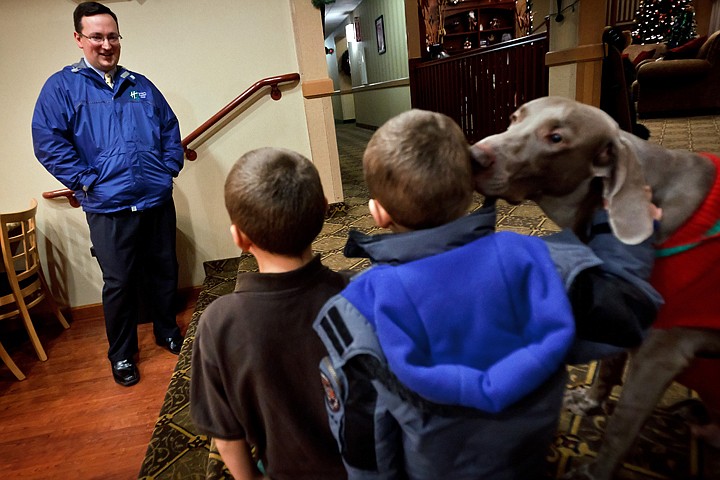 <p>Mike O'Brien, general manager of the Holiday Inn Express & Suites, talks with Adam Achziger's sons as they visit with the hotel dog Thursday.</p>
Previous
Next
by
Alecia Warren
|
December 24, 2010 8:00 PM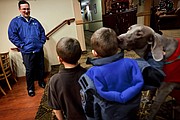 Holiday Inn Express is providing a little extra Christmas cheer this year.
The Coeur d'Alene hotel has taken in three needy families for the week to give them a stress-free holiday, where meals, rooms and gifts are provided for free.
"Our only wish out of this is just to give a little bit of hope," said hotel General Manager Mike O'Brien. "I hope that someday when they (the families) are back on their feet, they too can help someone out and just pay it forward."
Sunday, Dec. 19, was the check-in day for the two families of three and one family of five, their children ranging from a few months old to 13 years old. They will stay until Sunday, Dec. 26.
The families will receive more than just free rooms, O'Brien said.
Businesses across the community have pitched in to show these folks a good time, he said.
"We offered to do this, and all of a sudden people found about it and it grew," he said.
The families are being treated to daily outings, including free dinners at The Fedora Pub and Grille, Azteca Grill and Bardenay Restaurant and Distillery.
They also get free movie tickets and snacks from Hayden Cinemas, and the general manager from the Hayden Holiday Inn Express donated free tickets to the Triple Play water park.
The Coeur d'Alene hotel also bought the families swimsuits to play in the hotel pool.
"Everyone is coming together," O'Brien said. "It's great."
The families have been staying with host families and at churches, arranged by Family Promise of North Idaho, a nonprofit that helps families on hard times find shelter and get back on their feet.
Family Promise asked the hotel to take in the families for a few days as a vacation from worry.
"We said, 'Of course we're going to step up and do this,'" O'Brien said, adding that the staff was inspired by a Spokane hotel that also gave star treatment to a low-income woman and her family.
Family Promise was closed this week, and staff couldn't be reached for comment.
Erika, 22, said she wanted to cry when she heard that she and her two boys would stay at the hotel free of charge.
"It's like a little fantasy. Even if I wasn't in the situation I am, even if I was working, I wouldn't be able to afford this," Erika said, adding that her sons, 6 months old and 2 years old, have loved the outings.
One of the best parts is just sleeping in, Erika added. The single mother and her kids sleep at a different church every week, and have to leave by 7 a.m.
"For me, sleeping in is 7:30," Erika said.
It wouldn't be a true holiday without presents, O'Brien said.
That's why the hotel staff has bought a heap of presents for the families, thanks to donations and special discounts offered by companies like Cabela's and Timberline Distributors.
"I think we've spent about $350 so far, but really we've gotten well over $700 to $800 worth of merchandise from Timberline, alone," he said. "We've got Columbia shoes, Teva shoes, snow boots and clothes for these families. It's great."
Santa Claus himself will make an appearance on Saturday to give the kids their gifts, O'Brien said. Afterward, the hotel staff is providing a homemade feast.
"I never thought that doing something like this would be so rewarding," O'Brien said. "I can't stress that enough, and I wish that in seeing these small actions, more people will do it."
Recent Headlines
---