Holiday travel looking good ... at least for now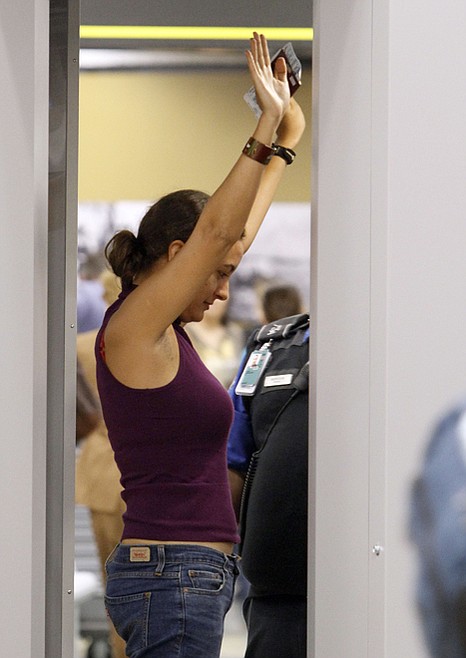 <p>A passenger is scanned as she prepares to travel at Miami International Airport on Thursday.</p>
|
December 24, 2010 8:00 PM
NEW YORK (AP) - Fair weather helped make the holiday sojourn a not-so-painful experience in much of the country Thursday, even with more people on the move than last year, but travelers' luck might be running out.
A storm was expected to bring snow and ice to parts of the heartland Friday, deliver a rare white Christmas to Nashville on Saturday, and perhaps sock swaths of the Northeast on Sunday.
"People that are going to Grandma's house," said Bobby Boyd, a meteorologist for the National Weather Service in Nashville, "need to get going."
Eric and Tatiana Chodkowski, of Boston, were driving Thursday with their kids, ages 2 and 4, to see relatives in New York. They said forecasts for snow on Sunday made them wonder whether they'd make it back then, as planned.
They deemed the roads congested but manageable Thursday, and most people found the nation's airports to be the same way.
Planes took off into windy but accommodating skies at New York's LaGuardia Airport as Steve Kent prepared to fly to Denver for a family ski trip, scoffing at the puny lines.
"I don't find it that difficult," he said. "I think Thanksgiving is harder."
At airports, the long security lines feared over Thanksgiving, when practically everyone is on the move the same day, never materialized, and aren't expected to now. The spread-out nature of the year-end holidays means things won't be quite so cramped.
Travelers may notice that airport screeners are taking a closer look at empty insulated beverage containers like thermoses because air carriers have been alerted about a potential terror tactic involving them, an administration official said.
The official, who spoke Thursday on condition of anonymity to discuss sensitive security matters, stressed that there is no intelligence about an active terror plot. The Homeland Security Department regularly alerts law enforcement about evolving terror tactics.
The Air Transport Association expects 44.3 million people on U.S. flights between Dec. 16 and Jan. 5 - up 3 percent over the same period a year ago but still below pre-recession travel volume. The average ticket price is $421, up by 5 percent.
The Vino Volo Wine Room at Detroit Metropolitan Airport is benefiting from more travelers, manager Mark Del Duco said Thursday.
"The Christmas mood is more there this year than last," he said, estimating that sales are up this 10 percent this season compared with last year as financially confident travelers spend more freely.
Mike Lukosavich, of Harrison Township, Mich., was surprised the first leg of his trip was moving so smoothly when he stopped at rest area on the Ohio Turnpike in Elmore, Ohio, near Toledo.
He, his wife and their 8-month-old daughter were heading to see family in Parkersburg, W.Va. His only headache came when he saw the gas price of about $3 a gallon.
"It's something you have to do to see the family," said Lukosavich, 33.
The AAA has expected overall travel to rise about 3 percent this year, with more than 92 million people planning to go more than 50 miles sometime between now and Jan. 2. More than 90 percent said they would be driving.
Recent Headlines
---