A year of iPads, Betty, 'Glee' and multiple Palins
|
December 24, 2010 8:00 PM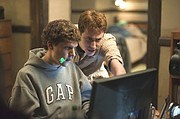 Politics and pop culture. Remember when they used to be, well, separate? In recent years these two worlds have seemed to inch ever closer, or maybe to overlap, but in 2010, nobody traveled between them more successfully than Sarah Palin.
No longer Alaska governor (wow, that does seem a long time ago) but omnipresent on the political scene nonetheless, she also had a multi-format presence in our culture: as a TV commentator, a best-selling author, and of course, a reality show star. Heck, she even almost won "Dancing With the Stars" - oh wait, that was daughter Bristol.
No matter. In our annual look at pop culture moments, Sarah Palin, with some help from her family, gets star billing.
JANUARY:
The iPAD tablet debuts, briefly raising the vexing philosophical question: Do we really need yet another gadget? Answer: Yup, apparently we do. Ending a dreadfully botched experiment, NBC removes Jay Leno from 10 p.m., restoring him to 11:35 and thus displacing CONAN O'BRIEN, who is, shall we say, a little annoyed. SARAH PALIN, no doubt annoying opponents who were hoping she'd eventually disappear, becomes a commentator at Fox News Channel. An actual career shift, or a canny step toward a 2012 run? She's not telling. Maybe by the end of the year ...
FEBRUARY:
The spry, sly BETTY WHITE scores big in a Snickers Super Bowl ad, beginning an incredible year for the 88-year-old actress that will include a Facebook-generated "Saturday Night Live" hosting gig. As Betty rises, TIGER speaks: "What I did was not acceptable," the fallen golf great says with economical understatement in a carefully stage-managed appearance that will be analyzed ad nauseam. PALIN watch: During a speech to tea party activists, the words "energy," ''tax" and "lift American spirits" are seen scribbled on her hand. Later, White House spokesman Robert Gibbs will mock her with the words "hope" and "change" scribbled on his own palm. Somehow, we think Palin will not only recover but turn this into a catchy joke ...
MARCH:
We were right. On Leno's "Tonight Show," Palin flashes "Good evening and welcome to 'The Tonight Show'" on her palm. She also says she's going to play TINA FEY in an upcoming Vegas show (ba dum-dum.) But there's much more from Palin this month: Publishers announce she's working on her second book. Heavyweight TV producer Mark Burnett pitches her Alaska-themed reality show, which lands at TLC. There's room for politics, too: Palin lends a hand to former GOP running mate John McCain by appearing at his campaign rally. And in a Facebook post, she makes waves by declaring: "Don't Retreat, Instead - RELOAD!"
APRIL:
A month of reprises. WOODS returns to golf at the Masters, his first competition in nearly five months. (He ends up tying for fourth.) And FEY, who made so much hay out of her 2008 "SNL" run as Palin - "I can see Russia from my house!" - reprises the role as guest host, introducing a mock "Sarah Palin Network" with shows like "Tea Party Wheel of Fortune," ''Are You Smarter than a Half-Term Governor?" and "Hey Journalist, I Gotcha." The real Palin, who first introduced herself to the world as a hockey mom, makes one of her many endorsements, calling a Minnesota governor hopeful a "straight talking hockey dad."
After a disappointing "American Idol" season, SIMON COWELL exits the formidable but slumping franchise. Speaking of slumping franchises, the second "Sex and the City" movie, set largely in Abu Dhabi, debuts to some of the most scathing reviews in memory, not to mention accusations that it lampoons Muslims. PALIN watch: Bristol Palin, perhaps foreseeing she'll be a hit on the upcoming "Dancing With the Stars," signs with a speakers agency. Her mom tells a crowd: "If you thought pit bulls were tough, you don't want to mess with mama grizzlies." And the uber mama grizzly is the subject of a comedic monologue by none other than the president: He tells the White House Correspondents dinner that he's popular on Twitter and Facebook - "or as Sarah Palin calls it, the socialized media."
Winner, most ill-advised remark: BP's Tony Hayward, who apologizes this month for his "I'd like my life back" comment. Winner, most ill-advised media interview: Gen. Stanley McChrystal, fired after criticizing the Obama administration in Rolling Stone. Winners, most surprising marital split: Al and Tipper Gore, previous winners of most surprising liplock at a political convention, who announce their separation after 40 years of marriage. PALIN watch: Reports emerge of a thawing in relations between exes Bristol Palin and Levi Johnston. More on this later ...
WONDER WOMAN gets a wardrobe change from DC Comics - no more star-spangled hot pants. Once an awkward-looking teen, Chelsea Clinton is a beautiful bride in Rhinebeck, N.Y. - and Americans are clearly still obsessed with royal weddings. President Obama goes on "The View," revealing a huge gap in his pop culture knowledge when he can't say who Snooki and The Situation are. PALIN watch: The word "refudiate," her unintentional splicing of "refute" and "repudiate," enters the lexicon. Bristol and Levi promptly "refudiate" their breakup - the engagement, they announce, is back on.
AUGUST:
RIHANNA, who made headlines in 2009 when she was assaulted by then boyfriend Chris Brown, collaborates with rapper Eminem in a chart-topping song, "Love the Way You Lie," that graphically depicts a physically abusive relationship. The debate: Is the song a tool to fight domestic violence, or does it glorify it? And remember the party-crashing Salahis? Well, they're baaaack ... this time as reality stars, in "The Real Housewives of DC." The pop culture hero of the month, though, is STEVEN SLATER, the JetBlue flight attendant who, having had quite enough, leaves his job - and career - via the plane's emergency chute, beer in hand. PALIN watch: NEVER MIND! Bristol Palin refudiates, er, breaks off her engagement to Johnston, after he tells her he may have fathered a child with another woman.
SEPTEMBER:
You're LADY GAGA and you want to make a sartorial statement at the VMA awards. Tough proposition, since you look pretty unique all the time. What are you gonna do, dress up in raw meat or something? (Yup.) The movie "SOCIAL NETWORK" debuts, becoming an instant Oscar front-runner and beginning Facebook co-founder MARK ZUCKERBERG's year of pop culture fame. PALIN watch: Apparently they wanted Todd Palin first, but it's Bristol who makes her debut on "Dancing with the Stars." Mama apparently didn't tell her not to come - so she dances a cha-cha, to Three Dog Night's "Mama Told Me (Not To Come)." Satirist BILL MAHER gets a star on Hollywood's Walk of Fame and thanks "George Bush, Sarah Palin and the pope."
OCTOBER:
So many of us love the fun, creative Fox hit "GLEE." But those ultra-sexed-up photos a couple of cast members pose for in Esquire this month? Not so much, especially Lea Michele's spread-eagled number in panties - in a high school locker room. And we've seen strange political ads before, but maybe not THIS strange: "I'm not a witch," says Delaware Senate hopeful Christine O'Donnell. "I'm you." In November, voters would decide not to elect ... themselves. PALIN watch: A Washington think tank finds that Obama was the most joked-about political figure this year. Coming in second? A certain former Alaska governor.
NOVEMBER:
There will be a real royal wedding! Britain's Prince William proposes to Kate Middleton, promising an April 29 extravaganza. But otherwise, on our pop culture clock, it's a Palin month. "Sarah Palin's Alaska" premieres on TLC, and her second book, "America by Heart: Reflections on Family, Faith and Flag," hits stores. A reality show, a best-selling book, and a bunch of her "mamma grizzlies" headed for office after the midterm elections ... what more can you ask? Well, Bristol Palin makes the finals on "Dancing," setting off a furious debate over whether the voting is just all politics. Winning, she says before the finale, "would be like a big middle finger" to the Palin haters; she ends up coming in third. FEY accepts her Mark Twain Prize for American Humor, and she, too, thanks ... you betcha!
DECEMBER:
Sorry, JULIAN ASSANGE: Facebook may be nearly 7 years old, but ZUCKERBERG, its 26-year-old CEO, is Time Magazine's Person of the Year, the youngest since Charles Lindbergh in 1927. Assange, the WikiLeaks founder and a top contender for the honor, sure is ticked off - oh wait, that's the faux Assange, in a popular SNL skit skewering both of them. OPRAH WINFREY launches the final season of her talk show with a typically understated gesture - bringing her entire audience on an eight-day trip to Australia. SNOOKI and her "Jersey Shore" mates - are you listening, Mr. President? - snag a spot on Barbara Walters' annual list of most fascinating people.
Who else is on the list? Sarah Palin, the only person to be on it three times in a row. And at year's end, though she's dropping more and more hints of a 2012 presidential run, she's still not telling.
Recent Headlines
---