'A gift that starts with a baby'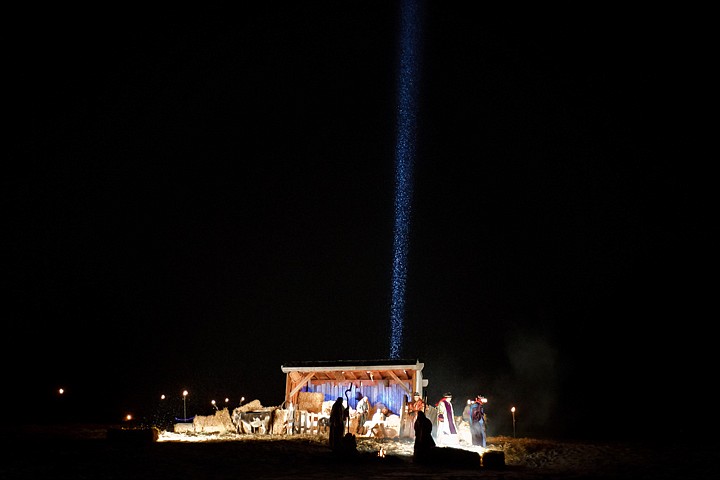 <p>A beam of light shines toward the sky to Wednesday evening as actors perform in the live nativity scene at New Life Church in Hayden.</p>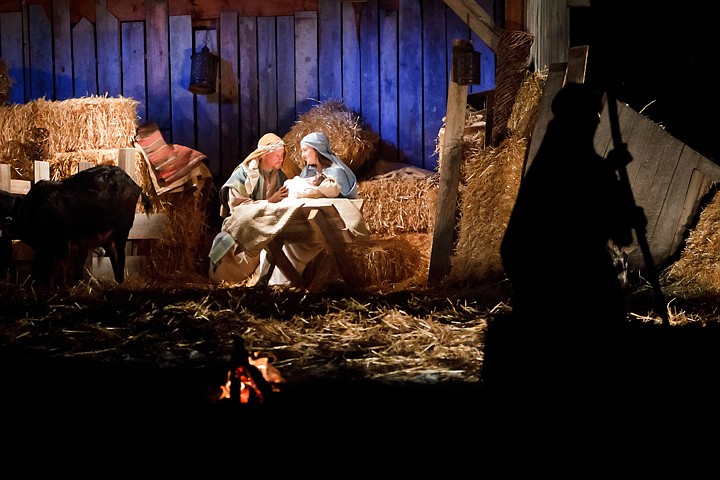 <p>The nativity scene at New Life Church in Hayden allows viewers to drive up to watch the performance and listen to a narration on their car radio.</p>
Previous
Next
by
BILL BULEY & Brian Walker
Staff Writer
|
December 24, 2010 8:00 PM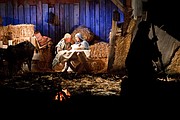 Ron Hunter, pastor of Coeur d'Alene Church of the Nazarene, will not give a sermon tonight, Christmas Eve.
He will not preach about the birth of Jesus Christ 2,000 years ago and its importance today.
Instead, he will let the light tell the story.
At the 6 p.m. service, the sanctuary will be darkened, and those attending will stand in a circle with a candle they receive upon entering.
Then, Hunter will use the Christmas candle to light the candle of the person next to him. That person, will light the candle of the person next to them.
They will share the light. And the light will go around the room.
"When the person receives the light, they become a person, you can see their face," Hunter said. "It's like sharing the good news."
"It's absolutely beautiful," Hunter said. "No words need to be said."
As churches celebrate the birth of Jesus Christ, pastors plan to deliver messages of hope.
Doug Waltar, pastor at Community Presbyterian Church, said he'll read from Isaiah Chapter 9 to show how Christ shines a light into darkness.
"I'll speak about some of the dark places we find ourselves in life," Waltar said. "The message declaring the good news of Christ into our dark world illuminates hope and life. God came into the world in person with Jesus."
Waltar said his church will hold candlelight services signifying the light of Christ in a dark world.
Waltar said he'll also speak about the story of Christ's birth in Luke Chapter 2. He said all people have access to the eternal gift of salvation.
"And the angel said unto them, fear not. For, behold, I bring you tidings of great joy, which shall be to all people," a verse in Luke states. "For unto you is born this day in the city of David a savior, which is Christ the Lord."
Waltar said people are searching for hope more than ever during tough times. And Christians and churches should always do their part to reach out.
"Churches have always flourished in adversity because people are more needful of the community and hope," he said. "There's a deeper hunger for purpose and meaning than there has been for some time."
Some people put their hope in their jobs or even themselves, but those are insecure, Waltar said.
"Christ shows us the way," he said.
What churches are saying
Churches throughout North Idaho have scheduled extra services, with Christ the King Lutheran Church planning four at 3, 5, 7 and 10. Most are planning special programs, music and celebrations tonight and Christmas Day.
There will be candlelight. There will be decorations. There will be prayer and thanks for the birth of a child some 2,000 years ago.
"Join Us To Celebrate The New Born King!" says Christ the King Lutheran Church.
"Rejoice in the Lord Always," says St. Pius X Catholic Church.
"May God fill you with love, purpose, hope and joy," says Community Presbyterian Church.
"Discover the Greatest Gift of all," says Coeur d'Alene Worship Center.
"In the fullness of time Jesus came," says Real Life Ministries.
John Weston, pastor at Sky Prairie Church, a United Methodist Church that meets at the Post Falls Theater, said anyone can find hope in the Christmas story.
"Ordinary people like you and your neighbors can do extraordinary things for God," Weston said.
Weston said there's also a message of forgiveness at Christmas.
"God loves you," Weston said. "He changes us and uses us to touch this world."
Weston said Kootenai County has shown again this year that it has a heart to give to its neighbors and help those in need. He believes Christ's love can be shared through the generosity.
"Despite the challenge of our times, people are rising to the occasion and are ready to grab onto hope," he said. "People are willing to take a step of faith and touch their fellow man."
According
to the Bible
The birth of Christ receives scant attention in the Bible, and isn't even mentioned in two of the gospels, John and Mark.
The book of Matthew tells how Mary was pledged to marry Joseph, but "before they came together, she was found to be with child through the Holy Spirit."
Joseph then had his doubts about marrying her, but an angel of the Lord appeared to him in a dream and told him not to be afraid.
"She will give birth to a son and you are to give him the name Jesus," it reads
The book of Matthew tells of King Herod trying to find the baby so he can kill it, and the Magi following a star to bring gifts of gold, frankincense and myrrh
The book of Luke also covers the birth, briefly.
It tells of the angel appearing to Mary, and saying, "Greetings, you who are highly favored! The Lord is with you," and goes on to explain "The Holy Spirit will come upon you, and the power of the Most High will overshadow you. So the holy one to be born will be called the Son of God."
Luke also writes of a census that took place while Quirinius was governor of Syria and "everyone went to his own town to register."
Joseph and Mary traveled to Bethlehem. "While they were there, the time came for the baby to be born, and she give birth to her firstborn son."
"She wrapped him in clothes and placed him in a manger, because there was no room for them in the inn," reads Luke 2:7.
It continues to tell of shepherds in the field watching their flocks, an angel appearing to them and says, "Do not be afraid. I bring you good news of great joy that will be for all the people. Today in the town of David a savior has been born to you. He is Christ the Lord. This will be a sing unto you. You will find a baby wrapped in clothes lying in a manger."
The shepherds found Joseph, Mary and Jesus.
"When they had seen him, they spread the word concerning what had been told them about this child, and all who heard it were amazed at what the shepherds said to them."
Pastors messages
Paul Van Noy of Candlelight Christian Fellowship said the birth of Christ "was a new beginning for this Earth," he said.
"It is because of the birth of Christ we can be born again." he said.
Heather Seman, pastor of Community United Methodist Church, said she'll talk about the gift of the Christ child, and "how each of us is born into the world with the promise that Jesus Christ has given.
"It's a gift that starts with a baby," she said.
Bill Peterson, pastor of First Presbyterian Church, will talk about "the concept that God usually is fairly subtle."
Jesus Christ lived among the people, Peterson said, and faced the same challenges and struggles. He responded with faith, prayer and love.
"It seemed like he always took as long to walk to the next place as anyone else," Peterson said.
He'll look at how people can know and receive God's love each and every day through the smallest and even simple things in life.
"Throughout history, God's way of relating to us has seemingly tended not to be the dramatic we celebrate so much around Christmas," he said. "If we're folks that only look for the dramatic and ecstatic, we may be missing an awful lot that God is up to.
Recent Headlines
---