Hillsides collapse as storm lashes Southern California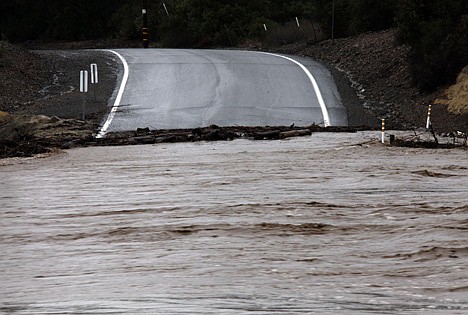 <p>A road is blocked by floods in the area of Silverado Canyon, Calif., Wednesday. Storm runoff and mud had prompted the evacuation of about 30 people in the area.</p>
LAGUNA BEACH, Calif. - Axl Dominguez awoke early Wednesday to a bumping sound and looked out the window to a scary sight: plastic trashcans floating down the flooded street.
And then the water came rushing into his house.
"We didn't have time to get anything ... Water started coming in from all the walls. Then the wall fell and we got out through the window," the 15-year-old Dominguez said hours later, shivering in shorts, a mud-splashed sweat shirt and bare feet as he carried his pajama-clad little brother to the truck of a neighbor who finally took them to an evacuation center.
The tail end of a storm that dumped rain on Southern California for nearly a week gave the region one final lashing, burying houses and cars in mud, washing hillsides onto highways, flooding urban streets, threatening dozens of canyon homes and spreading filthy water that prompted the closure of 12 miles of Orange County beaches.
Inflatable boats and canoes were used to rescue dozens of motorists and homeowners from flooded streets, hotels and hillsides. Others refused to leave their homes, even as dirty water and mud sliced through their neighborhoods.
The storm weakened as it moved eastward, but floods still washed away at least six vacant homes in Arizona and inundated parts of Nevada and Utah.
The low-pressure system could be in New Mexico by today and reach the Gulf Coast by Saturday with some rain, but not the deluge that hit Southern California, forecasters said.
The storm turned the final days before Christmas into a nightmare, and left some residents fearful that more and bigger mudslides could strike the wildfire-scarred hillsides in suburban Los Angeles even after the skies cleared.
More than 200 homes were evacuated for at least 24 hours in La Canada Flintridge and La Crescenta, suburbs of Los Angeles below steep hillsides that burned in 2009 and where mudslides inundated homes and backyards in February.
Few residents heeded the evacuation orders, which were lifted Wednesday evening as the driving rain eased.
It's the same area where the Station Fire charred 250 square miles above suburbs tucked below the San Gabriel Mountains.
"The ground is so saturated it could move at any time" and the threat will remain for several weeks, said Bob Spencer, spokesman for the Los Angeles County Department of Public Works.
Olivia Brown, 45, left her Paradise Valley home in the La Canada Flintridge area around midnight.
"I'm worried about a rock coming down on the house," Brown said at a Red Cross shelter. "My husband stayed home with two of our dogs. He had to be a man, you know, and hold down the fort.
"When he's nervous, it makes me nervous. I had to go," she said.
In Silverado Canyon, in the Santa Ana Mountains in eastern Orange County, Mary Adams and her husband got up in the middle of the night to check for mudslide danger as rains pounded the hill above them.
They had just crawled back into bed at 3:30 a.m. when they heard a low, dull roar and then the echoing boom of boulders tumbling into a creek.
Adams, 54, jumped from bed to see a small river of mud, rocks and debris sweep past her side door, whisking the couple's travel trailer 100 feet down the hill and filling their garage and succulent garden with thick ooze.
On Wednesday morning, the rain was still coming down hard as Adams surveyed the damage. The sound of falling rocks still rang out every few minutes as the rain poured down outside.
Like Adams, dozens of her neighbors had refused to evacuate and worked with shovels to clear debris from storm drains and divert rivers of water and muck from their homes and cars.
"If we can get the truck out, then maybe we can leave but I'm not going to be away from my house and just be sitting in an evacuation center three blocks down the road," said Adams, who has lived in the canyon more than 30 years.
In San Diego, the first floor of the Premier Inn in the city's Mission Valley flooded, forcing about 50 guests and employees to the second floor where lifeguards used a rubber raft to rescue them amid floating trash bins and fast moving water, fire officials said.
Two other large hotels nearby were also evacuated when they lost electricity and the parking lots flooded.
SeaWorld San Diego closed for the day as water rose in the nearby San Diego River, but it was expected to reopen on Thursday.
Sixty people were rescued and more than 30 homes evacuated when water surged through Dove Canyon, a gated community in Orange County, said Orange County Fire Capt. Greg McKeown. Officials tagged five homes in Rancho Santa Margarita as uninhabitable.
In Highland, about 65 miles east of Los Angeles, two creeks overflowed, swamping as many as 20 homes in up to 3 feet of mud. Nearly 250 homes have been evacuated.
"This mud flow moved cars, picked them up, stood them up on their nose at 45-degree angles, buried them," said Bill Peters, a spokesman for the California Department of Forestry and Fire Protection.
Swift water rescue teams reported dozens of rescues within the past couple of days. On Wednesday evening, a man and his dog were rescued when he tried to drive across a flooded wash near Rialto - the same creek crossing where a woman was stranded in her car for four hours just two days earlier.
Los Angeles County health officials warned residents to be careful through Thursday of polluted water around storm drains, creeks and rivers. The environmental group Heal the Bay said ocean water could remain contaminated with bacteria for much longer than that.
"When you have a major rain like this, we'll have an impact at some beaches for weeks," said Mark Gold, group president.
In far northwestern Arizona, homes along a flooded wash teetered on the edge as residents scurried to gather belongings with the threat of even more structures being swept away.
"It is a mess," Beaver Dam resident Lois Rolfsmeyer said. "The water is going to take our next-door neighbor's house and the one behind us, and it's eroding under our house."
Six vacant homes were lost because of flooding in the rural area. Nearly two dozen homes were damaged - some already partially collapsed and submerged - and at least three of those could be swept away, officials said.
Forecasters said the Virgin River, which cuts through that part of the state, is expected to crest Thursday morning.
In nearby Utah, floods threatened to swallow a bridge. The flooding forced the closure of Zion National Park on Tuesday. The south entrance and the visitor center opened on Wednesday afternoon.
In southern Nevada, a state of emergency was ordered after rain-swollen creeks closed some roads in the Las Vegas area and snow disrupted electricity to about 300 customers on nearby Mount Charleston.
Recent Headlines
---