Nuts: A healthier, satisfying party food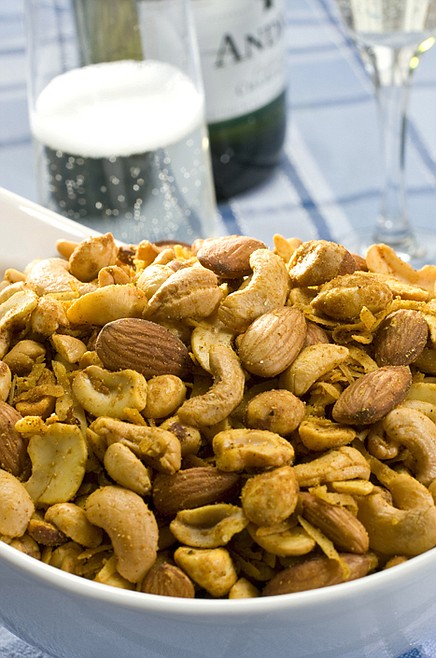 <p>This Nov. 21, 2010 photo shows curried tropical nut mix in Concord, N.H. This easy-to-make nut mix is a perfect snack to put out at a holiday cocktail party.</p>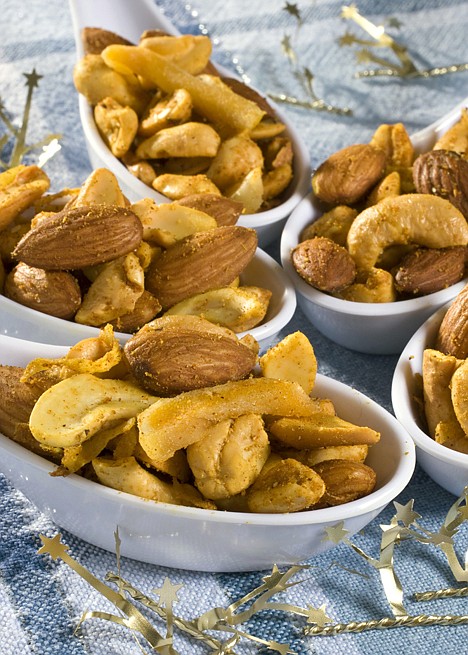 <p>This Nov. 21, 2010 photo shows curried tropical nut mix in Concord, N.H. Nuts are easy to portion control, even at a party. Instead of putting out a big bowl, offer shot glasses and small bowls filled with nuts.</p>
Previous
Next
by
Jim Romanoff
|
December 22, 2010 8:00 PM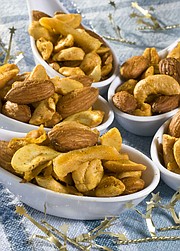 When you're lining up the shots at your holiday party, don't hesitate to go a little nuts. Really.
Nuts are loaded with heart-healthy nutrients. They are also a good source of protein and fiber, both of which are helpful for controlling hunger if you are trying to take off a few pounds.
Almonds, pecans, walnuts and hazelnuts are thought to be particularly healthy. But even snacking on favorites such as cashews and peanuts (which are technically beans) is a good choice. Just don't go crazy, as you're still looking at plenty of calories and (in many cases) tons of salt.
Luckily, nuts are easy to portion control, even at a party. Instead of putting out a big bowl, offer shot glasses and small bowls filled with nuts.
This easy-to-make curried tropical nut mix is a little bit more indulgent because of its olive oil and butter-based seasoning blend, but it's a perfect nibble to put out at a holiday cocktail party and certainly a healthier choice than a fried or puff pastry hors d'oeuvre.
Curried tropical nut mix
Start to finish: 15 minutes
Makes about 7 cups (50 servings)
1 tablespoon butter
1 tablespoon extra-virgin olive oil
2 tablespoons curry powder
1 teaspoon ground cumin
1/2 teaspoon ground cayenne pepper
2 cups almonds
2 cups salted cashew halves
2 cups salted peanuts
1 cup sweetened flaked coconut
1/2 cup dried mango, coarsely chopped
In a 3-quart microwave-safe bowl, combine the butter, oil, curry powder, cumin and cayenne. Cover loosely with a paper towel to avoid splatter, then microwave on high for 30 seconds, or until the butter is nearly melted. Whisk the spices and butter together.
Add the almonds, cashews, peanuts and coconut to the bowl and toss to coat. Microwave, uncovered, on high for 2 minutes. Stir well, then microwave, stirring every 2 minutes, until the nuts and coconut are lightly browned and fragrant, 4 to 6 minutes longer, depending on the wattage of the microwave. Stir in the mango.
Transfer the mixture to a baking sheet to cool. Serve warm or at room temperature.
Nutrition information per 3 tablespoon serving (values are rounded to the nearest whole number): 117 calories; 86 calories from fat (74 percent of total calories); 10 g fat (2 g saturated; 0 g trans fats); 1 mg cholesterol; 6 g carbohydrate; 4 g protein; 1 g fiber; 54 mg sodium.
Recent Headlines
---