Group pushes for nationwide wolf restoration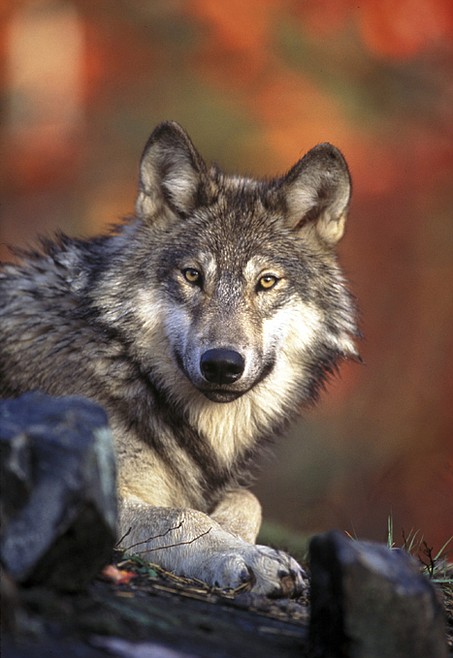 <p>This undated handout photo provided by the U.S. Fish and Wildlife Service shows a gray wolf.</p>
by
Matthew Brown
|
December 22, 2010 8:00 PM
BILLINGS, Mont. - Environmentalists said Tuesday they intend to sue the Obama administration to force it to restore gray wolves across the lower 48 states - even as Republicans in Congress sought unsuccessfully to strip the animals of protection.
The Center for Biological Diversity said in a formal notice to the Interior Department that it will sue the agency in 60 days unless the government crafts a plan to bring back wolves throughout their historical range.
"Wolves once roamed nearly the whole country and down into Mexico, but at this point there just in a fraction of that range," said Noah Greenwald, director of endangered species for the Center for Biological Diversity.
About 6,000 wolves live in the lower 48 states. They are protected from hunting except in Alaska.
Biologists for the Arizona-based group argue there is enough wild habitat to support thousands of wolves in New England and New York, the southern Rocky Mountains, parts of Colorado and the Cascade Range of Oregon and Washington.
But prospects for new wolf packs in other parts of the country are uncertain at best, given how polarized the debate over wolves has become in recent months.
Like the Bush administration, the Obama administration has pushed to end federal protections for wolves and turn control over the animals over to states. Lawmakers from states where wolves already roam say there are too many of the predators.
On Tuesday, Sen. Mike Crapo, R-Idaho, tried to force a full Senate vote on a bill to strip wolves nationwide of federal protections.
The measure was backed by Republicans in Wyoming and Utah, but failed in the face of Democratic objections.
Wolves were poisoned and trapped to near-extermination in the United States in the last century. They have bounced back in some wilderness areas over the last few decades, in part through government-sponsored reintroduction programs.
Crapo said the growing population of wolves in the Northern Rockies - more than 1,700 at the end of 2009 - was harming big game herds and domestic livestock.
"The longer we wait to resolve this issue, the more difficult it's going to be," he said.
But Sen. Benjamin Cardin, a Maryland Democrat, said the Republican bill would undermine the Endangered Species Act. He criticized what he called an attempt "to solve politically what should be done by good science."
Cardin suggested he would support a compromise pushed by Montana lawmakers and the administration that would limit the scope of the bill to include only wolves in the Northern Rockies.
Crapo said that proposal was unacceptable because it would have forced Idaho to change the way it manages the animals.
Public hunts for wolves were allowed briefly in Montana, Idaho and Wyoming in recent years. Those were halted after the federal government was rebuffed by the courts in several attempts to take the animal off the endangered list.
Judges have ruled that the government has not proved existing wolf numbers would ensure the population's long-term survival.
Wolves are notorious predators. Experts say they could survive in most of the country if they were allowed. But a hunger for livestock often gets the animals into trouble, particularly in the Northern Rockies where ranches and wolf territories often overlap.
Young adult wolves sometimes travel hundreds of miles when looking to establish a new territory. In the last several years, packs have gained a toehold in parts of Oregon and Washington. Others have been spotted in Colorado, Utah and northern New England.
"We've learned from where wolves have been reintroduced that they have a tremendous benefit," Greenwald, of the Center for Biological Diversity, said. "They force elk to move around more, which allows riparian vegetation to come back and increases songbirds, and they control coyote populations."
The U.S. Fish and Wildlife Service is currently analyzing research into wolf genetics to see how populations in different parts of the country relate to one another.
Agency spokesman Chris Tollefson on Tuesday said the effort is not part of a nationwide recovery plan, but declined to say if it could be used for such an effort in the future.
He said results of the agency's work are expected in early 2011.
"It's designed to establish the best scientific foundation to make future management decisions about wolves. That's about all I can say about it at this point," Tollefson said.
Recent Headlines
---