Chocolate, mint together in a festive tart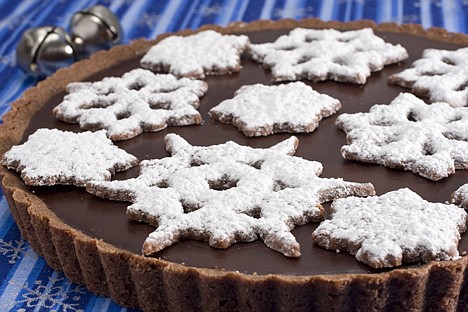 <p>This photo shows a chocolate peppermint snowflake tart in Concord, N.H. For chocolate lovers it doesn't get any better than ganache and this tart uses it in an elegant and decadent way.</p>
by
Alison Ladman
|
December 22, 2010 8:00 PM
Ganache tarts are elegant, decadent and the epitome of chocolate love.
Best yet, they are easy to make, can be prepared ahead of time and transport well. In other words, they are perfect for the holidays.
Our dressed up version is flavored with peppermint extract and topped with festive snowflake cookies, but you could just as easily flavor it with orange, almond or vanilla extracts and top it with whatever cookie shapes inspire you. Holly leaves would be pretty and elegant, and snowmen would be fun.
Chocolate peppermint snowflake tart
Start to finish: 1 hour 15 minutes, plus cooling
Servings: 8
For the crust:
1 1/2 cups all-purpose flour
Pinch of salt
2 tablespoons cocoa powder
1/2 cup sugar
3/4 cup (1 1/2 sticks) unsalted butter, cut into chunks
For the ganache:
1 1/4 cups heavy cream
8 ounces semisweet chocolate
1 1/2 teaspoons peppermint extract
Powdered sugar, for dusting
Heat the oven to 375 degrees.
In a food processor, combine the flour, salt, cocoa powder and sugar. Pulse to combine. Add the butter and process until the mixture forms a dough, about 30 seconds.
Remove the dough from the processor and break off about a third of it. Set this aside.
Press the remaining dough into the bottom and up the sides of a 9-inch tart pan with removable bottom. Use a fork to prick the bottom of the crust all over. Freeze for 15 minutes, then bake for 25 to 30 minutes, or until the center of the bottom feels firm.
Meanwhile, make the snowflake cookies.
Roll out the reserved dough between 2 sheets of parchment paper to 1/8 inch thick. Move the dough to a baking sheet, including the parchment paper, then refrigerate until firm, about 15 minutes.
Use 1- to 2-inch cookie cutters to cut out 8 to 10 snowflakes (of multiple sizes, if desired). If the dough becomes too soft, you may need to chill it in the refrigerator as you work. Once all of the cookies are cut, transfer them to a parchment paper-lined baking sheet and refrigerate for 10 minutes.
Bake the snowflakes for 10 to 15 minutes (depending on size of the cookies), or until firm. Cool the cookies on the baking sheet.
To make the ganache filling, in a small saucepan over medium, heat the cream until simmering. Add the chocolate and let sit off the heat for 2 minutes. Stir until smooth. Stir in the peppermint extract, then pour into the baked tart shell. Refrigerate until firm, about 2 hours.
When ready to serve, dust the snowflake cookies with powdered sugar, then arrange them on the top of the tart.
Recent Headlines
---