Favre starts, then departs Viks' loss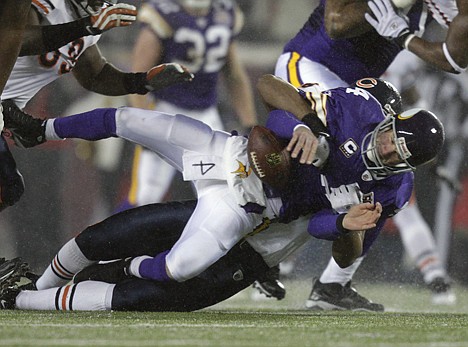 <p>Minnesota quarterback Brett Favre is sacked by Chicago's Corey Wootton during the second quarter of Monday's game at TCF Bank Stadium in Minneapolis. Favre left the game after the play. The game was moved from the Metrodome, the roof of which was damaged by snow.</p>
|
December 21, 2010 8:00 PM
MINNEAPOLIS - Brett Favre was bundled up in a heavy gray coat by the time Devin Hester sped through the snow with his record-setting return.
Favre's surprise start ended with another injury, perhaps putting him out for good, and the game ended with an NFC North title for the Chicago Bears.
Hester set the NFL record with his 14th kick return touchdown, running back a punt 64 yards for a score shortly after halftime to help the Bears fly past the Minnesota Vikings 40-14 on a frosty, hard-hitting Monday night.
Minnesota's 41-year-old quarterback sustained a head injury in the second quarter by Bears defensive end Corey Wootton.
Jay Cutler threw three touchdown passes for the Bears (10-4), who last won this division during their 2006 Super Bowl season. Hester caught one of those scoring tosses and also took back the second-half kickoff 79 yards to set up a field goal a few minutes before his game-breaking punt return made it 27-7.
That was Hester's 14th career return touchdown, kickoff or punt, breaking Brian Mitchell's previous mark.
Favre finished 5 for 7 for 63 yards, and the Vikings (5-9) fell apart.
n Despite loss, Rams still hold cards: Belonging to the downtrodden NFC West has its benefits. The St. Louis Rams laid an egg at home on Sunday, yet remain tied for first place and hold the tiebreaker over the Seahawks.
Another chance to get it done, a do over, a mulligan. Beat San Francisco this week at home and Seattle on the road in the finale, and they're 8-8 division champions who can open the playoffs at home.
There's even a slim chance the Rams could make it to the postseason at 7-9, if they lose to the 49ers (5-9) and win at Seattle (6-8) and the 49ers lose at Arizona.
"I'm not frustrated at all," cornerback Ron Bartell said. "We can play better, we all know that. The playoffs really start for us right now."
Coach Steve Spagnuolo doesn't want to hear about any of the 16 possible scenarios, adding Monday that "if they come, I'll throw them in the waste basket." He knows it's all about how the Rams (6-8) perform.
If they make it to the postseason for the first time since 2004, Spagnuolo won't waste any time worrying if the team really deserved it.
"I don't look at being fortunate in a division," Spagnuolo said. "I just know that until they tell us we cannot make it to the playoffs, that's what we're still shooting for."
Even if it's an unsightly 7-9. Remember that this is the team that was 1-15 last season, ranked at or near the bottom in most major categories, and a dismal 6-42 from 2007-09.
• Tebow to start again for Broncos: The Denver Broncos don't care if everyone knows it, including the Houston Texans: Tim Tebow will start again Sunday.
Rather than keep everybody guessing, interim coach Eric Studesville made the unusual move Monday of announcing that Tebow would be under center when the Broncos (3-10) host the Texans (5-9).
Studesville said Kyle Orton is still bothered by bruised ribs and that Tebow did a good job managing the game plan, the team and the crowd in his first NFL start Sunday despite Denver's 39-23 loss at Oakland.
"Well, the reason right now was that we felt that Tim played well yesterday, ran our offense effectively," Studesville said. "Compounding that was the fact that Kyle still was rehabbing ... and we just felt like prolonging this later into the week wasn't the best thing for our preparation and practice."
So, now the Texans don't have to worry about preparing for two quarterbacks, one a right-handed prolific passer and the other a rookie southpaw.
Studesville thought the benefit to the Broncos outweighed any concerns about the Texans knowing it.
"I think they'll certainly have tape on him now to have a game plan," Studesville said. "What they'll do differently ... we're going to do some things differently because we'll have more information on him too, now. So, how that all plays out I'm not exactly sure."
Tebow, who was stunningly selected with the 25th overall pick in the April draft by former coach Josh McDaniels, had thrown just one NFL pass before Sunday and most of his two dozen snaps had come in specialty situations such as short-yardage and goal line packages.
His repertoire was limited Sunday because of bad weather and offensive coordinator Mike McCoy's conservative game calling but he showed enough to merit more playing time and perhaps more of a chance to throw the ball.
"We know more now about Tim and what he can do in a game, we can give him things," Studesville said. "But the entire game plan is still based on what we think gives us the best chance against the Houston Texans, and that's what's going to determine the volume of the playbook more than anything else."
• Vick's comeback magic: With Michael Vick, the Philadelphia Eagles always feel they're in the game.
It's only fitting Vick has become Captain Comeback. After all, his remarkable comeback to the NFL is one of the most compelling stories in sports.
In his latest dynamic performance, Vick brought the Eagles back from a 21-point deficit with 8:17 remaining, and DeSean Jackson finished off the stunning rally with a 65-yard punt return on the final play to give Philadelphia a 38-31 win over the New York Giants on Sunday.
The win gave the Eagles (10-4) sole possession of first place in the NFC East and bolstered their chance for a first-round bye in the playoffs.
"Determination and poise is hard to coach and this group has got that and they showed that yesterday, both coaches and the players," coach Andy Reid said Monday. "They all worked together to figure it out and get it right and we were fortunate enough to have enough time. That big heart, that's hard stuff to coach. You either have that or you don't and this group seems to have that and they showed it last night with one of the all-time great games in NFL history."
Jackson's spectacular return beat the Giants (9-5). But it was Vick who made it even possible by leading the Eagles to three straight touchdowns to tie it up after they fell behind 31-10.
For 3 quarters, Vick was battered, frustrated and contained. The Giants took away his deep passes, gave him no room to run and hit him every chance they got.
Then No. 7 broke loose. He scrambled like his "Superman" days in Atlanta, and his passes were right on target.
"Oh my goodness," rookie linebacker Jamar Chaney said. "He lets us know that we can come back from behind. Morale was probably a little low in the first half. We have a lot of playmakers on this team. Michael Vick is definitely a great leader."
Vick has led the Eagles on fourth-quarter comebacks in their last four wins. He's engineered second-half comebacks in five of the last six victories.
Recent Headlines
---