Heroes for the Holidays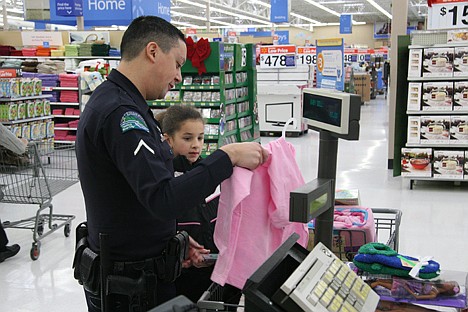 <p>Post Falls police officer Dennis Sanchez and Darianne Alves, 11, purchase Christmas presents at the Post Falls Walmart during the annual Holidays and Heroes event on Sunday.</p>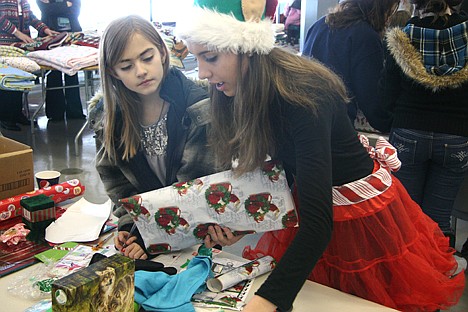 <p>Nine-year-old Rebecca Sevey, left, and Samira Obeid, 16, wrap Christmas presents during the Holidays and Heroes event on Sunday at the Greyhound Park Event Center.</p>
Previous
Next
by
Nick Rotunno
|
December 20, 2010 8:00 PM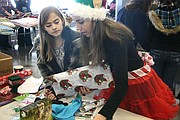 POST FALLS - For a few frantic hours on Sunday morning, the Mullan Avenue Walmart was probably the safest place in all of Kootenai County, if not North Idaho.
Dozens of law enforcement and emergency vehicles were parked out front - city squad cars, sleek highway cruisers, imposing SUVs and even a few fire trucks. Inside, uniformed men and women patrolled the aisles, wearing badges and utility belts.
But there was no crime scene to tape off, no dangerous felons on the lam. The building, thankfully, was not on fire. Rather, close to 150 cops, troopers and firefighters had come to Walmart for the annual Holidays and Heroes event, a giant shopping spree that helps out local children and their families.
"This is Spirit Lake's third year participating," said police chief Patrick Lawless. "It gets better every year for us. Just knowing it helps the community - it's a huge benefit. Every year the kids we sponsor enjoy it and have a great time."
Almost every agency in the area participated: The Kootenai, Spokane and Shoshone county sheriff's departments, the Post Falls, Coeur d'Alene, Spirit Lake and Rathdrum police departments, Coeur d'Alene Tribal Police, Kootenai County Fire and Rescue, Idaho State Police and the Worley Fire Department.
The agencies raised funds throughout the holiday season, often asking for donations from their respective communities, said Sgt. Tom Knight of KCSD. Then, area schools recommended sponsorship families.
"There's (also) a few families here that came to us directly from officers who were on a call and saw the family, interacted with them," Knight added.
A total of 105 families took part in Holidays and Heroes, each one represented by a single child. The kids paired up with officers, walked through Walmart and picked out Christmas gifts that totaled around $200 in value.
"It's just really neat to see," said Post Falls police officer Brenda Smith. "It's really nice to interact with (the children), and know that they're going to have a good Christmas. It makes you feel really good."
Smith shopped alongside nine-year-old Rebbecca Sevey of Post Falls. Rebbecca had a long holiday list, and bought presents for her mom, dad, step-dad and two sisters.
"It went so good. She did a real good job," Smith said.
Officer Dennis Sanchez, also of Post Falls P.D., walked with 11-year-old Darianne Alves as she tracked down gifts for her mom, dad and five sisters. Darianne said the shopping spree was "real fun," and especially enjoyed riding in Sanchez's speedy patrol car.
Once the gift-buying concluded, officers, kids and volunteers headed for the Greyhound Park Event Center in Post Falls, where gift-wrapping began in earnest. Treats were served, hot dogs were eaten, and Santa Claus spread holiday cheer.
A helicopter landed in the field, too, putting on a show for the youngsters.
"And then when we take the kids home, we also provide them with a food basket," Knight said. "There's all kinds of stuff," including turkey, ham, milk and cheese - everything the family needs for a tasty Christmas dinner.
The event center was crowded - in addition to the Walmart shoppers, 300 volunteers helped wrap gifts.
"It's a blast," said firefighter Barry Sherman, whose shopping partner, 10-year-old Mikayla Morris, had found presents for her mom, brothers and other family members. "Cookies and hot chocolate, shopping ... it's a blast."
Recent Headlines
---