Trojans battle to fourth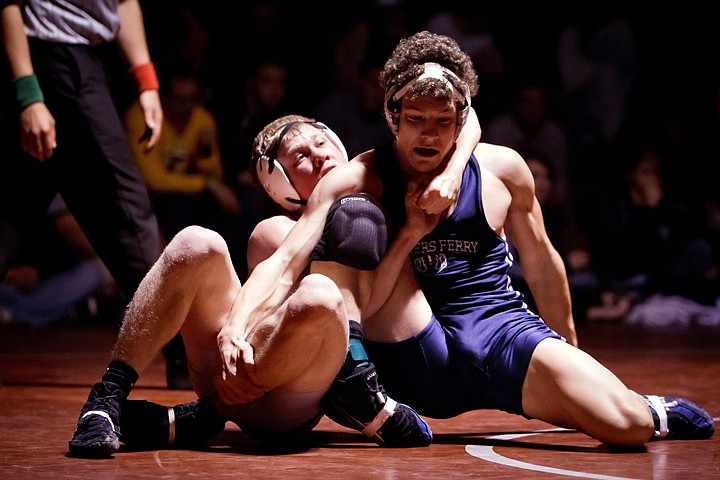 <p>Bonners Ferry High's Trevor Hampton tries to maintain upright as Casey George from Lewiston High pulls him back toward the mat Saturday during the 145-pound championship match at the Tri-State tournament.</p>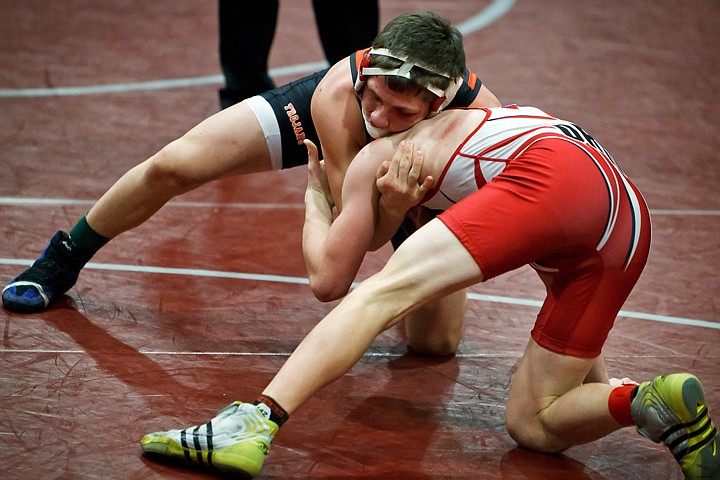 <p>Post Falls High's James Ost, maintains control of Shannon Maris from Orting High by decision in the third-place 135-pound match Saturday at Tri-State.</p>
Previous
Next
by
JASON ELLIOTT
Sports Writer
|
December 19, 2010 8:00 PM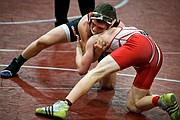 COEUR d'ALENE - Although the tournament may have been held at North Idaho College this weekend, the region held its championship hopes on one senior as the finals loomed at the 39th annual Tri-State Invitational at Christianson Gym.
Bonners Ferry senior Trevor Hampton was up for the task, but could not hold off Lewiston senior Casey George, with the Bengal earning a pin in 3 minutes, 12 seconds to with the 145-pound championship.
"I knew he was good coming into the tournament," Hampton said of George, who has signed with Boise State. "But coming in, he's just a normal guy. I've been on teams with him and know he's a good wrestler, but nobody is unbeaten. I've just got to work on some things and keep getting better each day.
George entered Saturday's final with a 146-4 record.
Bonners Ferry coach Conrad Garner praised Hampton following the match.
"He had an outstanding weekend," Garner said. "In his first four matches, he was in control and wrestled tough. He just ran into a tough opponent in the finals, but he earned the right to at least be second."
The battle for the team championship switched hands seven times during the final day as Post Falls took an early lead midway through the semifinals. Mead High of Spokane took the lead following the round.
After the start of the placing matches, University had climbed back into the lead with 151.5 points and Post Falls battling back from seventh to third after a strong performance in the consolation round.
In the end, Mead edged University for the team title with 162 points. University finished with 159.5.
James Ost of Post Falls, the top seed at 135, finished third.
"My goal was to win," Ost said. "I was disappointed when I lost, but I knew our team was in the middle of the race for a team title. I had to keep my head up and keep wrestling hard. I liked the way I finished after a loss and have to take this weekend as a learning experience and move on."
Post Falls also got third-place finishes from Tyler Booth (135) and Nathan McLeod (152) to finish fourth. Cole Jesenouski (171) was fifth, Joe Hartley (heavyweight) sixth.
"It was a great weekend for us," Post Falls coach Pete Reardon said. "We had a couple setbacks in the semifinals, but the good thing was that the kids fought back through the wrestlebacks. They showed a lot of heart. We kept telling them to keep the team going because we knew we were in the points chase. It was fun to coach them."
Sandpoint senior Garret Belgarde, the top seed at 119 pounds, finished fifth.
"I expected to do well this weekend," said Belgarde, a state 4A champion last year. "This helped me learn what I need to work on."
"He started real strong last night (Friday)," Sandpoint coach Mike Randles said. "I didn't think he wrestled that consistent today. If he's going to return as a state champion this year, he needs to find that consistency. He's done a lot of winning and should be used to it by now."
Coeur d'Alene senior Caleb Davis finished fourth at 189 pounds after losing a 12-4 decision to Russell Stinson of Ferris in the third-place match.
"After this weekend, I realized I could compete at this level," Davis said. "My goal was to win, but I came up just a little bit short."
The defending 5A champions finished ninth with 116 points.
"Last year we wrestled with a chip on our shoulders," Davis said. "We've got to get a little more mentally tough to get there again this year."
Kenny Staub (140) was fifth, Matt Howard (189) sixth for Coeur d'Alene.
Jordan Rodgers (171) of Mead won the Mike Walker Most Outstanding Wrestler for winning each of his matches in the tournament by pinfall. Lakeside (Wash.) won the small school with a 21st place finish.
TEAM SCORES — 1, Mead 162. 2, University 159.5. 3, Lake Stevens 152.5. 4, Post Falls 150. 5, Lewiston 143.5. 6, Deer Park 142. 7, Hermiston 141.5. 8, Flathead 132. 9, Coeur d'Alene 116. 10, Orting 114.5. 11, (tie), Central Valley, Moses Lake 107. 13, Auburn 105. 14, (tie), Kelso, Kuna 90. 16, Richland 87. 17, Chandler 83. 18, North Central 80. 19, Mt. Spokane 71. 20, Riverside 69. 21, Lakeside 56. 22, Bonney Lake 55. 23, (tie), Edmonds-Wooley, Todd Beamer 53.5. 25, Sentinel 52.5. 26, Graham-Kapowsin 47. 27, Bonners Ferry 46. 28, Libby 40.5. 29, Tonasket 39. 30, East Valley 38. 31, Sedro-Wooley 37. 32, Meridian 35. 33, Sandpoint 33. 34, Cheney 32.5. 35, Arlington 30. 36, Lake City 26. 37, (tie), Camas, Reardan 25.5. 39, Eastmont 24. 40, (tie), Kellogg, Lake Washington 23. 42, Medical Lake 22. 43, Ferris 20. 44, Lakeland 18. 45, Mary Walker 16. 46, (tie), Polson, Quincy, Vashon Island 14. 49, (tie), Selkirk, Timberlake 13. 51, Kamiakin 8. 52, Moscow 5.5. 53, (tie), Bothell, Gonzaga Prep 0.
CHAMPIONSHIP MATCHES
103 — Josh Newberg, Kelso, p. Brian Alonzo, Auburn, 3:12. 112 — Dalton Brady, Chandler, d. Tyler Clark, University, 14-5. 119 — Ryan Rodogro, Lake Stevens, d. Riley Miller, Kelso, 8-4. 125 — Tyler Berger, Hermiston, p. Ares Carpio, Todd Beamer, 1:43. 130 — Joey Delgado, Hermiston, d. Antonio Brown, Orting, 9-2. 135 — Jeremy Golding, Mead, d. Dustin Utecht, Richland, 6-4. 140 — Kyle Leir, Libby, d. Tyler McLean, Mead, 3-2. 145 — Casey George, Lewiston, p. Trevor Hampton, Bonners Ferry, 3:12. 152 — Andrew King, Lake Stevens, d. Sammy Metz, Lewiston, 3-2. 160 — Dylan Miller, Deer Park, d. Larry Francis, Flathead, 7-0. 171 — Jordan Rodgers, Mead, p. Keegan McCormick, Tonasket, 1:31. 189 — Dustin Johnson, University, d. Curtis Berger, Hermiston, 2-1. 215 — Tanner Hall, Meridian, d. Dylan Rutledge, Auburn, 7-0. 285 — Kabe Fluaitt, Moses Lake, d. Shawn Burton, Deer Park, 6-3.
THIRD-FOURTH PLACES
103 — Michael Cook, Kuna, p. Colton Tracy, Bonney Lake, 1:06. 112 — Eric Soler, Lake Stevens, p. Josh Andrews, Richland, 3:36. 119 — Josh Carlton, Lewiston, d. Michael Baumgarden, Lakeside, 4-3. 125 — Drew Templeman, Orting, d. Jarod Maynes, Central Valley, 6-2. 130 — Brenton Beard, Central Valley, d. Kit Major, Riverside, 7-3. 135 — James Ost, Post Falls, d. Shanon Meris, Orting, 6-4. 140 — Tyler Booth, Post Falls, d. Josh Lauderdale, Lakeside, 5-3. 145 — Chandler Rodgers, Mead, d. Nico Moreno, Moses Lake, 8-5. 152 — Nathan McLeod, Post Falls, d. Josh Seeberger, Sentinel, by default. 160 — Joey Dondero, Kuna, p. Tanner Davis, Central Valley, 3:42. 171 — Jacob Fry, University, d. Nick DesRoches, Riverside, 2-1. 189 — Russell Stinson, Ferris, d. Caleb Davis, Coeur d'Alene, 8-5. 215 — Jake Laden, University, d. Anthony Whitmarsh, North Central, 9-8. 285 — Nick Conlan, Auburn, d. Connor Thomas, Flathead, 10-5.
FIFTH-SIXTH PLACES
103 — Jesse Peterson, Lake Stevens, d. Matt Peterini, Mead, 9-7. 112 — Andrew Cunningham, Bonney Lake, d. Jake Konzal, Deer Park, 2-0. 119 — Garret Belgarde, Sandpoint, d. Max Mejia, Chandler, by default. 125 — Jared Berlinger, North Central, d. Brandon Byers, University, 1-0. 130 — Deshar House, Todd Beamer, d. Conan Kalugin, Mary Walker, 10-5. 135 — Manny Ybarra, Quincy, d. Joe Grable, Deer Park, 3-1. 140 — Kenny Staub, Coeur d'Alene, p. Herson Rodriguez, Moses Lake, 2:47. 145 — Jeremiah Gaiser, Flathead, d. Miguel Salamanca, Camas, by default. 152 — Nikko Veltri, Orting, d. Steel Hahn, Flathead, 8-1. 160 — Austin Pea, Mt. Spokane, d. Sam Voigtlander, Mead, 7-6. 171 — Cole Jesenouski, Post Falls, d. Taylor Whetzel, Mt. Spokane, 6-0. 189 — Ryan Rigney, Lewiston, d. Matt Howard, Coeur d'Alene, 9-4. 215 — Joe Janicki, Sedro Wooley, p. Tyler Aslup, Sentinel, 1:10. 285 — Brady Simpson, Richland, d. Joe Hartley, Post Falls, 7-4.
Recent Headlines
---