Music of the season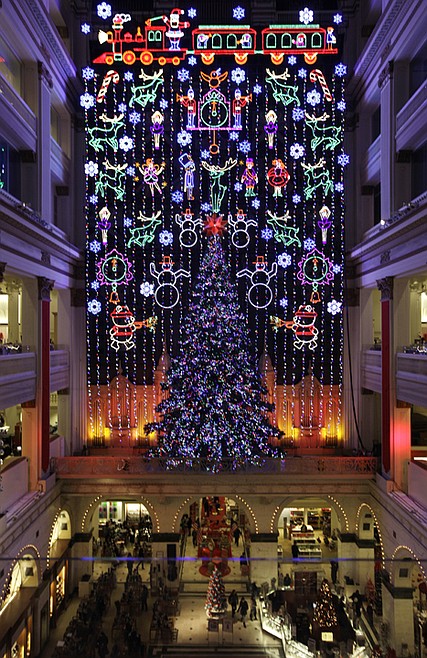 <p>The Macy's holiday light show with the finale accompanied by the Wanamaker Grand Court Organ in Philadelphia on Dec. 9. The organ, installed nearly 100 years ago, is the largest operational pipe organ in the world.</p>
by
Joann Loviglio
|
December 19, 2010 8:00 PM
PHILADELPHIA - Music lovers from around the world have always made pilgrimages to hear the Wanamaker Grand Court Organ, which resides not in a church, but in a Philadelphia department store. It's the largest operational pipe organ in the world - some say the world's largest playable instrument. And on the eve of its 100th year of serenading shoppers, it's never sounded better.
But at Christmastime, the organ, a National Historic Landmark, belongs not to tourists so much as to Philadelphians. Its holiday organ concert and sweetly old-fashioned light show has for generations been as much of a local tradition as trimming the tree or sitting on Santa's lap.
Located in a Macy's that was originally John Wanamaker chain's flagship store, the organ's polished mahogany console is tucked behind racks of sweaters and skirts. This time of year, crowds laden with bags and bundles overflow the soaring atrium, squeezing amid the women's shoes and pressing against glass jewelry cases for the hourly show. With narration by Julie Andrews, animated bears, snowflakes, nutcrackers and reindeer take visitors through a series of prerecorded Christmas songs with a live organ concert as the finale.
"It's magical," said Margie Fitzpatrick, a native Philadelphian who fondly recalled organ concerts with her parents, then her children, and was at a recent show with her 2-year-old granddaughter. "Hearing it just makes you feel blessed."
Superlatives are unavoidable when describing the symphonic, 287-ton organ. With 28,543 pipes, it embodies the sounds of not one orchestra, but three. In contrast, the organ at Notre Dame in Paris has about 8,000 pipes. St. Patrick's Cathedral in New York City tallies about 9,000.
The Wanamaker pipes range from 1/4 inch to 32 feet in length, are made of wood or metal, and span five stories. The console boasts six ivory keyboards and 729 color-coded stops representing the sounds of every string, woodwind, brass and percussion instrument imaginable.
But numbers can't explain the lusciousness of the music, which can simultaneously feel warm as a blanket and light as air. Extensive repairs over the past few years and vigilant upkeep now have the instrument - valued in excess of $57 million - performing at its peak.
"The organ has never sounded better," said staff curator L. Curt Mangel III, who has breathed new life into pipes that were silent for decades. He strides through the labyrinth of pipes and narrow passageways - which can also be toured by the public - with purpose, pride and unabashed devotion.
"Everyone involved with this instrument is passionate about it," he said. "It'll be around long after you and I are gone ... maintaining it is a joy and a responsibility."
The organ was built for the 1904 St. Louis World's Fair and was purchased by retail magnate John Wanamaker in 1909 as the crown jewel of his eponymous store in downtown Philadelphia. The store, an elegant marble and granite showpiece, itself a National Historic Landmark, was created for both commerce and concerts by Daniel Burnham, architect of Manhattan's iconic Flatiron Building and, as readers of "The Devil in the White City" know, director of works for the 1893 Chicago World's Fair.
The Wanamaker Grand Court Organ made its debut in Philly on June 22, 1911, to coincide with the coronation of George V as King of England. It started with 10,000 pipes, but 18,000 more were added over the next two decades, with Wanamaker's son Rodman Wanamaker sacrificing precious selling floor space to accommodate the expansion.
Wanamaker changed hands - and names - several times in the 1980s and 1990s, as regional department stores nationwide were bought by larger companies. By 1995, only about a fifth of the organ's pipes worked.
"It was really falling apart," said organist Peter Richard Conte. "As things would break down, they would just turn off a section ... there came a point where there was very little left to play." But even in humbled times and under a series of owners, the organ was played, every business day.
Its descent into disrepair reversed upon Macy's arrival in 2006. The new owner joined forces with a private nonprofit called Friends of the Wanamaker Organ, founded in 1991 to help maintain the mind-bendingly complex instrument.
Several hundred thousand dollars later, there is now a large onsite workshop and two full-time paid curators. The high-maintenance musical colossus is 97 percent operational and even got an additional set of tuba pipes this summer in celebration of the coming centennial.
"Macy's just got it. They got the history of this instrument, of what it means to Philadelphia and to the international community," Conte said. "They embraced this tradition the same way they embrace the traditions of the Thanksgiving parade and the Fourth of July fireworks in New York."
The late virtuoso organists Virgil Fox and Marcel Dupre have been among its countless guest players, but only four people have ever held the coveted job of resident organist.
"It's a great gig," said Conte, Wanamaker Grand Court organist since 1989, who gives two 45-minute concerts six days a week. "This is not a job you leave. It's every organist's dream."
The Philadelphia Orchestra joined Conte at Macy's in 2008 to perform Joseph Jongen's epic "Symphonie Concertante," a piece composed for the Wanamaker Organ in 1926 but never previously performed on it. The packed house and glowing reviews marked the start of what Conte calls "the best time for the instrument since John Wanamaker."
He added: "If the Liberty Bell is Philadelphia's heart, the Wanamaker Grand Court Organ is its soul."
Recent Headlines
---