Florida tourism industry reeling from dismal year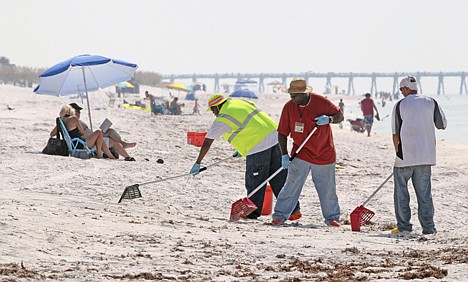 <p>Oil cleanup workers clean up tar balls on Pensacola Beach, Fla., on Aug. 1. The lingering economic recession, a record cold Florida winter and the effects of the Gulf oil spill stalled the tourist traffic this year in parts of Florida.</p>
MADEIRA BEACH, Fla. - The Hubbard family, owners of a marina complex and seafood restaurant on Florida's Gulf coast near Tampa, would just as soon forget that 2010 ever happened.
The lingering economic recession, a record cold Florida winter and the effects of the Gulf oil spill stalled the tourist traffic this year at Madeira Beach, where the Hubbards have been a presence since the 1970s. All that came after the lousy economy landed a gut punch to their businesses in 2009.
"It was incredibly scary, because we didn't know if we were going to get oil" on nearby beaches, said Kathleen McDole, a Hubbard sister whose Friendly Fisherman restaurant saw a 20-percent decline in business this year. "And neither did the rest of the United States and our visitors who come here. So they didn't come."
The family's struggles this year mirrored those of most of Florida's tourism industry, which employs around 1 million people and accounts for more than one-fifth of the state's total sales tax revenue. The year was even more disappointing because people in the industry originally had high hopes for recovery in 2010 after two straight bad years due to the recession.
But then came a rare extended freeze last January, and the BP Deepwater Horizon accident and oil spill on April 20. Throughout the spring and summer, would-be visitors changed their plans amid visions of oil fouling the beaches and spoiling their holiday.
Deep discounts and strategic marketing were required to persuade more people to come to Florida, cutting deep into profits. When vacationers got here, they spent less at restaurants and attractions.
"The collective impacts of the economic downturn, and certainly the oil spill, were as significant a challenge as we've (ever) had to face," said Chris Thompson, president and CEO of Visit Florida, the state's tourism bureau.
The number of visitors to the state - roughly 80 million annually - has stayed flat the past three years, following years of solid growth throughout the decade, according to statistics kept by Visit Florida. But the discounting necessary this past year took an even bigger bite.
"Now they're running their businesses in a totally different manner," said Robin Grabowski, president of the Tampa Bay Beaches Chamber of Commerce. "They're doing more with less. When fewer people are coming into the hotel rooms and they're paying less to get that hotel room, that economic impact is less all around."
The oil spill - and the widespread impression around the country that all of Florida's shores were awash in crude - came at a time when tourism officials were seeing signs that the industry was starting to recover from terrible years in 2008 and 2009, Thompson said. In reality, beaches in just six eastern Panhandle counties saw signs of oil - mostly in the form of tar balls and tar patties. Most of it has been cleaned up, although BP-funded crews are still working in some areas.
Laura Lee, spokeswoman for the visitors bureau for Pensacola-area beaches, said hotel and condo revenue was down 5 percent for the fiscal year that ended Sept. 30 - "which we actually consider a victory." Area hotels benefited by having BP workers and large contingency of media in town for the summer, but at reduced rates.
Oil started washing ashore in June and killed business in July, the biggest month of the year for the area's beaches. Revenue numbers for the month were off 25 percent, with visitors paying about 11 percent less than the previous July.
"What we battled most was the public perception," Lee said. "People saw images of maybe an oiled pelican in Louisiana, and then on the news they were talking about Florida beaches, and people just made the connection that we were the ones hit hard."
Her agency is using the $2.7 million in reparations from BP for aggressive marketing and promotions that seem to be paying off, she said. After a slow summer, September hotel and condo revenue was up 17 percent from the year before, with visitors playing slightly more per night than in 2009.
No one in the industry is jumping up and down over the prospects for 2011, but it's expected to be slightly better. The third quarter of 2010 showed an increase in total visitors to the state, and the number of travelers from Latin America and Europe are up by double-digits over last year. Florida theme parks are seeing a slight resurgence thanks in part to the new, wildly successful Harry Potter attraction at Universal Orlando.
"We realize we are in the recovery and restoration stage, and it's yet to be determined the extent of those two stages," Thompson said. "The good news is we're cautiously optimistic. As a result of the tough economic times, we've had a lot of pent-up demand out there."
One bright spot is Miami, which has managed to maintain its luster through the recent hard times, partly because about half its visitors come from overseas. The city is one of few markets in the country where the average daily rate for hotels is actually on the rise, and the Miami International Airport was second only to New York for international arrivals this year. Foreign visitors stay longer and spend more money.
"We've been more aggressive in the foreign markets, we've added more offices in South American countries, even though - like everybody else - we are doing more with less," said William Talbert, president and CEO of the Greater Miami Visitors & Convention Bureau.
Another bit of good news: Thompson said Florida is expected to reap benefits from the Tourism Promotion Act, which was passed by Congress in February and created a nonprofit corporation to promote U.S. tourism overseas.
Back in Madeira Beach, there's a lot on the line in 2011 for the Hubbards and other small-business owners.
"It has to be better," said Patricia Hubbard, McDole's sister. "Because if it isn't, we won't be here."
Recent Headlines
---