'Eccentric' professor's art legacy stuns Boise State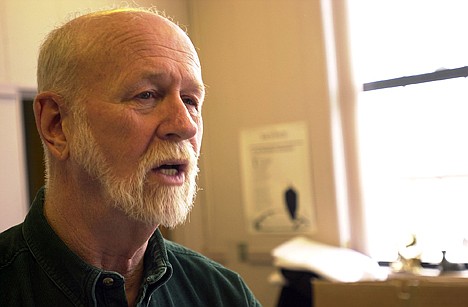 <p>Former Boise State Professor Tom Trusky left books with valuable drawings by artist James Castle to the university.</p>
by
Tim Woodward
|
December 19, 2010 8:00 PM
BOISE - Boise State University Professor Tom Trusky lived in a North Boise house that needed paint and insulation, didn't meet electrical codes and had bricks missing from a chimney. He lived so frugally that the gift in his will stunned even his closest friends.
Brilliant but eccentric, Trusky didn't learn to drive or own a car until he was middle-aged. Having finally bought one, he went 35,000 miles between oil changes.
His favored mode of transportation: a battered Peugeot bicycle. Boise State's lowest paid English teacher for years, he waited until late in his life and then only as a long-distance necessity to buy a telephone.
"He wasn't a monk, but he lived like one," said his friend and former student, Troy Passey.
Trusky, who died a year ago of heart failure at 65, worked out of a home office with a puny baseboard heater and an office at Boise State rampant with clutter.
"I thought he was disorganized, but that was because I saw his office with piles of stuff everywhere," said Cort Conley, another friend. "But the more I looked through his papers after he died, the more stunned I was."
Trusky, the seemingly disorganized professor, had filed everything from postcards to art books. The most valuable he had banked.
"There were books I know he paid over $500 for 10 years ago on a teacher's salary," Conley said. "Books, poems, letters everything was in acid-proof folders, coded and alphabetized. He saved anything he thought might have literary merit, and it was already archived."
But it was the contents of his U.S. Bank safe-deposit box that left Trusky associates reeling. Named as his personal representative in his will, Conley was staggered to open the box and find a dozen books by acclaimed artist-bookmaker James Castle.
Trusky was Castle's biographer; Castle was one of Trusky's many obsessions. But no one knew the extent or value of the Castle collection he'd locked away and left to Boise State in his will.
"I knew he had some of Castle's work, but when I went through it, I was blown away by how many drawings he had," Passey said. "I don't think you can buy a Castle drawing today for less than $5,000."
Greg Kucera, who sells Castle's work at his Seattle gallery, says individual drawings have sold there for $5,000 to $20,000. The books in Trusky's safe deposit box collectively contain hundreds of drawings potentially worth more than Boise State will make from its next bowl appearance.
"It's a remarkably generous gift," Passey said. "But I don't think that for Tom it was about the value. It was about the scholarship."
Tara Burt, Trusky's ex-wife, agreed.
"He lived for books and his passions, so in that sense I'm not surprised that he had them," she said. "But he wouldn't have obtained them for their monetary value. To him it was all about the artistic value."
Half of the books were gifts to Trusky from Castle's late niece, Gerry Garrow. The others he came by in the course of his Castle research.
His will stipulates that their recipient can never sell the books, which BSU almost lost to the Portland Art Museum by waiting until the final day to meet a legal deadline for accepting them.
"If he had only made it a gift to the Broncos, it would have sailed through the uprights," Conley said, "but one of Tom's more endearing quirks was how much he detested football."
He was passionate, however, about Castle's life and art. Trusky spent years researching and writing his 2004 biography of the artist, who grew up in Garden Valley, lived in Star and Boise's Pierce Park area and is buried in Dry Creek Cemetery.
Castle was deaf and couldn't speak or sign. He used pens whittled from sticks and ink made from soot and saliva or leached from colored paper to make drawings and books that have won critical acclaim and graced art periodicals and prestigious galleries.
Castle's books are the most valuable part of Trusky's legacy to the university, but not the only part. He also left his collection of zines and other art books, both worth thousands, and correspondence and other materials that fill a room, six shelves high, in the university's library.
Alan Virta, Boise State's head of special collections, says Trusky's gift "increases our art-books collection fivefold and our zine collection hundreds-fold. He'd hinted that we were going to get his things, but I'm surprised at their extent. I hate to say we don't know what we have, but we don't know what we have yet. It will take years to go through it all.
"It's a windfall. Not that we'd ever sell any of it, but it's certainly an intellectual windfall."
Recent Headlines
---