Post Falls boys, girls triumph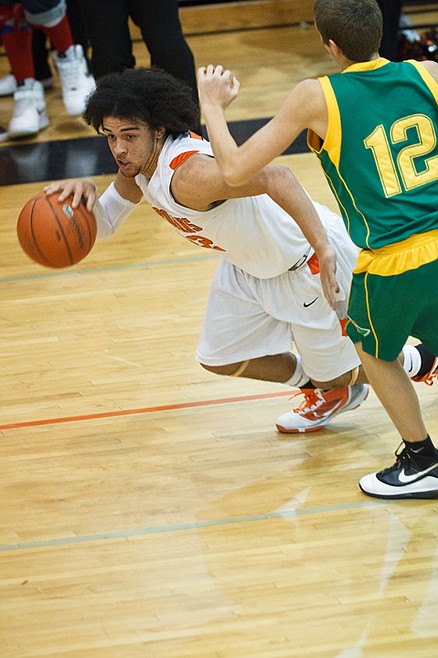 <p>Post Falls High's Marcus Colbert drives passed Adam Black, of Lakeland, after stealing the ball Friday in Post Falls.</p>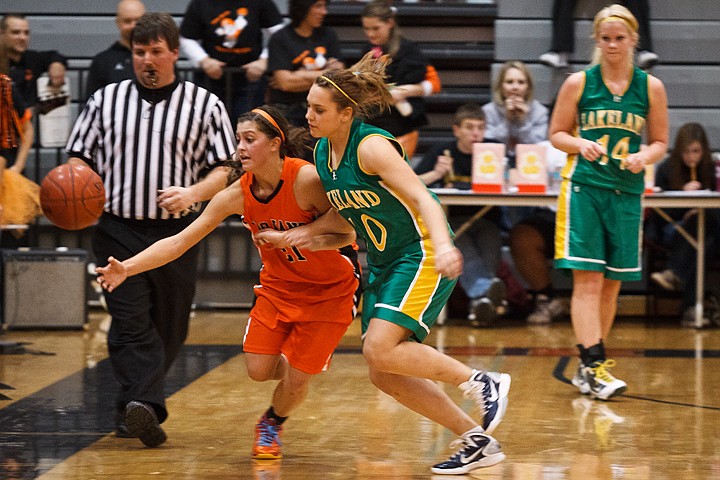 <p>Tori Davenport, of Post Falls, races Lakeland's Toni Tapplin to save a loose ball from going out of bounds Friday during the third quarter of the Prairie Pig 2011.</p>
Previous
Next
by
MARK NELKE
Sports Editor
|
December 18, 2010 8:00 PM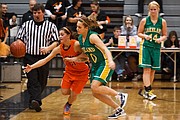 POST FALLS - Post Falls High senior Tori Davenport says she'll miss how her school and Lakeland High come together to help the less fortunate in the community as part of the Battle of the Prairie Pig spirit event.
Of course, playing on the winning side in all four Prairie Pig games is a pretty good memory to take away from high school as well.
Davenport finished with 19 points, two steals, two assists and her usual assortment of floor burns as Post Falls fought off Lakeland 59-53 in the girls game Friday night at The Arena.
"Tori just did a fabulous job keeping everybody under control, keeping everybody focused," Post Falls coach Chris Johnson said.
In the boys game, Post Falls overcame a slow start in the first three minutes and outscored Lakeland 58-19 the rest of the way en route to a 64-30 victory.
"We came out really fired up, but we had jitters," said Post Falls senior Connor Hill, who finished with 14 points. "We just had to calm down and play."
In the spirit competition, Post Falls won the Pig for the sixth time in the 15 years of the event.
Post Falls 59, Lakeland 53: Post Falls (4-4) led by as many as 15 points in the first half before Lakeland (5-5) stopped fouling and committing turnovers and closed to within two points late in the third quarter.
However, Post Falls withstood that run and one more late in the game by Lakeland to hang on for the win.
"I was scared that we were going to lose this one," Davenport said. "They (the Hawks) were really tough. I thought we did well keeping our heads, especially in a Prairie Pig game — there are so many emotions."
Katie King added 15 points, Josie Tennison 10 for Post Falls, which shot 39 free throws, making 28.
"In spurts we played very well," Johnson said. "We came out and played very aggressively, but then we got ourselves in foul trouble and gave up way too many offensive boards."
Lakeland fell behind 15-4 after six minutes, and had committed eight fouls to Post Falls' one. The Hawks trailed 33-19 at halftime, but chipped away in the second half, going on a 17-3 run in the third quarter to pull within 40-38 late in the quarter.
Post Falls answered with the next six points, and led 46-41 after three. Lakeland pulled within 54-51 on Jenna Davis' putback with 57 seconds left. But King sank two free throws and the Hawks committed two turnovers to end their comeback.
"Lakeland was very aggressive and tenacious," Johnson said. "I thought Lakeland played extremely well."
Davis and Neena Buchman each scored nine of their 14 points in the second half for Lakeland, which shot 14 of 28 from the line and actually finished with one less turnover than Post Falls' 19.
"It was a horrible start for us, and a great start for Post Falls," Lakeland coach Steve Seymour said. "We were a little nervous, I thought. The second half we battled a little more. I thought if we could keep the turnovers to a minimum, we'd have a shot.
"I will take the moral victory from a game like this," Seymour added. "In the second half, this team developed a heart."
On Tuesday, Lakeland is home vs. Pullman, and Post Falls travels to Hermiston (Ore.).
Lakeland 10 9 22 12 — 53
Post Falls 18 15 13 13 — 59
LAKELAND — Babor 3, Murray 2, Coder 5, Reed 6, Davis 14, Buchmann 14, Close 9, Tapplin 0.
POST FALLS — Waller 0, Tennison 10, King 15, Davenport 19, Litalien 7, Clancy 0, Scott 0, Failor 8.
Post Falls 64, Lakeland 30: Lakeland (0-5) hit four 3-pointers in the first eight-plus minutes. But Post Falls (5-0), ranked No. 1 in 5A, started picking up the pressure late in the first quarter, and turned the next two quarters into a series of steals and layups.
Post Falls led 32-22 at halftime, then outscored Lakeland 25-5 in the third.
"I thought our defense picked up in the second half for sure," Hill said. "I thought we played with high energy."
Lakeland committed 24 turnovers, shot 7 of 18 from the free throw line and picked up two technical fouls, one for having six players on the court.
Marcus Colbert scored 15 points for Post Falls, which got solid bench play from Kyle English (12 points), Seth Anderson (6) and Damon Gonzales (4).
On Tuesday, Lakeland plays host to Pullman, and Post Falls travels to Hermiston (Ore.).
Lakeland 13 9 5 3 — 30
Post Falls 16 16 25 7 — 64
LAKELAND — Spencer 2, Black 2, Whitesitt 6, Kunde 0, Cooper 6, Arno 5, Gray 1, Derrick 3, Henrikson 0, Opland 5, Galbraith 0.
POST FALLS — English 12, Gonzales 4, Hill 14, Anderson 6, Valente 2, Thoreson 3, Colbert 15, Benner 0, Hillman 8, Lickfold 0, Shelton 0.
Recent Headlines
---