Tidings of joy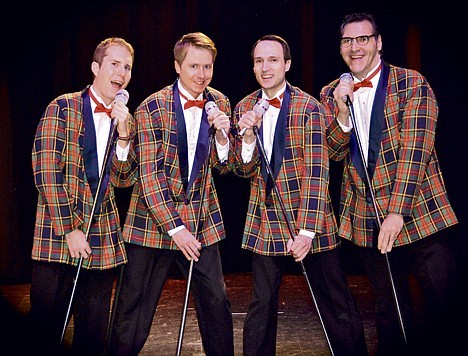 <p>Robbie French, Steve Booth, Christian Duhamel and Mark Cotter star in "Plaid Tidings."</p>
by
BILL BULEY
Staff Writer
|
December 17, 2010 8:00 PM
COEUR d'ALENE - Steve Booth is home for Christmas, and naturally, his father, Bill, asked the question that most fathers ask their sons when it comes to their careers.
"What are your plans?"
The younger Booth, 29, would eventually like a family, a house, "all the stuff I grew up with."
But not now. Not today.
No, these days, Booth is living in New York, pursuing what thousands upon thousands of others like him want to do, even though the odds are absolutely stacked against them: A career in the entertainment world.
He'll be the first to tell you, it's not for anyone who can't take rejection. It's not for those who like security.
It is for people like Steve Booth, though, who has lived in New York the past four years.
"It's been a little slower lately. That's the way things are. Shows are closing on Broadway," he said during a recent interview in Coeur d'Alene. "There are always shows that are doing well. It's stressful. You've got to be the kind of person who can take a 'no' more often than a 'yes'. Ninety-nine percent of the time you're getting no's waiting for that one time you get the job. You have to stand strong."
And so he did.
"I am still at it," Booth said.
And he still manages to make it home for the holidays.
Oh, and while he's home, he'll mix a little business with pleasure by taking the stage in "Plaid Tidings," Coeur d'Alene Summer Theatre's holiday sequel to "Forever Plaid" this weekend at Schuler Auditorium in Boswell Hall at North Idaho College.
He'll join Robbie French, Christian Duhamel and Mark Cotter in the production "that offers the best of "Forever Plaid" tied-up in a nifty package with a big Christmas bow on top."
Here's the basics of the musical comedy directed by Roger Welch: "Filled with Christmas standards that have all been 'Plaid-erized,' our boys are back to do their Christmas Special. At first they aren't sure why they've returned, but a phone call from the heavenly Rosemary Clooney lets them know that they're needed to put a little harmony into a discordant world."
"It's full of Christmas music, it's fun," Booth said.
The 1999 Lake City High School grad believes it will be a hit and is hoping North Idaho comes out for it.
"I feel good about it. All the guys are great," he said. "People are going to like it."
On stage
The 6-foot, 165-pound Booth has had successes.
Since earning a degree in theater performance from the University of Nevada, he has landed roles in "Avenue Q" and "Glory Days" on Broadway. He has been on tour in productions including "Three Musketeers," "Pippin," "Fiddler on the Roof," "Grease," and "Happy Days.
From playing the trumpet, piano and guitar to being able to walk on his hands to wiggling his ears and juggling, he's a man of many talents and a man with resolve.
No surprise to LCHS drama teacher Sandy Seaton, who met Booth when he was in a junior in high school.
"He was enrolled in my speech class and I was doing 'Bye Birdie.' I was desperate for a tenor and Steve happened to be a good one. Steve was on the golf team that spring but was gently persuaded to audition and be a part of the show," she recalled. "I honestly don't think he has ever looked back. He went on to do many more shows with me including: 'Once Upon a Mattress' and 'Much Ado About Nothing.' He was such a joy to work with and his warm and playful nature endeared the rest of the cast too him. I am so proud of his achievements and his future successes. He is one that Coeur d'Alene should be proud to call their own."
Booth admits, though, an acting career is a daily struggle.
There are days he wonders, why didn't he try something perhaps a little more safe.
"It's crazy. It's definitely feast or famine," he said. "You get a job and you're riding high. Anyone who can stick to this business in theater and be in New York and find a way to survive and be afloat is in my mind successful."
Since he's not married and doesn't have children (but he does have a girlfriend), Booth said he has more freedom than some to try out for shows out of town, go on tours and be adventurous. He sees no other choice, really.
"Unless you're working on Broadway, you're getting jobs out of town so you spend a lot of time working around New York," he said.
New York, New York. When it comes to his career, he loves it.
"It's nice to be right in the middle of it. It's nice when the Broadway gigs come around and you actually do get to work in the city," he said.
Still, it was a tough move to make.
"I don't know how people do it. There's thousands and thousands of kids who go out there without anything," he said.
Key is belonging to the Actors' Equity Association. He recalls being cast in Avenue Q at an open call and earning his union card.
"If you're lucky you get picked up and you get a call back. If you're real lucky, you get in the show and they give you your equity card."
Despite surviving on little cash and much uncertainty, it's what Booth wants.
"I like that it's something new every time. I like all of the people that I meet. I meet some amazing people. I've made some lifelong friends in this business," he said.
"I've been able to see the country, I've got out of the country. I've been able to go places and travel to places I never would have if I wasn't in this business... It's exiting. It doesn't get boring. That's for sure. The opposite side of that is, it gets frustrating sometimes. It's not consistent. It's very inconsistent."
"I like being able to work on new pieces of theater. I love being on the ground level of something and building it up and being able to say I helped create something."
Never say never
The son of Bill and Kathy Booth of Hayden Lake knows this: He's not quitting.
"I'm not sick of it yet. I'm not sick of performing. I'm not sick of auditioning yet. I'm not sick of the no's."
His tenor singing voice, he said, is his strength.
"I can sing all different kinds of music. My voice, I think that's where I stand out is my singing," he said.
Booth, in some months, will have 15 auditions. Others, just three or four.
He recently tried out for '30 Rock', his second time auditioning for the popular television show.
"They brought me back again, so that's a good thing," he said.
"Television especially, comes down so much to type. They're going to get the guy that has the exact right look."
While the statistics say forget acting (something like 2 percent of all actors are working) Booth plots for yet another audition, another tour, another chance for his big break.
So should anyone, he says, if it's what they want, if it's in their heart.
"I would say go for it. You have to be willing to accept it could be rough," he said.
"I recommend it to anyone who's excited by it, who feels like it's what they really want to do. I would preface it by saying it's not easy. It's not a fruitful way of living. It can be," he said. "You can be the lucky one who lands that Broadway gig or gets that Tony or whatever."
Or even the part that brings you home for the holidays and a chance to talk to your dad.
Plaid Tidings
Coeur d'Alene Summer Theatre presents the holiday sequel to Forever Plaid for three performances only, Dec. 17-18 at 7:30 p.m. and Dec. 19 at 2 p.m. at Schuler Auditorium in Boswell Hall on the campus of North Idaho College, 1000 W. Garden Ave. For tickets, please call (208) 769-7780 or go to www.cdasummertheatre.com. Tickets range from $25-$30
Recent Headlines
---