Home on the grange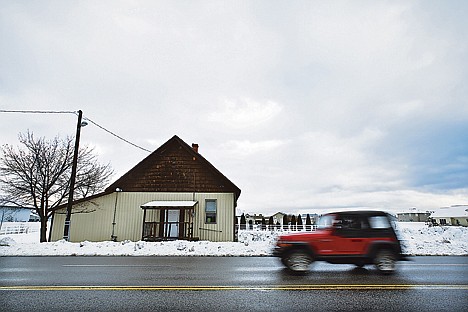 <p>The Cloverleaf Grange in Post Falls is the oldest operating grange in Idaho. As part of a revitalization effort, there will be an open house and Christmas potluck at the grange on Friday, Dec. 17.</p>
by
Brian Walker
|
December 17, 2010 8:00 PM
POST FALLS - The oldest operating grange in the state has staved off extinction.
Cloverleaf Grange, built and founded in 1908 on McGuire Road in Post Falls, had its charter suspended last spring due to dismal membership.
The state grange recruited new local blood, the hall has been reorganized and members have hopes of reviving and preserving the landmark starting with community events and fundraisers.
Kim Tompkins, Cloverleaf's master, decided to return to the grange to help with the effort.
"I remember going to Halloween and Christmas parties at the Cloverleaf Grange as a girl," she said. "I didn't want to see that part of our culture and history lost."
Once down to three active members, Cloverleaf has 17 since the reorganization. It needs to maintain 15 to keep its charter.
Cloverleaf's situation is a snapshot of what has happened to granges across the country. Others have either folded or teetered on it due to lack of interest and a wider variety of activities.
In many cases, including Cloverleaf's, subdivisions have cropped up around the halls that were once in the country.
For the halls that remain vibrant, including Mica Flats Grange south of Coeur d'Alene, the key has been diversification from the organization's rural and political roots but not abandoning them.
"Granges still have a purpose, and they're not just about agriculture," Tompkins said. "They can still act as the community center.
"It's sad, but as people's lives have changed, they've moved on to other things."
Community events and fundraisers are part of the comeback at Cloverleaf.
A craft fair was recently held there and an open house and potluck Christmas party is set for 5-9 p.m. today at the hall, 3232 N. McGuire.
Tim Herzog, the hall's lecturer and president of the North Idaho Classic Car Club, said he's hoping to arrange a gun show and motorcycle or car show. Dances and card games are other options.
Rural lifestyles will still have a presence, however. The Whistle Stop 4-H Club regularly meets there and the hall, like others, will still have a role politically through legislative resolutions and nonpartisan candidate forums. It can be rented out for clubs, family gatherings and meetings.
Such offerings are intended to attract members, which will be critical before volunteer burnout sets in, Tompkins said.
Tompkins said she and others realize reviving Cloverleaf won't be easy. Recruiting members will be one thing; repairing the building will be another.
"The building needs a new roof and a new foundation," she said. "There's been little or no maintenance done on it in the last 10 years."
The kitchen also needs to be repaired, so it can be up to code and available for cooking meals.
"We have some money in savings, but there isn't near enough for the repairs," Tompkins said. "We'll try to hold at least one fundraiser each month during the next year."
Donations of building materials and other items to the grange are tax-deductible with Cloverleaf being a nonprofit.
"We're hoping that, over time, people can donate items or even their labor," Herzog said.
Tompkins said even practical items ranging from garden hoses to dishes are needed.
"When our charter was suspended, a lot of stuff, including the newer refrigerator, went missing from the grange while there was no leadership looking over it," Tompkins said.
Once improvements can be made, that should lead to more events at the hall, Herzog said.
"If the building is fixed up, it will be more desirable," Herzog said. "It's a piece of history, and we should keep it going."
Recent Headlines
---