Legislators look to new session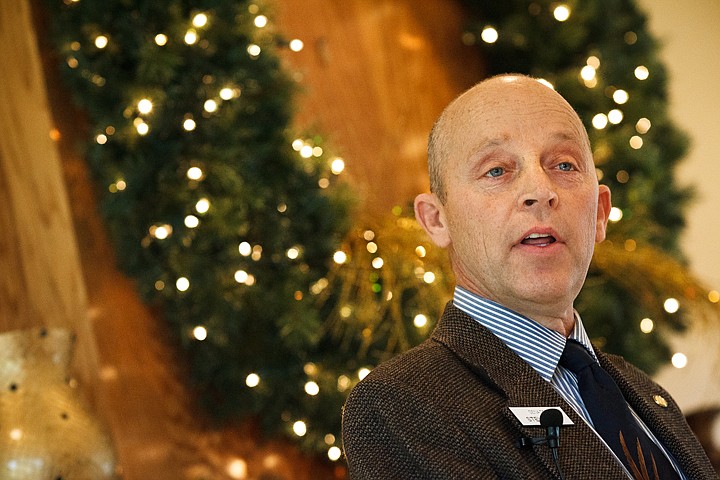 <p>State Sen. Steve Vick, R-Dalton Gardens, describes his expectations and goals for the upcoming Legislative session Wednesday during the 2011 Legislative Send-Off hosted by the Coeur d'Alene Chamber of Commerce.</p>
by
Alecia Warren
|
December 16, 2010 8:00 PM
COEUR d'ALENE - A lot of challenges await the state Legislature this upcoming session, lawmakers say.
But also plenty of opportunities.
"We have a revenue shortfall that won't allow us to nurture programs as we have in the past," said Rep. Steve Vick, R-Dalton Gardens on Wednesday. "But it is also an opportunity to reduce our government to a more appropriate size and authority."
Some outlooks were brighter than others at the Legislative Sendoff hosted by the Post Falls and Coeur d'Alene chambers of commerce, where legislators from districts 2-5 presented their plans for the new session.
Addressing chamber members at The White House event center, some lawmakers spoke of impending budget cuts, others of legislation that might bring in more jobs.
Much of it impacts local business, said Todd Christensen, CEO and president of the Coeur d'Alene Chamber of Commerce.
"Having a pro-business environment where businesses can prosper and grow is crucial," Christensen said.
The legislators, soon traveling to Boise for the session starting in January, laid out a full spectrum of issues to tackle.
Vick, newly elected to District 3, predicted the Legislature will be reducing redundancies and streamlining, just like a hurting business.
"We do that not because we want to, but because it's necessary," Vick said. "I believe right now is the time to reconstruct, or 'right size,' the government."
Rep. Frank Henderson, R-Post Falls, hopes to pursue legislation helping businesses obtain certification to produce replacement parts for military vehicles.
"A need exists among all military bases for these replacement parts that is in the millions of dollars," Henderson said. "Those who can produce those are in our North Idaho machine shops."
Henderson also hopes to ease standards for employers to get Department of Labor funding for employee job training.
"Some employers are ready to hire folks with specific skills," he said. "We just have to make funds available to make that accessible."
Cutbacks in school funding are imminent, warned Rep. Marge Chadderdon, R-Coeur d'Alene, who will serve on the Education, Business and Local Government committees this session.
"A word you'll be hearing this year is not cuts, but restructuring, because it's a lot nicer than cuts," she said.
Idaho will help lead the country out of recession, predicted Sen. Jim Hammond, R-Post Falls, pointing to the state's fiscally conservative policies.
"We'll be looking for guidance from local businesses for strategies that would help us climb quickly out of this recession," he said.
Hammond also plans to focus on finishing transportation projects funded by GARVEE (Grant Anticipation Revenue Vehicle) bonds, he said.
"One of my friends in the Legislature said 'One of the stupidest things we did was GARVEE,'" Hammond said. "I think another stupid thing would be not to finish it."
Athol Rep. Phil Hart discussed a stream of bills he plans to pursue, including addressing the number of illegal immigrants in the state. The Republican has heard illegal immigrants are costing the state $150 million a year.
"The time is right to get something done on that issue," Hart said.
Bruce Weaver, president of AAging Better who attended the sendoff, said he was still apprehensive about the state's economic situation.
"I like that they want Idaho citizens to give ideas on how to approach problems," he said.
Bobbi Rollins, chair of the Post Falls Urban Renewal Agency, said she hopes lawmakers don't choose to go after URAs.
"There is some opposition," she said. "We want to support laws that enhance urban renewal, rather than squash it."
The biggest issue facing legislators is balancing the budget, now that the state's rainy day funds have been depleted, said Cort Wilcox with D.A. Davidson.
"I'm interested to see how they can do that without raising taxes," Wilcox said.
Recent Headlines
---