Caruso's and CFA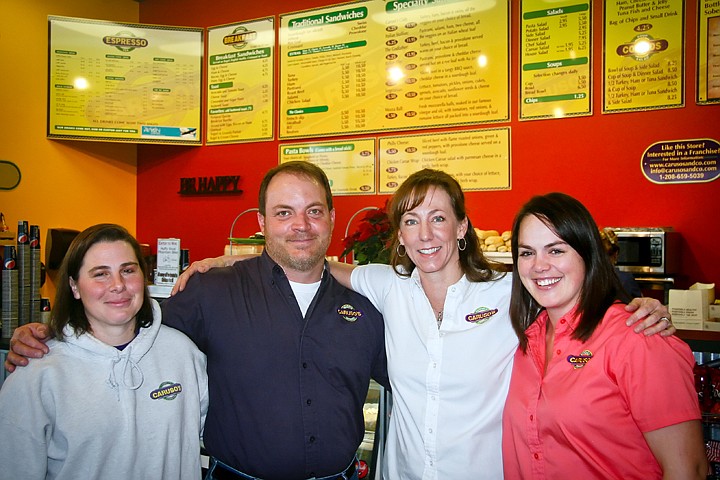 <p>Caruso's Sandwich Company stores in Hayden, Post Falls and Coeur d'Alene will be giving proceeds and tips to Christmas for All on Saturday from 10 a.m. to 4 p.m. From left are Amy Stamps, owner of the Spokane Caruso's, Vince Caruso and Chelle Caruso, owner of the Coeur d'Alene store, and Shelly Dutro, owner of the Hayden store.</p>
by
BILL BULEY
Staff Writer
|
December 15, 2010 8:00 PM
COEUR d'ALENE - Cat Gunseor has been an employee at Caruso's Sandwich Company for three years.
This Saturday will be among her busiest days. From 10 a.m. to 4 p.m., she'll pretty much be going nonstop to keep up with the orders.
She doesn't mind. Heck, it's her favorite day to work.
"Everyone is excited to be helping out with Christmas for All," she said.
For the 11th year, Caruso's stores will be donating all proceeds and tips to CFA. The one-day fundraiser includes the stores in Coeur d'Alene, 202 W. Ironwood Drive owned by Vince and Chelle Caruso; Post Falls, 402 Seltice Way, owned by Mike and Desi Freeman; and Hayden, 113 W. Prairie Shopping Center, owned by Shelly Dutro.
Each will be serving their array of fresh sandwiches - "The Godfather" is always a top seller - and salads.
"We all do this together," Chelle said. "It's kind of a celebration of our businesses being open."
Since they began the annual benefit, Vince and Chelle Caruso, who began the Caruso's franchise, estimate they have raised about $20,000.
They credit its success to their employees and vendors like Pepsi and Odom for pitching in, and the community for coming out.
"It's an exciting day, a busy day," Chelle said.
Dutro said it's fun, and especially nice that the money stays here.
"To know it's going to local families is huge," she said.
Vince Caruso called this once-a-year CFA day "amazing."
"It's amazing what happens in this community," he said. "I'm really thankful as a company we are still doing this and able to do it."
"We just want our community to know we all appreciate we live in such a fantastic community," Chelle said. "We're just happy to be able to give back."
The CFA benefit goes from 10 a.m. to 4 p.m. Each store will be offering $1 raffle tickets for drawing on a mountain bike and beach chairs, again with proceeds to CFA.
Chelle said it's a great way to donate to CFA and enjoy a meal.
"It's an easy way to feed your kids," she said.
Amy Stamps, owner of the Spokane Caruso's which is closed Saturdays, is coming over with her family.
"I'm going to be on the other side, donating," she said.
"She'll jump in behind the till if she needs to," Chelle said, laughing.
Gunseor said she'll be ready for a good day's work Saturday - with a little help from caffeine if necessary.
"If you do get a little tired, we have coffee," she said.
Recent Headlines
---