The mind game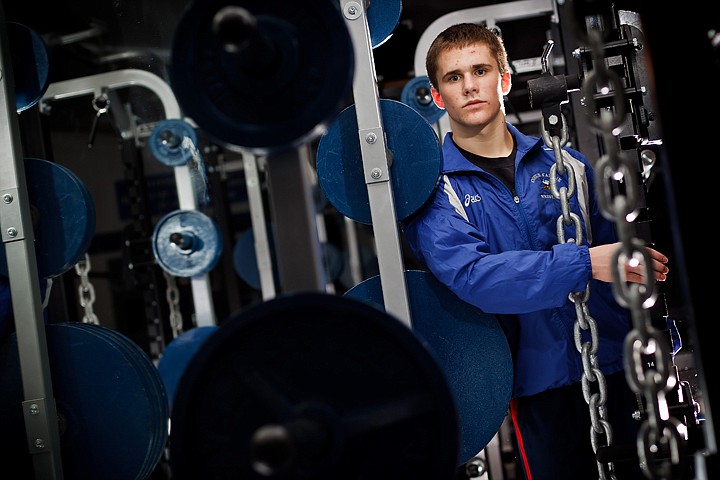 <p>Kenny Staub, a wrestler at Coeur d'Alene High, will help defend the state 5A wrestling title the team won last year. Staub, who is in the top 10 of his senior class academically, will attend Brown University.</p>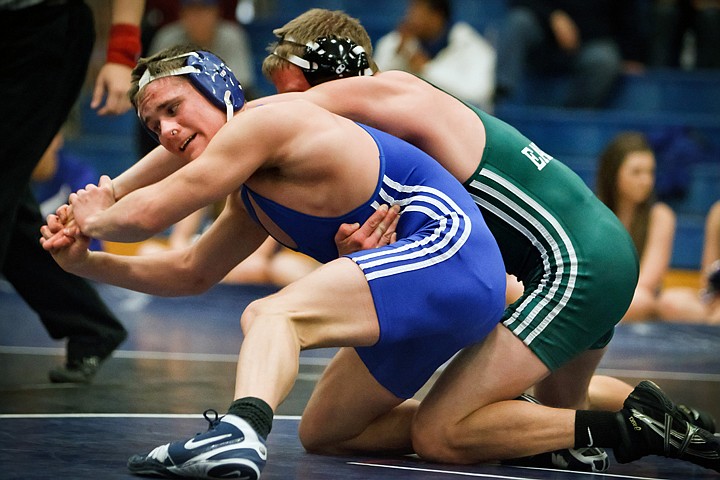 <p>Coeur d'Alene High's Kenny Staub fights to move his opponent from Lakeside High into position during the 140-pound match Wednesday.</p>
Previous
Next
by
JASON ELLIOTT
Sports Writer
|
December 14, 2010 8:00 PM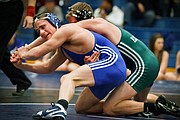 COEUR d'ALENE - He may not be the toughest wrestler in the field at this week's 39th annual Tri-State wrestling tournament, but when it comes to outsmarting someone on the mat, he's already a champion.
Coeur d'Alene senior Kenny Staub, who finished as the 130-pound runner-up at last year's state 5A tournament, recently was accepted into Brown University, an Ivy League school in Providence, R.I.
"It all started over the summer," Staub said. "I started getting calls from Cal Poly. At this point last year, I would have gone there instead."
Staub has a GPA of over 4.0 and is currently ranked in the top 10 of this year's graduating class of more than 350 students.
"It makes me feel so glad to put all the work in and have this happen," Staub said of attending an Ivy League school. "I've been taking all AP classes this year. It's an added stress to cutting weight for wrestling, but it's worth it to go to a place like this."
The scholarship is completely academically based, as Ivy League schools do not offer athletic scholarships.
"It's a big deal for him," Coeur d'Alene High coach Jeff Moffat said. "Especially for the academic part of it. It is so tough to get into a school like that. It says a lot about Kenny as a student."
"As a student, he's top notch," Moffat said. "To go to a place like Brown, he'll have to be. It's a nice fit for him. I think he can compete at that level. I'm really happy for him."
After last season, coaches from Brown, Princeton and Duke University began to inquire about Staub.
"At the end of the summer, my mom and I took a week and went on unofficial visits to those schools," Staub said. "I liked both Princeton and Brown and went on official visits during the fall."
Staub said a few West Coast schools also inquired, but he opted to remain focused on the East Coast schools.
"I was really glad I decided to keep my options open as far as wrestling goes," Staub said. "I mainly had my focus set on wrestling at college."
Staub enters Tri-State, scheduled for Friday and Saturday at North Idaho College, looking to improve on his seventh-place finish last year.
At 140 pounds this year, he'll also be looking to help the Vikings defend their first state wrestling title.
Staub also placed fifth at state at 103 pounds as a freshman and was also fifth at 119 as a sophomore.
Last weekend, Staub finished second at the Inland Empire Classic at Central Valley High in Spokane.
"We definitely want to win another state title as a team," Staub said. "After losing in OT in the state championship match, I really want to win a state title. This is my last shot individually, and I care about the team, but really want to win one as an individual this year."
First up is this weekend's event, drawing some of the best teams from around the Northwest to Christianson Gym.
"He'll be in the mix for placing," Moffat said. "If he gets on a roll, he could wind up placing."
Staub took on Lakeside's Josh Lauderdale in the first match of the season on Wednesday, a wrestler he'll likely see again this weekend.
"He'll have to make some adjustments after that match," Moffat said. "But in a tournament like this, whoever gets hot can win it."
In the wrestling room, Moffat added that he can always count on Staub to get the job done.
"He's a real team player and hard worker," Moffat said. "I never have to worry about his grades being an issue. Kenny leads by example and brings a blue-collar attitude into the wrestling room."
Moffat has coached Staub since his days with the Buzzsaw Wrestling Club beginning in the fourth grade.
"He's gotten tougher over the years," Moffat said. "Something in him clicked after his freshman year and he's gotten better ever since."
Moffat added that Staub's intelligence has also been a factor in his success.
"When you have the brain capacity that he has, you can pick up the technique right away," Moffat said. "Some kids struggle with it, but Kenny has picked it up right away. Everyone thinks it is all brawn, but you've got to be smart as well. I'd love it as a coach if everyone was as smart as he is."
Staub, who had also participated on the Coeur d'Alene High swim team his freshman through junior years, opted to sit out this season to focus on wrestling.
When not busy with homework or wrestling, Staub competes in triathlons and will attempt to tackle the Ford Ironman Coeur d'Alene in June.
"I really enjoy road biking," Staub said. "I wasn't that strong of a swimmer at first, but joined the swim team to improve my endurance."
That endurance he hopes will get him through the Ironman competition as one of the youngest competitors in the 2011 field.
"Last year, I went in the day after and got signed up," Staub said. "It's just like competing in wrestling. You've got to have the mentality that if you get a flat tire, you've got to fight through it. If you train hard, the results will happen. I just enjoy pushing myself in whatever I do and try to accomplish new things."
That mindset, Staub believes, will help him remain successful at Brown.
"When I was looking for a place to go, I wanted it to be just as tough wrestling as academically," Staub said. "Not only is it going to be a Division I program, but you can't go there and take the easiest classes either. It's tough academically and definitely going to be a lot of work."
Staub plans to study either psychology or economics at Brown.
"It's been a pleasure to coach him," Moffat said. "It's a great family and Kenny's a great kid. I've been coaching him since the fourth grade, whether the summer or high school. I've been around him a long time and hope the best for him."
Recent Headlines
---