Seattle flubs chance to control NFC West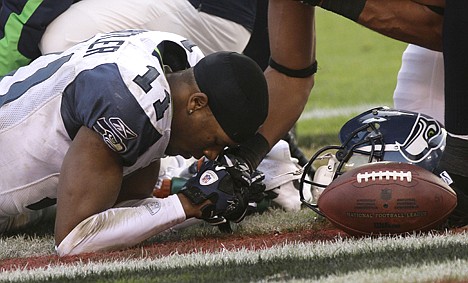 <p>Seattle Seahawks wide receiver Deon Butler stays on the ground after being injured on a two-yard touchdown reception during Sunday's game against the 49ers in San Francisco. He underwent surgery Sunday night and was placed in injured reserve with a broken right leg on Monday.</p>
by
Tim Booth
|
December 14, 2010 8:00 PM
RENTON, Wash. - The opportunity was there for Seattle to shut the door on San Francisco and take control of the woeful NFC West, leaving it to just the Seahawks and St. Louis to sort out over the final three weeks.
Instead, a mistake-filled and uninspired effort by the Seahawks against the 49ers has the division in a three-team race. And it raised the possibility that whoever shakes out as the winner of the division could be under .500.
"I don't feel the consistency of growth, particularly here at the end of the season when everyone is working hard," Seahawks coach Pete Carroll said on Monday. "Everyone is the recipient of playing together so long you should be playing better and better and better as you go along and it doesn't feel like that. It feels like we've gone back and forth."
Carroll was left lamenting his team's mistakes a day after a 40-21 drubbing by San Francisco left Seattle at 6-7 and losers of five of its past seven following a 4-2 start. Seattle's defense did very little to slow down Alex Smith and the 49ers but wasn't helped by five turnovers from quarterback Matt Hasselbeck, including four interceptions.
Hasselbeck now has thrown eight interceptions in his last four games. That followed a five-game stretch where the Seahawks veteran QB threw just one pick in 220 pass attempts. Hasselbeck's performance on Sunday was so bad, Carroll was questioned afterward if a change would be made to backup Charlie Whitehurst, an almost unthinkable move with a team in a legitimate chase for a playoff spot.
"It's puzzling because we think we're a lot better than we showed today," Hasselbeck said after Sunday's game.
Carroll was critical of his quarterback on Monday. He said Hasselbeck is still struggling with understanding times when throwing the ball away or taking a sack is the better option and continues to force passes.
"He was trying to make plays out of stuff that wasn't there. ... He's well aware of it and it just got away from him," Carroll said. "It's something that you are concerned about. Earlier in the year that happened and Matt put that behind him and we had a long stretch of really taking care of the football, and he got a little careless with his decisions and he threw the ball to those guys. It's disappointing for us because it's such a big deal for us."
Carroll tried taking a little heat off Hasselbeck's turnover woes, saying when he took over at USC in 2000 it was a year before players accepted his philosophy of turnovers being the most important factor. The Trojans went 6-6 his first season.
"It took us a year to really pay the price to really feel the pain of when you can't make the philosophy work for you of protecting the ball at all times and never giving the ball up," Carroll said. "I'm not doing a good enough job of getting the point across."
Hasselbeck wasn't helped by a receiving corps that was missing its top two targets - Mike Williams and Ben Obomanu. Each missed Sunday's game with injuries, but Carroll said both are expected to play next Sunday when the Seahawks begin a difficult final stretch against Atlanta.
But that game against the 11-2 Falcons could have taken on a different context had Seattle not faltered on Sunday.
By beating the 49ers, Seattle could have made the next two weeks mostly meaningless, knowing that a victory over St. Louis in the season finale at home would likely wrap up a division title at 8-8.
Now, Seattle needs either a win over NFC-leading Atlanta or at 8-5 Tampa Bay the day after Christmas and to beat St. Louis at home to likely secure its first division title since 2007.
Seattle's final three opponents have a combined record of 25-14 entering this weekend, clearly the toughest stretch of any NFC West team between the Seahawks, Rams and 49ers. St. Louis closes with Kansas City and San Francisco at home before traveling to Seattle. The 49ers play at San Diego and are home for Arizona sandwiched around their trip to St. Louis.
There are plenty of scenarios where 7-9 could end up being the winning mark. There's even the outside chance that all four NFC West teams could finish at 7-9 if Arizona wins its final three.
"It continues to be the challenge that we're trying to find our game, find it each week and see if we can do it," Carroll said.
Recent Headlines
---