Jets assistant suspended, fined $25,000 for tripping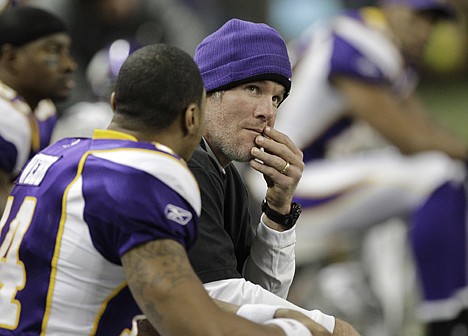 <p>Minnesota Vikings quarterback Brett Favre watches from the sidelines during Monday's game against the New York Giants at Ford Field in Detroit. Favre was sidelined by a throwing shoulder injury, halting his consecutive start streak at 297 games.</p>
|
December 14, 2010 8:00 PM
FLORHAM PARK, N.J. - Sal Alosi, the New York Jets assistant coach who tripped a Miami Dolphins player during a game was suspended by the team Monday night without pay for the rest of the season, including the playoffs, and fined an additional $25,000.
Alosi, the strength and conditioning coach, began serving his suspension immediately and will have no access to the team's practice facility.
"I accept responsibility for my actions and respect the team's decision," Alosi said in a statement.
General manager Mike Tannenbaum said Alosi will also not be allowed to interact with any players or coaches "as it pertains to his job function." He added that the team spoke with the NFL about the incident throughout the day, and the league will issue no further discipline.
Alosi stuck out his left knee on the sideline and tripped Dolphins cornerback Nolan Carroll, who was covering a punt in the third quarter of Miami's 10-6 win Sunday.
• Metrodome roof collapse rekindles stadium debate: Frigid air whipped through a desolate Metrodome on Monday as crews began inspecting the Minnesota stadium's nearly three decades-old roof after it collapsed under the weight of heavy snow that pounded the Twin Cities and forced the Vikings to move their game to Detroit.
Sunday's roof collapse was the fourth since the since the 29-year-old facility opened, and it has rekindled the debate over whether the cash-strapped state should build a new venue using taxpayer money.
The Vikings' lease runs through the 2011 season and they have said they won't renew it. The NFL team is the stadium's only major tenant after the Minnesota Twins and University of Minnesota moved into new facilities, which received public subsidies, in the past two years.
Giants 21, Vikings 3: At Detroit, Brandon Jacobs ran for a go-ahead touchdown midway through the second quarter, Eli Manning threw a lead-padding TD just before halftime and Ahmad Bradshaw added a 48-yard run to help visiting New York (9-4) beat Minnesota (5-8).
The Giants sacked Brett Favre's replacement Tarvaris Jackson four times, knocking him out of the game late in the third period and again in the final seconds.
Ravens 34, Texans 28, OT: Josh Wilson intercepted Matt Schaub's pass and returned it 12 yards for a touchdown in overtime. lifting Baltimore over Houston (5-8).
The Ravens (9-4) stayed one game behind Pittsburgh in the AFC North despite blowing a 28-7 lead in the second half. Schaub threw a 5-yard touchdown pass to Andre Johnson and a 2-point conversion to Jacoby Jones with 21 seconds left in regulation to cap the unlikely rally.
Recent Headlines
---