Patriots lock up another playoff berth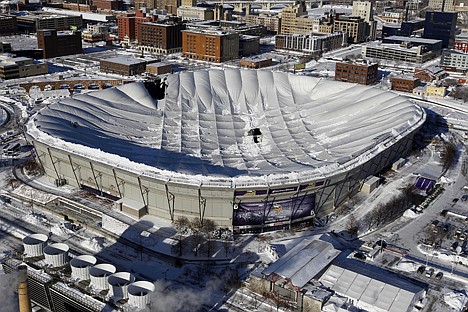 <p>Holes in the collapsed Metrodome roof can be seen after the inflatable roof of the dome collapsed Sunday after a snowstorm that dumped 17 inches on Minneapolis, sending the Minnesota Vikings' game against the New York Giants to Detroit.</p>
|
December 13, 2010 8:00 PM
Tom Brady threw for 369 yards and two touchdowns, and the visiting New England Patriots locked up their eighth playoff berth in 10 years with a 36-7 pounding of the Chicago Bears on a snowy, blustery, bone-chilling Sunday.
The win was the fifth straight for the Patriots (11-2), and this one was no less impressive than their 45-3 rout of the New York Jets on Monday night. They wasted little time blowing it open, grabbing a 33-0 halftime lead and sending coach Bill Belichick to his 174th career win. That put him in a tie for 10th place with Mike Holmgren.
Brady was brilliant again despite the brutal conditions, picking apart the league's third-ranked defense. He completed 27 of 40 passes and went without an interception for the eighth straight game.
Lions 7, Packers 3: Drew Stanton threw a 13-yard touchdown pass to Will Heller midway through the fourth quarter, and visiting Green Bay (8-5) couldn't come back without an injured Aaron Rodgers, losing to Detroit (3-10).
Green Bay lost Rodgers and a game it desperately needed to win for playoff positioning. The star quarterback was knocked out in the second quarter with his second concussion this season.
Detroit snapped a five-game losing streak and a 19-game skid against the NFC North, the NFL's worst slump within a division since the merger four decades ago.
Jaguars 38, Raiders 31: David Garrard threw three touchdown passes, Maurice Jones-Drew and Rashad Jennings each topped 100 yards rushing in a game and host Jacksonville (8-5) outlasted Oakland (6-7).
The Jaguars overcame a 10-point deficit to win for the fifth time in the last six games, setting up a critical AFC South game at Indianapolis next week.
Jacksonville stayed a game ahead of the Colts and can clinch the division title next week with a victory and a loss by Houston. The Raiders lost for the third time in four weeks and faded from postseason contention.
Buccaneers 17, Redskins 16: At Landover, Md., a flubbed extra point attempt with 9 seconds left by Washington (5-8) handed a win to Tampa Bay (8-5).
The Redskins pulled within a point on Santana Moss' 6-yard touchdown catch, but Nick Sundberg's slightly high snap on a wet field went through holder Hunter Smith's hands.
Steelers 23, Bengals 7: Troy Polamalu and LaMarr Woodley returned interceptions by Carson Palmer for touchdowns for host Pittsburgh (10-3) as Cincinnati (2-11) dropped a franchise record 10th straight game.
Palmer threw three interceptions, two to Polamalu, as Cincinnati matched the David Shula-coached 1993 Bengals by losing 10 consecutive games in the same season. The overall franchise record is 11 consecutive defeats from 1992-93.
Bills 13, Browns 6: At Orchard Park, N.Y., Ryan Fitzpatrick threw an 11-yard touchdown pass to David Nelson, and Leodis McKelvin made a late interception to help Buffalo (3-11) past Cleveland (5-8).
Rian Lindell hit field goals of 30 and 19 yards to help the Bills snap a three-game losing streak against Cleveland.
The Browns were eliminated from playoff contention. McKelvin intercepted Jake Delhomme's pass with under 4 minutes left at the Bills 32, and Buffalo was able to run out the clock.
Falcons 31, Panthers 10: At Charlotte, N.C., Michael Turner ran for 112 yards and three touchdowns, Matt Ryan threw for another and Atlanta (11-2) cruised past Carolina (1-12).
The Falcons built a 17-0 halftime lead, survived a brief hiccup to start the third quarter, and cruised to their seventh straight win. John Abraham and Kroy Biermann each had two sacks as the Falcons became the latest team to shut down the NFL's worst offense.
Jonathan Stewart rushed for a season-best 133 yards, but lost a fumble on Carolina's first play from scrimmage to set up Atlanta's first TD. Things didn't get much better for rookie Jimmy Clausen and the NFL-worst Panthers, who dropped their seventh straight.
Dolphins 10, Jets 6: At East Rutherford, N.J., Miami (7-6) turned two early turnovers into their only points in beating New York (9-4) at the rainy Meadowlands.
Much of the game was played in a downpour, which made for inept offense in the sloppy conditions. The Dolphins gained 132 yards, with Chad Henne passing for only 55.
The Jets moved the ball better, picking up 286 yards. But Mark Sanchez's fumble led to the only touchdown, Brandon Marshall's 6-yard reception in the first quarter.
Saints 31, Rams 13: Drew Brees threw for three scores, Malcolm Jenkins returned one of his two interceptions 96 yards for his first career touchdown, and host New Orleans (10-3) won its sixth straight game, dumping St. Louis (6-7).
Marques Colston had a pair of touchdown catches in traffic as New Orleans raced to a 14-0 lead and never trailed. Lance Moore made a 31-yard touchdown catch.
Brees finished 25 of 40 for 221 yards and was intercepted twice.
Rams rookie Sam Bradford scored the only St. Louis touchdown on a short keeper.
Chargers 31, Chiefs 0: Philip Rivers threw two touchdown passes to Malcom Floyd and host San Diego (7-6) shut out Kansas City (8-5).
The Chiefs played without quarterback Matt Cassel, who didn't travel after having an emergency appendectomy Wednesday.
The four-time defending division champion Chargers pulled within one game of the Chiefs. Cassel's backup Brodie Croyle completed 7 of 17 passes for 40 yards and was sacked four times in his first start since the 2009 opener.
Cardinals 43, Broncos 13: At Glendale, Ariz., Jay Feely became the fourth kicker in 40 years to run for a touchdown and added a career-best five field goals to help Arizona (4-9) over Denver (3-10).
Arizona rookie quarterback John Skelton completed 14 of 36 for 141 yards with no interceptions and had at least four passes dropped in his first NFL start.
The Broncos had six turnovers, including three interceptions by Kyle Orton, in their eighth loss in nine games. It was an uninspired debut under interim coach Eric Studesville, promoted from running backs coach when Josh McDaniels was fired last Monday.
Eagles 30, Cowboys 27: DeSean Jackson's go-ahead touchdown early in the fourth quarter was among many big plays for him as Philadelphia held off Dallas (4-9).
Philadelphia (9-4) ended a three-game losing skid to its NFC East rival and moved a half-game ahead of the New York Giants in the division race.
On only four catches, Jackson gained 210 yards, third-most in franchise history.
• Vikings-Giants game moved to Detroit: Minnesota's home game against the New York Giants was moved to tonight in Detroit at 4:20 p.m. PST after the Metrodome's inflated roof collapsed in a snowstorm early Sunday morning.
The delay has given Brett Favre more time to heal his sprained right shoulder, with his NFL-record streak of 297 straight regular season starts hanging in the balance.
The game will be broadcast in both local markets on Fox affiliates and will also be available as part of DirectTV's Sunday Ticket package.
Recent Headlines
---