Gamers endure 48-hour marathon fundraiser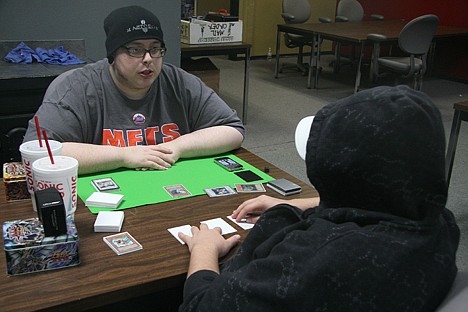 <p>Sjan Preston, left, and Ryan Halligan play Yu-Gi-Oh! at the Inaugural Charity Gaming Marathon, a 48-hour fundraising event hosted by Gamer's Haven in Post Falls.</p>
by
Nick Rotunno
|
December 13, 2010 8:00 PM
POST FALLS - Bryant Widener needed a break.
The 22-year-old from Coeur d'Alene looked a little sleepy, a bit haggard. His mind was moving slowly. It was 11 a.m. on Sunday morning, and Widener was finally headed home.
He had been playing games, almost nonstop, since Friday afternoon.
"It was amazing. Lots of fun," he said. "I ended up learning lots of things about some of the games I didn't know."
At last, after 40-odd hours of role-playing, miniatures, card games and X-Box, the Inaugural Charity Gaming Marathon was starting to wind down. It wasn't over, not even close - the two-day event officially ended at 6 p.m. Sunday night - but the crowd at Gamer's Haven in Post Falls (1600 E. Seltice Way) had finally thinned.
"There was never a boring moment," Widener said. "Someone always came up with a new game."
The young man had certainly stayed the course - his only respite that weekend had been a six-hour work shift, and then it was right back to the shop.
But Widener wasn't the only ironman.
"By mid-day (Saturday) afternoon, I bet there were 60-plus players here," said Bob Kelley, owner of Gamer's Haven. "I'm not surprised, because a lot of the gamers are really just good-hearted people."
The event benefited the Post Falls food bank, Kelley explained. Participants donated money directly, or brought in non-perishable goods. There was also a pledge system, whereby a sponsor pledged food items or a certain dollar amount for every hour played.
Gamers arrived at 6 p.m. on Friday to kick off the marathon. Playing games like Warhammer, their miniature armies clashed on large, diorama-like battlefields. They tried Magic: The Gathering, dueled at Yu-Gi-Oh! and dove into role-playing matches. Simple playing cards became weapons of great power; fortunes shifted with the cast of a die.
By all accounts the gaming was fun and furious.
"Everyone who was here for the marathon was trying to stay awake for as many hours as possible," said 22-year-old Kevin Pearce of Coeur d'Alene, who works at Gamer's Haven. "It was pretty awesome. When Bob came in Saturday morning, we still had about 25 people in here doing different things."
Kelley brought in McDonald's for breakfast that day, he said. Some players chowed on pizza or donuts during the marathon, and caffeinated soft drinks - Mountain Dew was a favorite - were crucial.
Staying awake was tough.
"Just a challenge," Widener said.
By Sunday over $300 had been raised, Kelley reported, and canned goods were piled on a table in the corner, all bound for the food bank. The pledges hadn't been collected yet, he added.
"The gaming community is a very strong community," Kelley said. "It's very much family-based. We're going to try to do (this) every six months. The big thing for this was we wanted to do it before Christmas."
Travis Frazier, a 29-year-old gamer from Cheney, Wash., was on his last legs. He'd been at Gamer's Haven from the very beginning, and his eyelids were starting to droop.
"I tried a lot of new games, played a lot of ones I already knew," Frazier said. "I usually come for the miniature games."
Weary, ready for bed, he was determined to finish the marathon. He hadn't slept in 48 hours.
Sjan Preston and Ryan Halligan, both 22, were in the midst of a Yu-Gi-Oh! match. Preston likes the card game, he said, because, "It's just fun. You don't have to focus too hard on anything."
Both participated in the weekend marathon, playing games and helping those in need.
"I think it was pretty good," said Preston, of Coeur d'Alene. "We could do something enjoyable, and raise something for the food bank."
Recent Headlines
---