No. 2 NIC beats No. 6 Northwest College; Dubose out for season
|
December 11, 2010 8:00 PM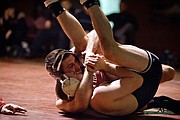 COEUR d'ALENE - Braden Mowry (141), Jeremy Bommarito (157), Jesse Nielsen (174) and Jamelle Jones (197) picked up decisions as the second-ranked North Idaho wrestling team defeated No. 6 Northwest College of Powell, Wyo. 27-12 at Christianson Gymnasium on Friday.
"It was a pretty good dual," NIC coach Pat Whitcomb said. "It wasn't our best with having a couple guys out. It's always good to get a win against a quality program like Northwest. Now we're looking to get on with the match tomorrow and get onto the Christmas break."
McKray Jones and Jake Mason were both out with illness and freshman Marcel Dubose was lost for the season after tearing his pectoral muscle in the tournament last week in Las Vegas.
"Marcel's a big one for us at heavyweight," Whitcomb said. "We were hoping it wasn't a complete tear, but he'll be out for season after surgery."
W.V. Meyer won his bout at 165 pounds by pinfall for NIC.
NIC will host Southwestern Oregon today at 12:30 p.m. at Christianson Gym.
125 - Kyle McCrite, NIC, w. by forfeit. 133 - Jesse Hillhouse, NWC, d. Brock Banta, 3-1. 141 - Braden Mowry, NIC, md. Jeremy Luna 10-1. 149 - Bobby Robins, NWC, d. Gabe Miranda, 10-6. 157 - Jeremy Bommarito, NIC, tf. Clint Jacob, 17-2. 165 - W.V Meyer, NIC, p. Timber Holmquist, 1:43. 174 - Jesse Nielsen, NIC, d. Keithen Cast, 8-5. 184 - Nick Peterson, NWC, d. Justin Korthuis, 9-2. 197 - Jamelle Jones, NIC, d. Ben Price, 14-7. 285 - Johnathon Tiernan, d. Nicholas Wasierski, 12-5.
Recent Headlines
---