China furious over Nobel award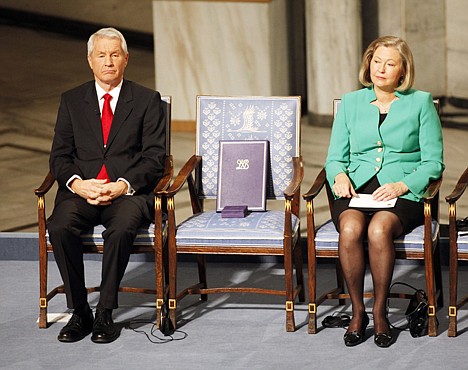 <p>A chair with the Nobel Peace Prize and diploma for Nobel Peace Prize laureate Liu Xiaobo is seen during a ceremony honoring Liu at city hall in Oslo, Norway, Friday. Liu, a democracy activist, is serving an 11-year prison sentence in China on subversion charges brought after he co-authored a bold call for sweeping changes to Beijing's one-party communist political system. At left is Nobel Commitee chairman Thorbjorn Jagland. At right is committee member Kaci Kullman Five.</p>
|
December 11, 2010 8:00 PM
BEIJING (AP) - China repeated its claim Saturday that the world is meddling in its affairs after the Nobel Peace Prize was awarded in absentia to imprisoned democracy activist Liu Xiaobo. The ceremony was censored in China, which has seen a clampdown on dissidents and some news websites blocked in recent days.
"We oppose anyone making an issue of this matter, and oppose anyone interfering in China's internal affairs in any way," Foreign Ministry spokeswoman Jiang Yu said in a statement posted early Saturday on the ministry's website.
Liu won the prize for his work calling for sweeping changes to Beijing's one-party communist political system. As the BBC and CNN switched to live coverage of Friday's ceremony in Oslo, the channels went dark in China.
Several dozen journalists at Liu's home were herded away by police to a cordoned-off area. Uniformed and plainclothes officers have guarded the entrance to the compound in central Beijing where Liu's wife, Liu Xia, has lived under house arrest since the October announcement that her husband would receive the prize.
The imprisoned Liu was represented by an empty chair in Oslo, and because no one close to him could receive it, the award was not be handed out for the first time since the 1930s.
Beijing police in recent days have hustled many activists away from the capital.
Before being escorted to the southwestern province of Yunnan, Zhang Xianliang, the mother of a high school student killed in the 1989 Tiananmen Square crackdown on pro-democracy demonstrators, told The Associated Press she had been shadowed by four plainclothes agents who incessantly demanded she leave Beijing.
"They have become crazy. This is unprecedented. I have never been so threatened in the last 20 years," Zhang said.
Liu's award has elicited a furious response from Beijing, with daily tirades in state media berating the Norwegian Nobel Committee as misguided and inherently opposed to China's development.
China suspended trade talks with Norway in retaliation and pressured foreign nations not to attend the award ceremony.
Recent Headlines
---