Title rematch to Bengals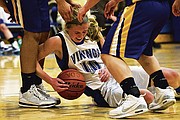 COEUR d'ALENE - While it might be a long way from the Idaho Center in February, the two teams who played for last year's state 5A girls basketball championship collided at Elmer Jordan Court on Thursday night.
While this fight may go six rounds, the first one went to the visitors - and last year's runners-up - as Lewiston junior Chelsea Waters scored a game-high 18 points to lead the third-ranked Bengals past the top-ranked Coeur d'Alene Vikings 55-48 in overtime.
"All our kids played really hard," Lewiston coach Pat Teichmer said. "Chelsea's a really talented player, but I was happy with the way everyone played tonight."
Waters and senior forward Savannah Blinn each scored six of the team's 13 points in overtime.
"We wanted to win tonight," Teichmer said. "I told coach Poff that we were looking forward to playing them before the game tonight. We've only played four games, so we really needed to figure out where we're at right now. It wasn't our Super Bowl tonight, but we're striving to play in that title game again."
Coeur d'Alene senior forward Carli Rosenthal scored 12 of her team-high 14 points in the first half and was held without a basket in the final 10 minutes of the game.
"They went to a 1-3-1 zone on her and were doubling her with Waters and Blinn," Coeur d'Alene coach Dale Poffenroth said. "We were trying to get our guards going and couldn't get the ball into her. We're still getting used to playing with each other, and I was pleased with the effort, but we couldn't quite get there tonight."
Lewiston (4-0, 1-0 5A Inland Empire League) took a 42-37 lead with 3:43 remaining in the fourth quarter on a jumper by Waters - a transfer from Moscow. Coeur d'Alene battled back to tie the contest at 42 on a 3-pointer by Kyeli Parker with 1:39 remaining.
Coeur d'Alene sophomore Caelyn Orlandi hit a 3-pointer to pull the Vikings to within 46-45 with 1:14 remaining in overtime. After a pair of free throws from Karlee Wilson gave the Bengals a 49-45 lead with 51.9 seconds remaining, Coeur d'Alene junior Erin Legel hit a 3 to pull within 49-48 with 36.1 seconds remaining.
Lewiston closed out the game with the final six points as Blinn finished the scoring with a layup and free throw.
"They're a good ballclub," Poffenroth said. "Blinn and Waters are big inside for them. He's got nine good kids on his team. We'll probably see them another five times this year between the Christmas tournament and the playoffs. I think we're getting better as a team."
Both Sydney Williams and Kendalyn Brainard, who both suffered torn ACLs this summer, have been cleared to return to practice, and both are expected to help the Vikings down the stretch.
"They've both been cleared to practice," Poffenroth said. "We're still talking our time with them and they can't go full contact quite yet, but they'll both be on the floor for us this season."
Orlandi had 11 points for Coeur d'Alene (4-2, 1-1), which travels to Shadle Park on Saturday.
"We did some good things tonight," Orlandi said. "This was our first tough league game and we played well. We just need to keep working in practice."
Lewiston 10 13 13 6 13 - 55
Coeur d'Alene 12 11 6 13 7 - 48
LEWISTON - Wilson 9, Schlader 2, Johnson 1, Phillips 4, Blinn 13, Fuller 7, Waters 18.
COEUR d'ALENE - Baughman 6, Orlandi 11, K. Parker 10, Legel 5, Petit 0, Rosenthal 14, S. Parker 2, S. Williams 0.
Recent Headlines
---