Igloos sprouting across Cd'A
by
Tom Hasslinger
|
December 10, 2010 8:00 PM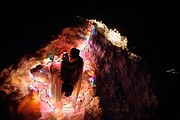 COEUR d'ALENE - A little competition can be healthy.
This year, Ryan Irving, Jon Emery and their igloo building buddies have some. Across town, a few other snow-blocked huts have cropped up.
Where else would you want to hang during the winter? How about under an ice roof. It's not as uncommon as you might think. If there are ice hotels in Canada and Sweden, why not build an extra living room out of snow?
"There's nothing to do in the winter, you know?" said Emery, 28, who built a 12-foot tall igloo with his roommates at 19th Street and Mullan Avenue over five hours, the third winter they've done so. "We got tired of going to the bars."
Inside the hut are chairs, and the walls designed with splashes of tonic water that light up once black light shines on it. Now, there's a hole in the top to see the stars, a doorway tall enough to walk through upright, and electrical lines packed in the sides to hook up black lights and stereos. Once it snows more, a neighboring hut is going up across the walkway, like a mini subdivision. That's where they'll ring in the New Year with an igloo (or igloos) party.
"Thumbs up all the way," Emery said.
The first thing Jeffrey Groat, 32, and his wife did after they finished building their igloo in the front yard of their home at Fifth and Hadie was have friends over for cocktails and card games.
"You just don't see people play in the snow anymore," Groat said. "You see them come home and flip on the TV."
Yet there's a world- wide attraction to the frigid hangouts. Ice hotels - made up of snow, steel framing and blocks of ice - are huge attractions in countries like Canada, Finland, Romania and Sweden.
For Groat, who built his hut because he doesn't have a computer or television at home, hanging out there is more about just being outside. He put up blue Christmas lights inside, powered by an extension cord running from inside his house, for extra ambiance.
"It was good marriage counseling, all that communication and working out energy," he said about the construction, which he hopes to rebuild once it snows more. "You have to work together."
Wanna build your own? Wait for more snow, then use your old blue, city of Coeur d'Alene recycling bin to pack the blocks. Lay a wide circumference at the bottom, then gradually overlap the next row over the bottom row by a few inches toward the middle. Complete that style upward, leave a hole at the top for star gazing, and splash tonic water on the inside walls with a little black light for design.
"It makes you feel good to get out and dig around," said Joe Roberts, who built his 10-foot model - complete with indoor LED lights and glow sticks inside and a ski jump off the top - in the backyard of his 10th and Garden home. "It makes you feel like a kid again."
The hut hosts six comfortably, and will be the locale for an outdoor snow party once more flakes fall. It's not totally unique, as Roberts has noticed other igloos about town.
But competition can be a good thing.
"I've seen some pretty impressive ones," he said.
Recent Headlines
---