Swift savors the stylish perks of fame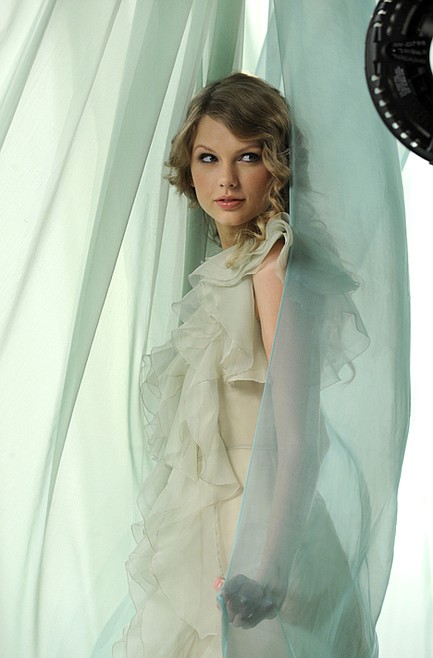 <p>This undated photo courtesy of CoverGirl shows Taylor Swift during the CoverGirl NatureLuxe ad shoot. In her new CoverGirl ads debuting this week, Swift has a more ethereal vibe.</p>
by
Samantha Critchell
|
December 9, 2010 8:00 PM
NEW YORK - Don't look for Taylor Swift in rumpled clothes and no makeup: She's not interested in dressing down to go incognito.
Gowns, red lipstick, hairstylists, front-row runway seats - and, as icing, a CoverGirl model contract - are perks of her fame. She's not going to run away from them, especially if her fans are watching.
"When I'm in Nashville, I feel like I can go natural and not really worry about it, but I generally love makeup and I love dress-up. That's why award shows are so much fun for me," Swift says. "I'd never wish away makeup and getting all dolled up."
She owes it to her supporters to put on a good show, she says, and at 5-feet 10-inches she'd stand out in a crowd anyway.
Swift, in a recent telephone interview, says she still sees her adventures in the fashion world with very wide eyes. The 40-year anniversary runway show that Roberto Cavalli staged in September and the Metropolitan Museum of Art's Costume Institute Gala Benefit in New York this past spring were highlights.
"I went to the Met Gala with Ralph Lauren! It was an amazing time, an enchanting night. I got to wear a white gown like a wedding gown from one of his collections," she says.
One of her last big red-carpet appearances was at the American Music Awards where she wore her normally curly locks in an atypical blowout and her dress was short and edgy, unlike the more old-Hollywood looks the public got used to her wearing.
That got fashion followers buzzing. Swift, who turns 21 Monday, says she was "amused" and "flattered" that so many people had an opinion, but, contrary to some of the commentary, she wasn't sending any larger message: She just followed her mood of the day - and that's what consistently guides her style.
"I go through phases. When I was recording my new album, I wore a side braid on the left side every day. It just seemed to be the only style that seemed like the right one at the time. Then there was a phase when I'll pin my hair in elaborate updos. In wintertime, I'll usually straighten my hair, and in the summertime and spring, I wear a lot of headbands. In the fall, I wear a lot of knit beanies."
In her new CoverGirl NatureLuxe ads debuting this week, she has a more ethereal vibe.
Yes, she says, there have been quite a few offers to be a spokeswoman for products, but some make more sense than others. Her partnership with American Greetings cards, for example, is a natural fit because her expertise lies with writing sayings and making memories, she explains.
But, Swift adds, her whole life isn't going to become a commercial. "I love cooking, but I'm not going to pursue that."
Recent Headlines
---