Father losing job devastates family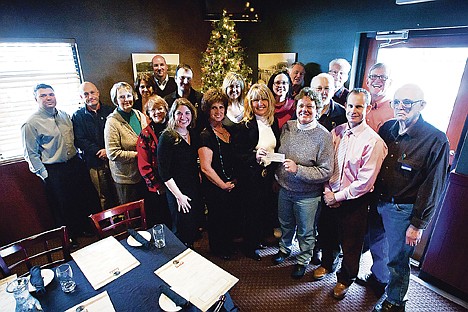 <p>The Kiwanis Club of Coeur d'Alene gathers Wednesday to be recognized for two holiday donations. The club made a $600 donation to the Coeur d'Alene Police Department's Holidays and Heroes program. The second donation was in the amount of $2,000 for the Coeur d'Alene Press' Christmas for All.</p>
|
December 9, 2010 8:00 PM
The financial crisis has devastated this family.
This mother of three said that for years her husband was "the most hard-working, reliable guy" she had ever met.
That all changed when he was laid off from his job last year.
The dad took the loss of his position and paycheck particularly hard, sunk into a deep depression, and began acting strange.
"I didn't even recognize him when I looked at his face," the mom said.
She discovered he had turned to meth, and tried to get him to seek help, but he wouldn't. Then, he stopped coming home. He also stopped paying the bills with his unemployment insurance.
"It was terrible, but I didn't want him in the house if he was using drugs," she said.
Several months ago, the dad was arrested and sent to prison. Now she knows he won't be coming home.
"We lost him to that drug," she said. "I'm heartbroken, and so are the kids."
They lost their home, and are living in a shelter right now.
With our readers' assistance, Press Christmas for All works to brighten the holidays for folks like this - people left jobless, homeless or who are barely making ends meet, individuals with disabilities or illnesses. Many are alone this holiday season.
Last year our generous readers' donations allowed us to assist thousands of families in need, and this year we expect to be asked for help from far more.
Each day until Christmas, we will share with you the stories of those whose holiday memories will be a little happier because of Press Christmas for All.
Donations are collected, then distributed in the form of gift cards to Kootenai County residents in need.
Press Christmas for All is a holiday charity now in its 25th year. It is managed as a nonprofit by The Hagadone Corp. Because it is run by volunteers from The Hagadone Corp. and their partners at Kootenai County Fire and Rescue, every penny raised is distributed in the form of gift cards to Shopko and to Super 1 Food Stores. Contributions are tax deductible to the fullest extent of the law. The cards can be used to buy food and gifts but not alcohol or tobacco products.
To donate, please send a check to:
Press Christmas for All
201 Second St.
Coeur d'Alene, ID 83814
You can also call (208) 664-8176 weekdays between 8 a.m. and 5 p.m. and donate by credit card.
Recent donors include:
Larry & Alice Adams; Vicki Adamson & Ron Higgins "In memory of our grandson Ryan Justin Reinhardt"; The Dale & Sharon Andersen Family; Bill & Betty Bailey; Virgil & Heidi Barbe; Anonymous; Robert & Susan Beck; Lowell & Grace Boughton; Dale & Sandy Bunch "In memory of Amelia Benoit"; Trudy & Conrad Chisholm; "In honor of Eric Dvoracek from his family"; Michael & Marilyn Haenke; AJ Hughan; Bette Inseth; Joe & Jessie Jordahl; Roberta Manley; Anonymous; Cheryl Marcheso; John & Juanita Mason; Bruce & Pamela Miller; James & Deborah Morphis; K.M. Moseley; Mark & Darlene Nason; Bud & Evie Oakland; Harold & Robyn Phelps; Lawrence & Sheila Redfield; Doryne Rogstad; Sherri & Ron Rose; Anonymous; Cleo Sellers; Donald & Judy Schaffer; Char Smith; Jacqueline Somerville; Ned & Diane Tower; Dioma Wardian; Webb Trust; Dennis & Katherine Wilson; David & Rochelle Wineinger; Gavin Young & Linda Sakai; Mary & Robert Drummond; Integrated Personnel Inc.
Recent Headlines
---