Seattle hopes 2nd half switch is permanent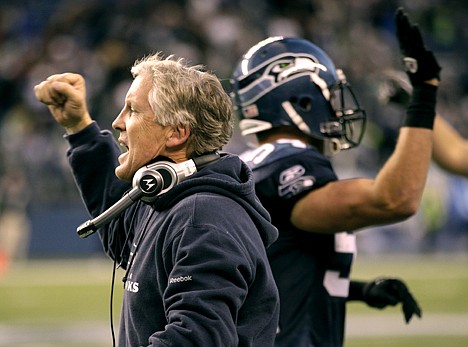 <p>Seattle head coach Pete Carroll celebrates with his team after a play in the second half of Sunday's game against Carolina in Seattle. The Seahawks beat the Panthers 31-14.</p>
RENTON, Wash. - Having lost four of five, along with their lead in the worst division in football, Pete Carroll challenged his team for a week to try to find the same attitude and swagger the Seattle Seahawks held when they started the season a surprising 4-2.
When that attitude was absent in the first half Sunday against the worst team in the NFL, Carroll resorted to the most basic of coaching principles at halftime: he yelled at his team.
Seahawks linebacker Lofa Tatupu said afterward, "He let us have it."
The move worked. Seattle rallied in the second half for a 31-14 win over Carolina on Sunday that kept the Seahawks even with St. Louis on top of the NFC West. And instead of spending Monday explaining how the Seahawks could have lost to the one-win Panthers, Carroll was trying to explain ways to carry the momentum forward into this Sunday's matchup at San Francisco.
"There was a moment there, like we said, that the challenge was obvious: we're going to give away a football game if we don't get it right," Carroll said on Monday. "And the plays started happening and everything fell into place."
Beating Carolina was a must victory if the Seahawks expect to eventually win the division, where nobody has a winning record with four weeks to go. Seattle hadn't won at home since Oct. 24 and looked well on its way to a third-straight home loss trailing 14-0 midway through the second quarter.
Then Seattle's defense started to finally make the Panthers look like the worst offense in football. For the first 22 minutes, running back Jonathan Stewart and rookie quarterback Jimmy Clausen looked like a potent run-pass duo. The Panthers rolled up 195 total yards in the first half, most of it coming on their first four drives.
In the second half, Seattle limited the Panthers to just 88 total yards.
"I'm just proud; 14-0 you're down, most games have been going that way. The crowd stayed in it, stayed with us and I want to thank them for that. Everybody pulled together and did what was asked of them," Tatupu said after Sunday's win. "That's all the coaches ask of us, just do your job."
And there was some good offensively that came from the Seahawks' second-half rally, sparked by a 21-point third quarter: Seattle rediscovered how to successfully run the ball.
Granted, it came against a Panthers defense that ranked 25th in the NFL in stopping the run. But with the woeful nature of the Seahawks ground game for much of the season, getting 161 yards rushing Sunday was a significant accomplishment.
Marshawn Lynch's 83 yards rushing represented his second-best game of the season. He scored three rushing TDs, becoming the first Seahawks back to reach that mark since Shaun Alexander five years ago.
"(We) got 31 carries in the game, which is great. It gave us a chance to adjust as the game went on. We've had some games when we've had way less than that," Carroll said.
One concern is two key injuries Seattle suffered during the victory. Leading receiver Mike Williams, who was just back from a left foot strain, suffered a sprained ankle on Seattle's first offensive series. Carroll said Monday it's not a severe sprain and they'll know later in the week if Williams can play against the 49ers.
Second receiver Ben Obomanu suffered a severe hand laceration when he was hit over the middle on a 27-yard reception in the second quarter. His hand was wrapped after the game, and Carroll was unsure whether Obomanu would practice on Wednesday.
But Carroll said defensive tackle Colin Cole, who has missed the last five games with a high-ankle sprain, should practice on Wednesday. Tight end John Carlson missed Sunday's game with a hip injury but is expected back this week as well.
Recent Headlines
---