Newton, Moore among 4 Heisman finalists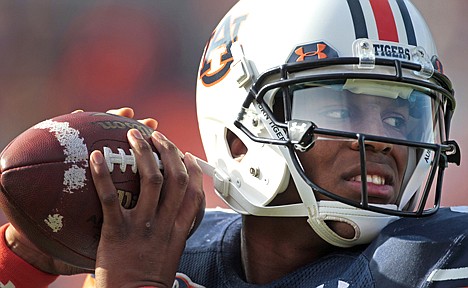 <p>Auburn quarterback Cam Newton was among the finalists named Monday for the Heisman Trophy.</p>
by
John Marshall
|
December 7, 2010 8:00 PM
Auburn quarterback Cam Newton and Oregon running back LaMichael James, two of the nation's most dynamic players, will meet in the national championship game next month.
First, a stop in New York.
Newton and James were named finalists for the Heisman Trophy on Monday, and will be joined by Stanford's Andrew Luck and Kellen Moore of Boise State for Saturday's announcement in Times Square.
Newton overcame a pay-to-play scandal with a superb season on the field, piling up nearly 4,000 combined yards and 49 touchdowns in leading the top-ranked Tigers into the Jan. 10 national championship game.
James and the Ducks will be there waiting for them in the desert after he piled up more yards and touchdowns than anyone else in FBS, helping the second-ranked Ducks into their first national title game.
"Since I was a young boy, playing the game of football has been a pure joy and this season has been a very special one for my teammates and for me," Newton said in a statement. "I know as a team we're excited to get back on the field on January 10 against a great Oregon team."
Newton is the front-runner, but the big question is whether voters will look past the scandal involving his father.
Newton was unparalleled on the field.
He threw for 2,589 yards and 28 touchdowns while running for 1,409 yards and 20 more scores - adding another on a reception - to join Florida quarterback and 2007 Heisman Trophy winner Tim Tebow and Nevada's Colin Kaepernick (this season) as the only FBS players to have 20 touchdowns rushing and passing in a season.
In his final regular-season game, he threw four TD passes and scored two more on the ground in Auburn's 56-17 rout of 18th-ranked South Carolina that earned Auburn the SEC championship and a shot at its first national title since 1957.
The knock against Newton is the shenanigans by his father, Cecil.
The elder Newton was accused of working with the owner of a scouting service to get up to $180,000 for his son to play for at Mississippi State while the quarterback was being recruited out of junior college last year.
The NCAA cleared Cam, saying neither he nor Auburn knew anything about it, but Heisman voters might be leery of another Reggie Bush-type situation. The 2005 Heisman winner from USC gave back his trophy earlier this year and his school was hit with heavy sanctions after a four-year NCAA investigation determined he was ineligible that season for receiving improper benefits.
James was the main cog in Oregon's nearly point-a-minute offense, forcing teams to key on him while the rest of his talented teammates ran all over the field. Oregon led the nation in scoring at nearly 50 points per game and was second in total yards, just a few tenths behind Oklahoma State at 537 yards per game.
Luck was second fiddle to Washington's Heisman hopeful Jake Locker to open the season, but quickly established himself as the Pac-10's best quarterback.
Moore wasn't much of a Heisman hopeful early in the season, but quickly played his way into the picture while leading the Broncos to the cusp of a BCS bowl berth.
The junior was second in the nation in passer efficiency, throwing for over 3,500 yards with 33 TDs and five interceptions, but his chances took a hit with a loss to Nevada that knocked Boise State out of BCS contention.
Alabama's Mark Ingram, the 2009 Heisman Trophy winner, wasn't much of a factor in his bid to repeat.
The bruising running back missed the first two games after offseason knee surgery and wasn't nearly as dynamic as a year ago, rushing for 816 yards, half his total from a year ago. His team also had its repeat national title hopes fizzle with an early-season loss to South Carolina and later losses to LSU and Newton's Tigers.
Recent Headlines
---