Fifth and Sherman lights removed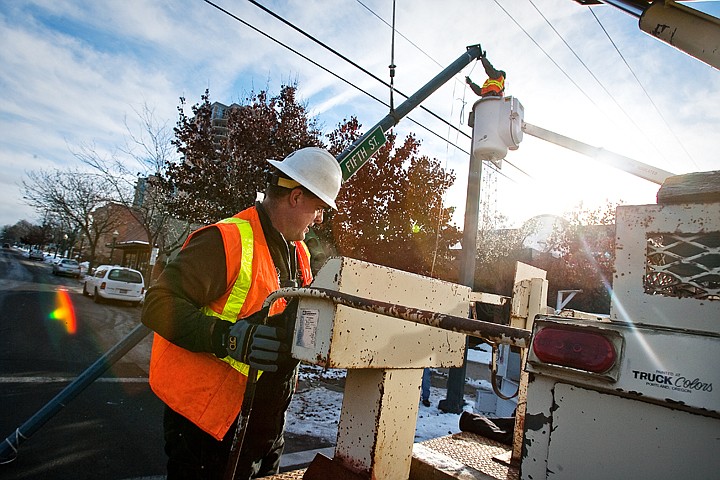 <p>Todd Feusier, co-owner of Classic Electric, LLC, operates a crane as his father and business partner, Paul Feusier, background, steadies a street light arm Monday while removing the stop lights at the intersection of Fifth Street and Sherman Avenue in Coeur d'Alene. The crew worked, who worked on the project for about four hours, disassembled all four traffic signals as contracted through the city.</p>
|
December 7, 2010 8:00 PM
COEUR d'ALENE - Out with the old, in with the new.
Stop signs, not lights, will control cars on Sherman Avenue at the Fifth Street intersection from now on. The city's engineering department removed the traffic signals at the intersection along Sherman and put stop signs for north and south bound crossing traffic since the amount of traffic doesn't warrant automatic control.
The signal, more than 20 years old, wasn't traffic-actuated and ran on a predetermined timer which didn't respond to actual traffic volumes or movement, making stops and starts inefficient, the city said.
Crews finished the project Monday.
Now, stop signs will grace the north and south sides of the intersection on Fifth Street, just as traffic is controlled one street up at Sixth Street. Also gone from the intersection are the "Walk/Don't Walk" indicators.
Recent Headlines
---