Second-half surge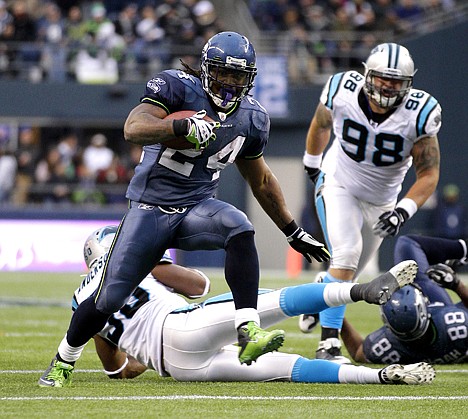 <p>Seattle's Marshawn Lynch runs for a touchdown as Carolina's Nick Hayden (98) looks on in the second half Sunday in Seattle.</p>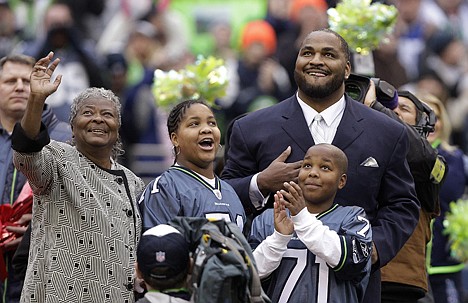 <p>Former Seattle Seahawks defensive tackle Walter Jones, right, puts his hand over his heart as he watches the unveiling of his now-retired jersey number with family members during a ceremony in the first half Sunday in Seattle.</p>
Previous
Next
by
Tim Booth
|
December 6, 2010 8:00 PM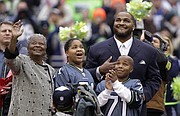 SEATTLE - Trying to describe this comeback befuddled even Pete Carroll.
Football coaches don't use "mystical" to explain success very often.
"We haven't been feeling right about what we're capable of doing," Carroll said. "All week, last night, pregame and then halftime it finally just jumped. I don't know. It's a little bit mystical there. I don't know what it was. It just happened."
And it happened just in time for Seattle to avoid an embarrassing and costly loss to the worst team in the NFL.
Marshawn Lynch scored on a pair of 1-yard runs in the third quarter, sandwiched around Lofa Tatupu's 26-yard interception return for a score, and the Seahawks rallied from a 14-0 deficit for a critical 31-14 win over the Carolina Panthers on Sunday.
Lynch added a 22-yard touchdown in the fourth quarter for the first three-touchdown day of his career as Seattle overcame injuries to its top two receivers and an awful first-half performance to stay even with St. Louis on top of the NFC West.
Seattle (6-6) broke a two-game losing streak.
While Carroll was vague describing his halftime chat and the shift between first-half ineptitude and second-half success, Tatupu had a different description: Carroll let his team have it.
"He came out and said, 'Look, you guys don't want to hear it, but you're getting outmuscled,'" Tatupu said. "He goes, 'I don't know if you want to hit or not, but do something about it. If you're a man, do something about it.' I just liked the way everybody fought."
Offensively, the spark was Seattle's mostly punchless run game. Lynch ran 21 times for 83 yards, his most since posting a season-high 89 yards against Arizona, and Seattle's 161 yards rushing were a season-best. Shaun Alexander in 2005 was the last Seattle back with three TD runs in a game.
Matt Hasselbeck was intercepted twice, but threw for 229 yards despite losing receivers Mike Williams and Ben Obomanu to injury. Williams suffered an ankle injury, while Obomanu had a severe cut on his right hand after getting hit going across the middle.
While the injuries made the personnel a little different for Seattle, it was contributions from three of its biggest stars that led to a nearly perfect third quarter.
The Seahawks offense started the half with a 96-yard touchdown drive, it's longest of the season, highlighted by Justin Forsett's 31-yard run and capped by Lynch's first TD in three games.
On Carolina's ensuing possession, Tatupu stepped in front of Jimmy Clausen's pass into the flat for fullback Tony Fiammetta and jogged in for the Seahawks' second defensive touchdown of the season.
And Leon Washington nearly had his third special teams touchdown of the season, only to find himself part of a moment likely to get plenty of hits on YouTube. Washington was headed for a long punt return TD and started celebrating with a finger in the air at the 40, only to get tripped up just shy of the goal line by hustling punter Jason Baker.
As Washington sat on the sideline with his head down, Lynch plowed in for his second touchdown in less than 5 minutes and a 10-point Seattle lead.
"Next time, I'm just gonna pull a Forrest Gump and run clean through the stadium," Washington said.
Seattle's third-quarter blitz was a stunning turnaround from a lackluster first half when Seattle's offense failed to make a first down in the first quarter for a second straight week and the Panthers appeared just as threatening as they did a week ago nearly winning at Cleveland.
Instead, it was just another Panthers' flub.
Jonathan Stewart gladly exposed Seattle's biggest weakness during its recent skid, the inability to stop the run. Stewart broke tackles and busted through open holes for 73 yards in the first half.
Clausen hit on nine of his first 13 throws, including a perfect 39-yard streak to Steve Smith. That completion eventually led to Stewart's 3-yard touchdown plunge and a 14-0 Panthers lead. The last time Carolina had a 14-point lead: the final game last season against New Orleans, which was resting all its starters. The Panthers led 17-3 in a 23-10 win.
"It is tough when you are playing as well as we did in the first half," Clausen said. "Then, coming out slow in the second half, we could just never get back on track like we did on the first half."
Following Stewart's TD with 8:05 left in the second quarter, the Panthers offense went stagnant. Carolina gained just 86 yards in the final 38 minutes, 62 coming on a meaningless final drive.
Clausen finished 18 of 34 for 169 yards and was sacked three times. Stewart, playing near his hometown of Lacey, Wash., had just 19 yards in the second half and finished with 92 on 21 carries.
"They made some big plays early in the third quarter, both on special teams and on defense. I think they were a large part of our undoing," Carolina coach John Fox said. "A punt return to the 1-yard line and an interception for a touchdown, that made that game pretty one-sided."
Notes: Former Seattle LT Walter Jones had his retired jersey No. 71 unveiled during the 2-minute warning of the first half. ... Seattle TE Cameron Morrah had two career catches before Sunday. He finished with three receptions for 69 yards. ... Smith was targeted 10 times, but finished with just three receptions, the seventh time this season he's had three or fewer receptions.
Recent Headlines
---