Rathdrum, Hayden ring in the season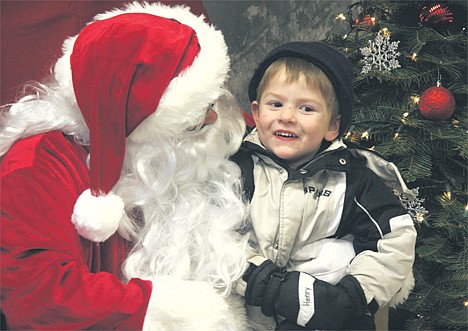 <p>Three-year-old Henry Ahrnsbrak of Rathdrum tells Santa Claus what he wants for Christmas at the Rathdrum December D'Lites on Saturday.</p>
by
Nick Rotunno
|
December 5, 2010 8:00 PM
Santa Claus had a hectic Saturday.
First, he showed up in Rathdrum for December D'Lites, where he welcomed youngsters at the Palidash Building on Main Street.
"I think it's exciting. It's fun for the kids," said Anna Ahrnsbrak of Rathdrum, who brought her four youngsters to the downtown celebration. "It's fun for the kids. This is our first year."
Her 3-year-old, Henry, enjoyed his meeting with St. Nick, while 12-year-old Riley helped Boy Scout Troop 217 sell spaghetti outside. Riley's favorite part of the event, he said, was "the free donuts and the free cider at the place at the corner."
The snacks were first-rate, but there were also two bonfires on Main Street, hay rides, crafts at city hall and a wreath lighting. Bundled in many layers, revelers braved the cold winds that whistled off the prairie.
Daniel Connelly and his seven siblings, a talented and melodic bunch, sang Christmas carols for an appreciative audience.
"We've done it the last two years," said Connelly, who lives in Rathdrum. "This is our third year doing it here at the December D'Lites. I think (the performance) went pretty good. It was pretty cold."
Tyna McNeill of Hauser brought her three kids and a niece on Saturday. The youngsters liked seeing Santa, and working on arts and crafts.
"I think it's wonderful," McNeill said. "We loved every bit of it. And they had hot chocolate, and a bonfire. Everything about it was wonderful."
After Rathdrum, Santa made his way to downtown Hayden - by sleigh, presumably - where he was the main attraction at the fifth annual Hayden Lights holiday celebration. He joined a holiday parade that included color guards, Boy Scouts, dogs wearing sweaters, fire trucks and many festive floats.
At city hall, students from Atlas and Hayden Meadows elementary schools performed a holiday snow. Eleven-year-old Sierra Keough, an Atlas student, danced around on the snow during the "Blitzen Boogie." At one point she even somersaulted on the cold ground.
"I got snow up my back!" she said afterwards, laughing.
The temperature was down in the 20s Saturday night, but hearty Hayden residents didn't let frosty conditions chill their holiday spirit. To finish up the evening, officials flicked a switch and the city's own Christmas tree lit up the night.
"We got here just as (the tree was lit)," said Celia Peterson of Hayden, who came with her daughter, Rachel. "Actually, this is the first time we've done this since we've been here. This was great."
Recent Headlines
---