Court to hear arguments over immigration law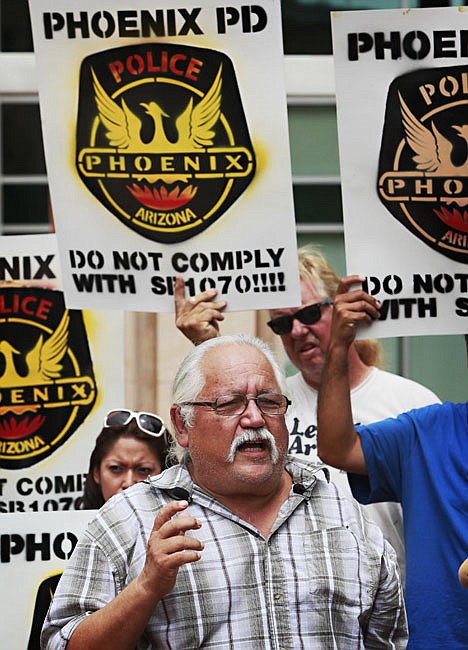 <p>Salvador Reza speaks outside Phoenix City Hall in Phoenix on July 27. Community members from the Puente Movement were petitioning the city to not enforce Arizona's immigration bill, SB 1070.</p>
by
Jacques Billeaud & Mark Sherman
|
December 5, 2010 8:00 PM
PHOENIX - The impassioned debate over the nation's immigration policy takes center stage at the Supreme Court Wednesday in a dispute over an Arizona law that punishes employers who knowingly hire workers illegally in the U.S.
Arizona's employer sanctions law has been used just three times in three years, but business interests and civil rights groups, backed by the Obama administration, have banded together to argue that only the federal government may enforce immigration laws.
The outcome in this case also could signal how the court would handle the controversial and more expansive Arizona immigration enforcement law, known as SB1070, that the administration challenged and a federal judge blocked key components this summer.
"It could take this less visible case and do something that impacts substantially on the SB1070 litigation by making some broader observations," said Peter Spiro, who teaches immigration law at Temple University's law school.
The employer sanctions law was intended to diminish Arizona's role as the nation's hub for immigrant smuggling by requiring employers to verify the eligibility of new workers through a federal database. Employers convicted of violating the law can have their business licenses suspended or revoked.
A survey by The Associated Press of all county prosecutor offices in Arizona found that out of the 101 employer sanctions complaints lodged since the law took effect in January 2008, three have led to civil cases being filed against employers.
But dozens of business raids in metropolitan Phoenix during employer sanctions investigations have led to the arrests of 131 workers who are illegal immigrants on criminal charges, such as using forged documents or stolen identities to get jobs. The law intended to target employers has been used more often against workers.
Supporters said the law was needed because the federal government has done a lousy job of enforcing a similar federal law. They also say the state rules have discouraged countless employers from hiring illegal immigrants.
Business and civil rights groups challenged the law as a clear and unconstitutional attempt to preempt federal authority.
Lawyers for the state argued that while a similar federal hiring law prevents states from imposing civil or criminal penalties against businesses for illegal hirings, the federal law allows states to take licensing actions against violators.
A federal judge in Phoenix and the San Francisco-based 9th U.S. Circuit Court of Appeals upheld the law. The Obama administration urged the Supreme Court in May to take up employer sanctions.
About a month later, the U.S. Justice Department filed a lawsuit asking a judge to invalidate Arizona's latest immigration law.
A judge put on hold the law's most controversial sections. The blocked sections include requirements that immigrants carry immigration registration papers and that local police, while enforcing other laws, question the immigration status of those they suspect are in the country illegally.
The Supreme Court hasn't taken up the question of whether states and communities can participate in immigration enforcement since 1976, and observers have expected it to enter the fray.
Steven Shapiro, legal director of the American Civil Liberties Union, said the outcome of the employer sanctions case could signal how the court would deal with the broader Arizona immigration law. "If the Arizona statute is struck down on pre-emption grounds, it's very hard to imagine SB1070 surviving," said Shapiro, whose group challenged both laws in court.
State Sen. Russell Pearce, who authored both laws, predicted the statutes, in the end, will be upheld. "It's about states' rights: Arizona's right to enforce the law, the right to protect American jobs, the right to protect Arizona's borders, the right to protect Arizona's neighborhoods," Pearce said.
Supporters say the employer sanctions law is a success because more businesses are running checks on prospective workers. They argue that it has led an unknown number of illegal immigrants to leave the state.
Two of the three civil cases against employers have been settled. A now-defunct amusement park that acknowledged violating the law will have its business license suspended for 10 days if it reopens. A sandwich shop that admitted to a violation agreed to close its doors for two days.
A case is pending against a custom furniture business that's accused of using a subcontractor who was an illegal immigrant to get around the law's ban on illegal hirings. The furniture maker denies the allegations.
One difficulty cited by prosecutors in bringing cases against employers is the law's failure to give them civil subpoena power to make suspected violators hand over records and give testimony. Another barrier is the standard of proof: Prosecutors must prove that businesses knew they were hiring illegal workers.
"Most of them were unfounded on their faces without proper evidence of illegal hiring, and some of them had some merit but with a lack of subpoena power to get employer records, we couldn't do the follow-up," said Jace Zack, chief deputy for the Mohave County Attorney's Office, of the 33 complaints his office has received since the law took effect.
Glenn Hamer, chief executive of the Arizona Chamber of Commerce and Industry, which challenged the employer sanctions law in court, believes the law has been enforced in a reasonable manner and hasn't discouraged out-of-state businesses from locating here, though he acknowledged it's not exactly a selling point.
"I wouldn't say that it has appeared on the front of the brochure of any economic development organization in the state," Hamer said.
Recent Headlines
---