China dominating the U.S. IPO market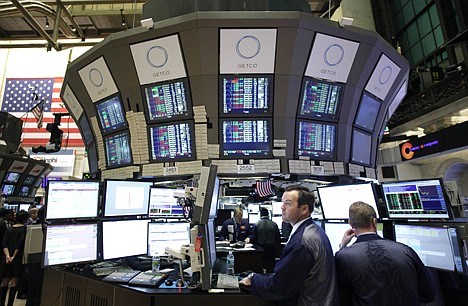 <p>Charles Boeddinghaus works at his post with Getco LLC at the New York Stock Exchange on Nov. 17.</p>
by
Tali Arbel
|
December 5, 2010 8:00 PM
NEW YORK - Chinese companies are poised to dominate the U.S. IPO market next week.
Of the nine companies scheduled to conduct initial public offerings, six are from China and one is from Taiwan. If all go to market as planned, it will be a record number of Chinese companies listing in the U.S. in the same week, according to data provider Dealogic.
The companies drawing big investor interest are E-Commerce China Dangdang Inc., which is modeled after online store Amazon.com Inc., and Youku.com Inc., an Asian mash-up of popular U.S. online video websites Hulu and YouTube.
Since September, Chinese companies have made up 35 percent of IPOs on U.S. exchanges, according to Renaissance Capital, an IPO research and investment fund based in Greenwich, Conn. Chinese IPOs have had an average return of 30 percent, while IPOs overall have returned about 19 percent.
"Given that the U.S. economy is not growing very fast, if it is growing at all, U.S. investors are naturally drawn to China," said Nick Einhorn, an analyst with Renaissance Capital.
IPO professionals say the companies racking up the biggest investor orders are those that play on China's transition to a consumer society. The most successful IPOs have bet that China's growing middle class will have more free time, access to the Internet, higher incomes and the inclination to spend a bigger chunk of that income.
E-Commerce is China's largest online bookseller. It expects net proceeds of about $144.1 million from its $204 million IPO, which the company plans to use to build up its technology infrastructure and, like Amazon, broaden its product offerings beyond books, CDs and DVDs.
Youku.com is the country's leading online TV and video portal. It licenses popular TV shows, sporting events - including the 2010 World Cup games - and movies. Like YouTube, it hosts user-generated videos streamed to computers and mobile phones.
Youku expects net proceeds of about $139 million from its $154 million IPO. It plans to spend the funds on improving its technology and buying up more video content.
While Youku's revenue has grown since it launched in December 2006, the company has never been profitable because of the cost of distributing its content, which is free for viewers. All of its revenue comes from online ads.
E-Commerce became profitable in 2009.
Smaller Chinese IPOs on deck include a $65 million offering from Sky-mobi Ltd., which sells apps for smart phones and has a big backer in well-known venture capital firm Sequoia Capital. Film distributor Bona Film Group Ltd., which also lists Sequoia as an investor, hopes to raise about $94 million, while car dealership Lentuo International Inc. plans an IPO of about $94 million. SemiLEDS Corp., a Taiwanese maker of chips used in LED lighting products, expects to raise about $81 million.
The two U.S. companies hoping to debut shares are Targa Resources Corp. and First Republic Bank.
Targa is a kind of "tracking stock" - it has no real assets of its own, but distributes dividends to investors based on the performance of Targa Resources Partners LP, which stores and processes natural gas. Targa hopes to raise about $275 million.
First Republic, a former division of Merrill Lynch and Bank of America Corp., is expected to fetch $280.5 million, much of which would go to selling stockholders.
Recent Headlines
---