Fire destroys Post Falls home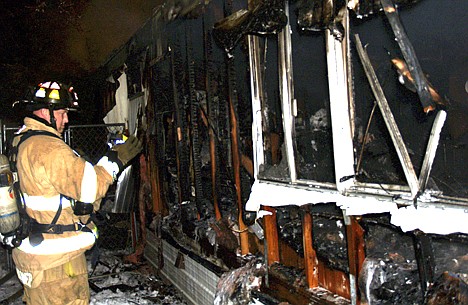 <p>Kootenai County Fire and Rescue's Jim Oxenrider checks for hotspots after a mobile home was destroyed in Post Falls early Friday.</p>
by
Brian Walker
|
December 4, 2010 8:00 PM
POST FALLS - A fire that destroyed a mobile home in Post Falls early Friday and believed to have killed one of four show dogs at the residence started at the electrical stove, firefighters said.
No people were inside the home at 3605 Elk Drive off Corbin Road on the city's west side.
"It started in the kitchen area around the stove itself, but I haven't broken it down if it was wiring or whether it was caused by something on the stove," said Larry Boatright, Kootenai County Fire and Rescue fire marshal. "The specific cause is undetermined, but hopefully I'll have an answer on Monday."
Senior Ann Davis, the owner, was sleeping in a vehicle outside the home when a neighbor alerted her to smoke coming from the singlewide trailer.
"When she opened the door, she said that she saw a 'flash' at the stove," said Jim Lyon, KCFR spokesman. "One of the two dogs in the main part of the home exited and two others were released from the back porch."
Davis could not be reached for comment. Investigators did not know why she was sleeping in her car.
Lyon said he's unsure of what kinds of dogs they are.
When firefighters arrived about 1 a.m., the fire had caused significant damage.
"It was pretty intense when we arrived," Lyon said.
The fire threatened a neighbor's home by spreading to a fence, but crews contained it there.
"Crews did not enter the home after it was extinguished as failure and collapse of the ceiling and roof made it extremely unsafe to do so," Lyon said.
The interior was a total loss. A computer was among the items destroyed inside.
Lyon said Davis canceled her $10,000 home insurance policy this year due to other expenses.
The American Red Cross made arrangements for Davis to stay in a hotel through the weekend and provide funds for immediate needs. She told firefighters that she would be open to the public assisting her and provided her number of 625-0157.
Recent Headlines
---