Sweet Adelines turn to 'Belles'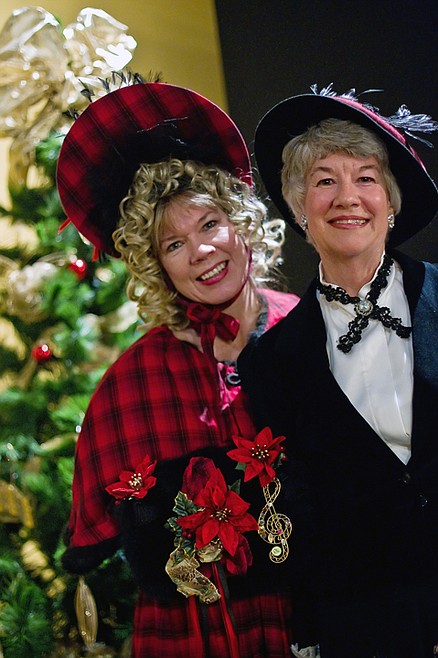 <p>Melodie Hays, left, and Julie Wright will perform with the Sweet Adelines during the third annual Christmas concert, "Caroling of the Belles," Monday at the First Presbyterian Church on Lakeside Avenue in Coeur d'Alene.</p>
|
December 3, 2010 8:00 PM
COEUR d'ALENE - The Sweet Adelines will perform their third annual Christmas concert, "Caroling of the Belles," from 7-8:30 p.m. Monday at First Presbyterian Church, 521 Lakeside Ave.
"We are the belles of Caroling of the Belles," said Melodie Hays, member of the Sweet Adelines while wearing her Victorian dress and bonnet for rehearsal. "This is what I'm a Sweet Adeline for. This is kind of the icing on the cake of everything we do."
About 15 members of the women's chorus group will be joined by the Sorensen Magnet School choir, which includes 28 fourth- to sixth-graders. The student choir will also sing some of its own Christmas songs. The quartet "Q-topia" will also perform.
The a capella singing group is directed by Jay Krumbholz, music professor at Spokane Falls Community College.
Hays said the Sweet Adelines enjoy these public performances.
"That's our strong suit. We love to support our community," she said.
Sweet Adeline Julie Wright is looking forward to Monday's performance.
"I love the community that we have within our group," she said. "It's our gift we're sharing with everyone else."
Tickets are $5 at the door.
Information: 664-3468
Recent Headlines
---