Holiday shoppers came out to spend in November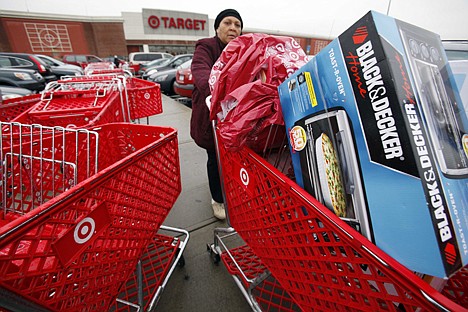 <p>In this Non. 26, 2010 file photo, a shopper leaves a Target store in Boston. Discount retailer Target Corp. said Thursday, Dec. 2, 2010, more shoppers came to its stores in November and spent more than a year earlier, helping a key revenue figure rise 5.5 percent during the month, more than expected.</p>
by
Anne D'Innocenzio
|
December 3, 2010 8:00 PM
NEW YORK - Shoppers had retailers' registers ringing in November, getting the holiday season off to a roaring start.
Retailers on Thursday reported revenue figures that topped expectations and showed the second-biggest monthly percentage gain in four years, according to one measure. And the reports raise hopes spending might remain strong for the rest of the holiday season and help the economy recover.
But it's still early in the holiday game and 40 percent of sales typically come in the last 10 days before Christmas. Analysts expect stores will need to keep up the deep but well-planned discounts. The hangover from the Great Recession hasn't gone away. Shoppers are still hungry for deals and sticking to a budget.
The International Council of Shopping Centers' index showed a 5.8 percent gain in revenue at stores open at least a year for November, much better than the 3 to 4 percent increase expected.
The increase was the biggest since March, when spending tied to an early Easter resulted in a 9 percent gain. Otherwise, it was the biggest gain in September 2006, when it registered 6.2 percent increase.
Revenue at stores open at least a year is a key indicator of a retailer's health because it excludes sales at stores that open or close during the year.
"Discretionary spending looks to be making a comeback," said Ken Perkins, president of RetailMetrics, a research firm. Retailers' profits appear to be safe and inventory is at appropriate levels heading into December, he said. But he added that shoppers are still driven by bargains.
November's results are being compared with weak spending over the last two years. But Mike Niemira, chief economist at the International Council of Shopping Centers, said that plenty of holiday discounting, which started as early as late October, and a recovering economy are helping to boost spending.
The arrival of cold weather after two months of unseasonable warmth helped sales of cold-weather items such as coats, which had been piling up on stores' shelves.
The retail gains were broad-based, showing that many types of shoppers were in the mood to buy, if the product and price were right. Stores reporting gains that topped Wall Street expectations included Costco Wholesale Corp., Target Corp., Victoria's Secret and pricey teen retailer Abercrombie & Fitch.
Midpriced department stores including Macy's Inc. were the biggest winners because they plied shoppers with early-morning discounts on Thanksgiving weekend, but their results were compared with particularly weak sales a year ago.
Luxury shoppers delivered solid gains to Nordstrom and Neiman Marcus, though business fell short at Saks.
At malls and online over the crucial Thanksgiving weekend, many people were not only buying gifts for others but throwing in items for themselves, including high-priced push-up bras and shoes. That's a big change from the past two holiday seasons when shoppers focused on practical items like coffee pots and socks for others and bought little for themselves.
According to Perkins' calculations, total retail revenue at the 30 stores he tracks was 2.1 percent higher than November 2007 levels. Excluding Costco Wholesale Corp., which sells lots of necessities, it was 1.7 percent below 2007. Moreover, more than half of those retailers, particularly department stores, still aren't back to 2007 levels.
Thursday's stores results focus mostly on clothing sales, which overall are now 3 percent below November 2007 levels, according to MasterCard's SpendingPulse, which monitors mall specialty stores. Spending on jewelry, furniture and electronics, including big appliances, is still more than 10 percent below November 2007, according to SpendingPulse, which tracks all transactions including cash.
Retailers know that anything can happen between now and Christmas. Last year, many shoppers delayed buying until the last minute in hopes of better bargains. They were disappointed, because stores kept inventories low and never had to resort to clearance discounting.
The stakes are high, because the holidays shopping season accounts for as much as 40 percent of annual revenue and profits for retailers. The National Retail Federation is sticking to its 2.3 percent holiday growth forecast and said it's too early to upgrade it.
Still, stores have a reason to feel more encouraged that their efforts to bring in shoppers early worked. Many trotted out the Black Friday label on sales as early as late October.
Online sales for November rose 13 percent to $13.55 billion, according to research firm comScore, a research firm. That's outpacing comScore's holiday forecast for growth of 7-9 percent. Online sales account for 8-10 percent of all holiday spending, according to various estimates.
Encouraging economic signs may have consumers feeling better. Americans' income rose 0.5 percent in October, according to a government report last month. Incomes hadn't risen at all in September.
The improvements helped lift the Consumer Confidence Index to a five-month high in November, according to the Conference Board's monthly survey.
If the increased spending is sustained, that would provide more confidence among companies to ramp up production of goods, which would then mean more hiring. Still, even with the momentum, many analysts expect the unemployment rate to stay at more than 9 percent through 2011.
Shoppers' changing habits have kept retailers guessing, particularly their habit of postponing their purchases to the last minute. According to the ISCS-Goldman Sachs survey of shoppers, consumers had completed on average only 32.6 percent of their holiday buying as of Sunday. That's behind the 42.2 percent at the same time in 2009 and 48.3 percent in 2008.
But that could be a silver lining. The survey also shows that shoppers, taking advantage of deals, bought a lot of items for themselves earlier in November. That suggests they might keep spending to purchase gifts.
"That could be extra business" for retailers, Niemira said.
Recent Headlines
---