Food and Fun... The perfect recipe
by
Brian Walker
|
December 3, 2010 8:00 PM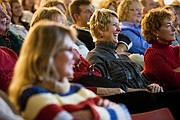 POST FALLS - Sue Niegel relishes good food.
The Spirit Lake woman and her husband, Ernie, savored sampling food from local eateries on Thursday night at the inaugural Relish Cooking Show and Expo hosted by The Press.
The couple then watched Relish Executive Chef Jon Ashton add spice on stage with his humor while whipping up tasty dishes at the Greyhound Park and Event Center.
"I think this is great," Niegel said while checking out the 50 vendors. "We need more events like this. It feels like a community event, which is nice. It's good to have a place for local companies to come to."
Niegel is a fan of Relish magazine that's distributed in local newspapers. It was launched in February 2006 and is the country's largest food magazine with about 60 million readers.
Jennifer Alexander, Coeur d'Alene Press sales manager and the event's organizer, said the show, attended by about 850 people, was so successful that it may be held here again next year.
"People shopped, drank, ate and laughed, and that's what it's all about," Alexander said. "We're thinking about giving it another shot earlier in the year next year."
Alexander said Ashton and his staff embraced the spirit of North Idaho.
"They said that this was the best produce (from Super 1 Foods) that they've seen all year; they thought the stage set-up was gorgeous; and it was the best VIP party," she said. "They want to come back to Coeur d'Alene next Christmas with their families because they've seen this is such an enchanted place."
Ashton, a "Today Show" regular and the food correspondent of the nationally syndicated morning show "The Daily Buzz" seen on more than 160 stations, is as much of an entertainer on stage as he is a master chef.
Thursday's show was his last of the year.
He mixed in dancing moves, British charm and humor while making fall green beans and tomato saute, roasted winter squash with cornbread stuffing and rosemary apricot pork tenderloin with the assistance of the audience.
"All I want you to do is open your heart, open your eyes and laugh going into the holidays with a bloody big smile," Ashton said.
Niegel, who works at Design Events in Coeur d'Alene, a business that decorates for a variety of events, also went to the show to pick up ideas to complement her workplace.
"Brides we decorate for are always looking for caterers," she said.
Her husband, Ernie, enjoyed the sampling.
"A lot of these places we've heard about, but we just haven't made it there," he said.
Vendor Rina Kelly, who owns Mixed Goods, a designer jewelry, purse and clothing store in Dalton Gardens, said the show worked well to promote her business.
"I love the atmosphere," Kelly said. "I'm totally going to do this again. It all fits in with family values."
Teresa Capone, who owns Capone's sports pub with her husband, Tom, said she attended the show because she wants to support efforts that are good for the area and food industry.
"It's cool what they've done and it's always good to hear other points of view (about cooking)," she said. "Bringing good food to the area is a great thing. And we're all big foodies around here."
Recent Headlines
---