A dash of holiday magic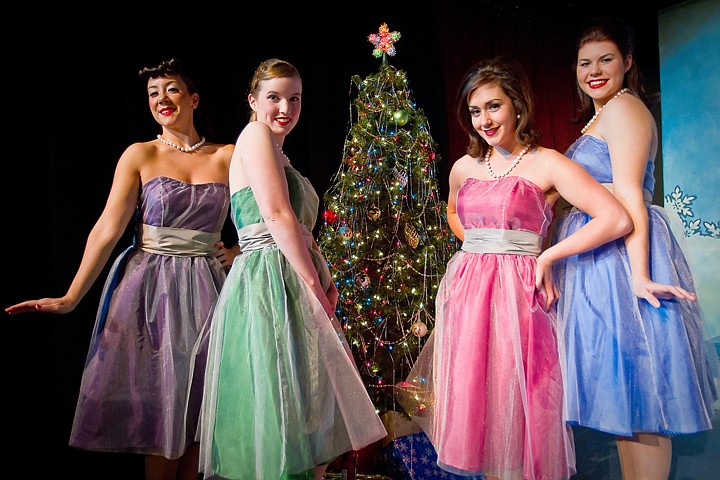 <p>Liberty Harris, left, Kate Johnson, Micah Hanson, and Gianinna Damiano will lead the cast in the Lake City Playhouse production of A Taffeta Christmas.</p>
by
BILL BULEY
Staff Writer
|
December 3, 2010 8:00 PM
COEUR d'ALENE - Pretty much, for 90 minutes or so of "A Taffeta Christmas," Liberty Harris, Kate Johnson, Gianinna Damiano and Micah Hanson will sing.
And dance.
In unison.
In colorful dresses and with those precision hairdos of the 1950s.
Doesn't sound easy.
"It's a lot harder than I thought it was going to be," Hanson said. "But it's been very rewarding."
In the months of rehearsals leading to tonight's opening night, the four have become like the sisters they play on the stage. They're ready to light up the holidays with some songs of Christmas - and more.
"I'm honored to be part of this," said Harris.
She said the choreography is intricate and was demanding to learn, as it requires stamina, control and focus. But when the curtain goes up, you wouldn't know it.
"We really hope when people come to see it, it looks easy to them," said Harris, of Post Falls.
"A Taffeta Christmas" is set in the 1950s at Dumont Television Network, which features four sisters, Kaye, Peggy, Cheryl and Donna on its weekly broadcast.
"It's Christmas in Muncie - and everyone is there. 'A Taffeta Christmas' is a classic hometown Christmas, the way it used to be," said a press release.
Andy Renfrew of Moscow is making his directorial debut with the high-energy, musical comedy. Songs like "Jingle Bell Rock" and "Jolly Old St. Nicholas" promise to have the audience singing along. "It's a great way to start the holidays and get in the Christmas spirit," he said.
"The girls are all amazing," he said.
He said Taffeta Christmas is a show for all ages. Children of today will like it for the colorful action and sweet sounds, and older folks will go for a trip down memory lane to their childhood.
Renfrew, pastry chef at Pastry and More in Coeur d'Alene, played the announcer when Taffeta Christmas was performed at the Playhouse last season.
"That one was a lot of fun. When I was asked to do the directing for this one, I totally jumped for it," he said.
He's is confident Taffeta Christmas will be a hit.
"I feel really good. I don't feel nervous whatsoever. It's all coming really naturally," he said.
George Green, Playhouse artistic director, said the combination of a holiday show that also offers a touch of sentiment, too, promises to attract an audience each night.
A band inside an 8-foot snowglobe, and even having it snow on stage, add to the holiday happiness.
"What's appealing about the show is it's a nostalgic show. We try to do at least one show that has a nostalgic feeling every year," he said.
Damiano, a senior at Coeur d'Alene High School, is ready for her first big role on stage.
"Everything is really fun. It's been really good to get to know everyone," she said.
Johnson, a senior at Coeur d'Alene Charter Academy, also said this is her first big role. At first, she found it intimidating to be on stage with three very good actresses and singers. But they have come to be friends who bring out the best in each other, she said.
"I get to be the best character ever. I just get to be stupid on stage and that is so much fun," she said, laughing.
Hanson, of Coeur d'Alene, likes the trip in time Taffeta Christmas promises, while delivering energizing performances.
She hopes the audience sings along with them.
"It nice to have something that can take you back, that all the generations can enjoy," she said.
Green described Taffeta Christmas as "darling. It's cute. It's got wonderful music."
"It's nonstop singing for an hour and a half," Green said.
If you go
"A Taffeta Christmas" is scheduled Dec. 3-5, 9-12, 16-19 at the Lake City Playhouse. All Thursday to Saturday curtain times are 7:30 p.m. Sunday matinees are 2 p.m. The Lake City Playhouse is at 1320 East Garden Avenue. Tickets are $19 for adults, $17 for students and veterans, $15 for seniors and $9 for children 12 and younger. Box office hours: Monday-Friday: noon to 4:30 p.m., or until curtain time on show nights. The box office is also open 2 hours prior to each Saturday and Sunday showtime. Information: 667-1323. Director, Andy Renfrew; musical director, piano, David Brewster; bass player, Riley Weiler; choreographer, Ali Waid.
Recent Headlines
---