Victims of foreclosure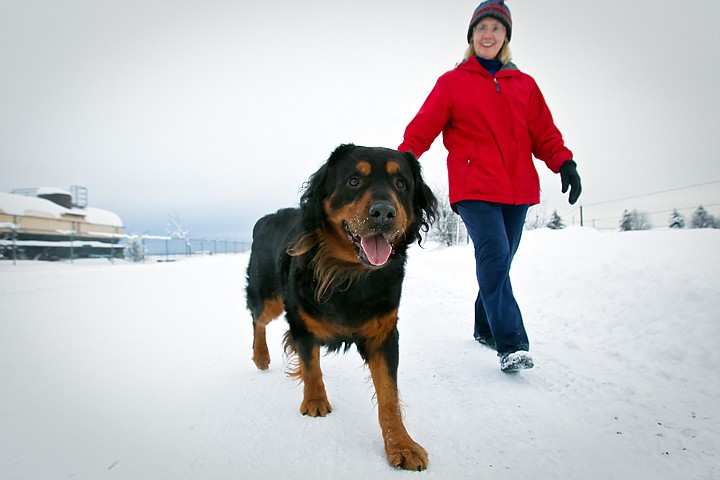 <p>Paula Dahlen, a volunteer with the Kootenai Humane Society, walks one of the shelter dogs Monday.</p>
by
Alecia Warren
|
December 2, 2010 8:00 PM
Kootenai Humane Society is full.
But not of strays. Not of abandoned litters, either.
These days, most of the fluffy critters in pens are beloved family pets relinquished during hard financial times, said Rondi Renaldo, KHS executive director.
"The sad part is people think we're full of dogs that are strays, but truly we're not," Renaldo said. "Most of our animals are surrendered and have been a lifelong friend to somebody who thinks they can't afford them anymore."
With 80 dogs and 120 cats currently at the shelter, Renaldo said many have been dropped off by families and individuals facing foreclosures. With folks transitioning into rental situations, animals are a burden.
The partings can be tearful, she said, the bonds between animal and owner tangible.
"We had a beautiful white dog that came in, a part Alaskan malamute. Gorgeous dog," she remembered. "My staff was wonderful, they turned to the owner and said, 'Do you want time with the animal before you go?' You could see this big huge burly guy was about to cry, and he said, 'No. Gotta go.'"
It doesn't have to be bad news for everyone.
Many of the animals surrendered from loving homes are in great shape, she said, and some are trained, making them all the more appealing for adoption.
Folks can also get a steal on some purebreds right now, Renaldo added.
For instance, a stately American bulldog was just given up by owners who couldn't afford him.
"We have beautiful dogs and cats that are just fantastic," she said.
Adoption has been down recently due to weather, she added. There is a waiting list of animals in foster care who will be transferred to KHS when others are adopted out.
"We really need people to adopt," she said.
Animals at the shelter Renaldo predicts will be most popular are small dogs like chihuahuas and a Shih Tzu. She expects some calico kittens to go fast.
The longest reigning guest right now is Sammy, a 4-year-old collie mix who has been at the shelter for nearly a year.
"He's such a cutie. He's so full of energy," she said.
KHS charges $85 to adopt a dog, and $65 to adopt a cat. Seniors are allowed to adopt one free pet a year per person.
Kristi Williams, animal safety officer with Post Falls Animal Safety, said her department has seen a rising trend of folks forced to give up pets they can't afford.
Animal Safety gets two to three calls a week from individuals in that situation, she said.
"It's the recession. People are losing their homes," she said, adding that she refers them to KHS.
There are other options for folks who can't afford their pets, Williams said, like giving them to friends or family for the time being, or locating a purebred rescue.
"There's a lot of options, if you know where to look," she said.
Renaldo said KHS also tries to help folks keep pets at home in struggling times.
The shelter provides free pet food for low-income households through its CLAWS program, she said, which relies on food donations.
Folks can donate food at KHS on Ramsey Road, or at KHS thrift stores at 916 N. Third St. in Coeur d'Alene and 1600 Seltice Way, Suite F, in Post Falls.
"We're desperately low on (donated) food right now," Renaldo said, adding that about 20 families rely on the free pet food. "If it's just a matter of finances as far as feeding the animals, let's help them out while they're struggling."
Recent Headlines
---