New nonprofit helps residents 'get stuff'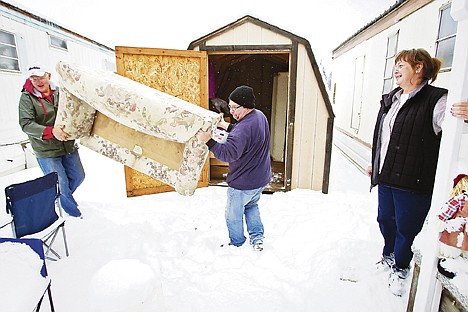 <p>Greg Truty, left, and Jack Barley take away a love seat Monday that Kaitlin Cuartas donated to the We Got Stuff program. Kaitlin utilized the program that helps provide recently housed homeless individuals and families with home furnishings.</p>
by
Tom Hasslinger
|
December 2, 2010 8:00 PM
COEUR d'ALENE - The comfort is in the details.
Dishes, glasses, kitchen towels, tea cups and rugs. It's the little things that make a house a home.
And sorting out the details when you've just found transitional housing after losing a job and a home can be daunting.
"I had nothing," said Kaitlin Cuartas, who recently furnished her mobile home in Hayden with the help of one of North Idaho's newest nonprofits, We've Got Stuff. "I never knew a church could help so much. Whatever I needed, it just came."
A comforting feeling after not having a place to live following her move to Kootenai County from Washington.
But with help from her church, Cuartas found a home.
And that home, with the help of Stuff, is furnished to the fullest; chairs, sofas, bookshelves and stacked kitchen cupboards - the hallmark of the nonprofit that started less than two years ago in the basement of New Life Community Church in Hayden.
"It's been amazing, it's just exploded," said Founder Molly Shirey, who began the program after a spur of the moment idea. "Everything we get finds a home."
Now, the nonprofit has outgrown its humble roots, and moved earlier this year to a warehouse in the Coeur d'Alene Industrial Park to store around $10,000 worth of inventory.
Little things, intricacies, tea pots, Elmo chairs - anything that turns four walls and a roof into the place where the heart is and the hat hangs.
Working on donations and through case managers of other service providers, it serves 40 clients a month. Not bad for a nonprofit that has only received one grant.
"We hope in 2011 people are more aware of us and take us more seriously," said Kathy Penley, who helped Shirey form Stuff.
Seeing the need for their service first hand has been an eye-opening experience for both of them, they said, and all the more reason to get word out on the new kid on the block.
"It snowballed and evolved and here we are," Penley said. "The need in the county is so significant."
Around 12 volunteers help sort, stack and make deliveries. The biggest surprise is the immense gratitude from clients for something so seemingly small.
"It's a feeling like they just won the lottery," said Jack Barley, who had his home in Hayden furnished by Stuff after he lost a home but located housing through St. Vincent de Paul.
Barley now volunteers for Stuff, and makes deliveries.
"I really, really enjoy it, to watch people appreciate the things they get," he said. "It's very rewarding. Just like me. I was very grateful."
Information: New Life Community Church 687-3606 ext. 920.
Recent Headlines
---