'That is our motto'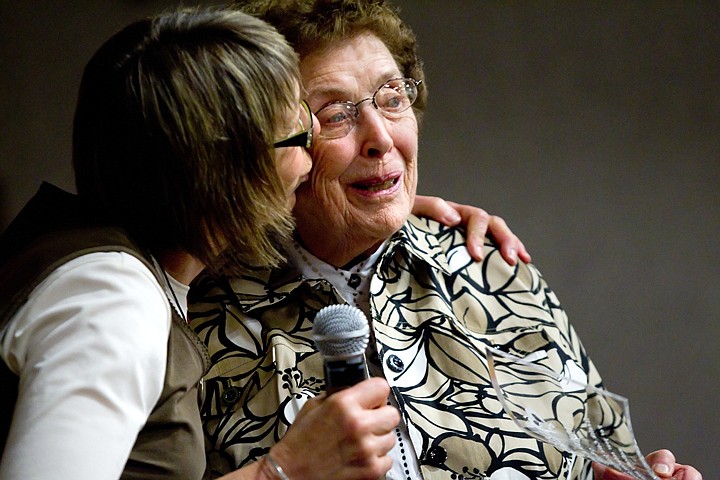 <p>Lidwina Dirne, founder of the Dirne Community Health Center, gets a kiss from Board President Karen Cotton Thursday after receiving the Healthcare from the Heart Award at St. Pius Church in Coeur d'Alene.</p>
by
Alecia Warren
|
April 30, 2010 9:00 PM
COEUR d'ALENE - It is a rare delight to trace the arc of something successful, to examine how a tenuous hope is willed, wrangled and wrestled into something both tangible and worthy of longevity.
Thursday night offered just that chance at a Dirne Health Centers awards ceremony, where volunteers and staff not only celebrated co-founder Lidwina Dirne, but also relived the odyssey of achieving the hard-won status of a community health center.
"Most of what we did in the old days we would never get by today - legally," said Sandy Mamola, co-founder and former executive director, speaking inside the St. Pius X Catholic Church. "But it needed to be done, and thank God we didn't know any better."
Mamola described how the idea of a health center for low-income citizens sparked at a lunch conversation between her, Dirne and friend Buzz Arndt in 1983.
"Lidwina was talking about a woman she knew who was quite ill and did not have a job or insurance," Mamola remembered. "Health care was not even in the equation for her. We decided at that time we would look into how we could secure health care for those who were in need."
It would be five years before they served a patient - five years filled with hundreds of meetings and enlisting do-gooders, of chasing insurance and donations, many of which came from Dirne's friends in her native country of Holland.
"People in Holland were providing health care for people in North Idaho," Mamola said with a chuckle.
They also spent many hours writing to every doctor in Kootenai County for help, Mamola remembered, only one of whom was willing to listen to their idea.
"Most of the other doctors we contacted told us, 'We don't need this in our town. We take care of the poor in our offices,'" she said. "To their credit, I think most of them did honestly believe this. But we knew better."
They found just that when the Dirne Clinic first opened at the Panhandle Health Center in 1988.
Longtime staff like Ginger Seaman were bittersweet in remembering the trials they survived in the early years.
Like a staff comprised of 100 percent volunteers, doctors included, all of whom served evenings after working at full-time jobs.
Staff sometimes remained until 11 p.m. treating the ill, Seaman said, and the line of patients always wrapped around the building to wait through oppressive heat and snowstorms alike.
"Think of registering 50 patients, doing everything by hand, not getting to have a computer, and serving 50 people in three hours," Seaman said. "And you're going to do that two nights a week."
Dr. Leanne Rousseau, who started as a volunteer physician and later became Dirne medical director, remembered working with no more medical supplies than tongue suppressors and stethoscopes, the few medications provided by Kootenai Medical Center.
Rousseau admitted her naivete at thinking the clinic could easily serve the growing need when it became a federally funded center in 2003, allowing an upgrade to a new office on Ironwood Drive.
The very first day at the new location, the staff was overwhelmed by the numbers that flocked to them for help.
"I remember Sandy opened the door, screamed and slammed it shut," Rousseau said with a laugh. "Then Ginger looked out the door and said, 'You, you, you and you, come on in. The rest of you go home and call back tomorrow.'"
The clinic still has a three-month waiting list, she added.
"We have made a dent, but there is still a huge need," she said.
Long before the center moved to its current location at 1800 Lincoln Drive, which provides counseling, dental and medical services, Dirne herself was a constant source of energy and ideas, Rousseau said.
"As a community health center, it seemed we were climbing one giant mountain at a time. It seemed we could never catch a plateau," Rousseau said. "No matter how discouraged we would get, Lidwina was always there as a visionary. She would look at all the bad news and say 'Yes, but it needs to be done.'"
Ann Smart, one of the clinic's first volunteers and a longtime friend of Dirne's, said the co-founder was a recruiting machine.
"You don't tell Lidwina 'no,'" Smart said with a laugh. "She recruited volunteers, physician's assistants, counselors, medical people. She fought tirelessly to get our insurance, which was not that easy to get at the time. She was always the constant driving force."
The Dirne staff made good on their praise by presenting Dirne, now 94 and still a board member of the nonprofit, with the center's first annual Healthcare from the Heart Award, recognizing her decades of commitment to the medically under-served.
Dirne was modest in her acceptance, speaking with a Dutch lilt as she accepted the award from board President Karen Cotton.
"I knew that when I met my friend who was sick, I felt I had to do something," Dirne remembered. "I always felt God called me to do this, and that's why still at 94 years old, I can still be involved, because I love people and I know that the need is great. I am very pleased this is the Healthcare for the Heart Award, because I feel that is our motto."
Recent Headlines
---