Spurs oust Mavericks in 6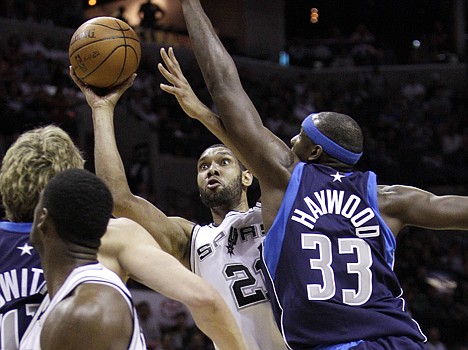 Spurs oust Mavericks in 6
The Spurs are moving on, and Dallas is done early again.
Manu Ginobili scored 26 points and San Antonio survived blowing a 22-point lead to beat the visiting Mavericks 97-87 in Game 6 on Thursday night, handing Dirk Nowitzki and second-seeded Dallas another first-round exit.
The Spurs got payback after the Mavs eliminated them a year ago, and will play at Phoenix in Game 1 of the Western Conference semifinals Monday.
"For us there was no tomorrow," Ginobili said after the Spurs finished off the Mavericks in front of a raucous home crowd and avoided going back to Dallas for a deciding Game 7.
Nowitzki nearly carried the Mavs to an unbelievable comeback, getting 25 of his 33 points in a remarkable second half. But the Mavs still stumbled to their third first-round exit in the last four years.
George Hill had 21 points for the Spurs.
"Going into the playoffs as a No. 2 seed, it is all we could have wanted," Nowitzki said. "We just happened to see a tough No. 7 seed that got rolling at the right time."
Said Mavs guard Jason Terry, "As of right now this season is a failure."
Suns 99, Trail Blazers 90: Jason Richardson scored 28 points, including five 3-pointers, and Phoenix advanced to the second round of the playoffs with a victory at Portland in Game 6.
The Suns went up 53-41 at halftime and led by as many as 16 points in the second half. The Blazers tied it at 76 midway through the fourth quarter, but could not pull ahead.
Martell Webster had 19 points for Portland.
Phoenix plays host to San Antonio on Monday in Game 1 of the Western Conference semifinals.
Recent Headlines
---