Rebates stimulate, but slowly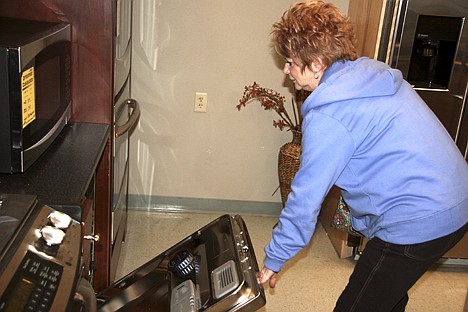 <p>Connie Hammell of Bayview checks out a new dishwasher after shopping for a new freezer Thursday at Fred's Appliance.</p>
by
Rick Thomas
|
April 30, 2010 9:00 PM
COEUR d'ALENE - A state rebate program designed to stimulate sales of energy-efficient appliances is working, but not as quickly as some expected.
Only about 30 percent of the $1.2 million allocated to the State Energy Efficiency Appliance Rebate Program has been spoken for since it became available on March 25, said Stacey Donohue, administering the Idaho Appliance Rebate Program for the Office of Energy Resources.
But that's right on track, she said.
"We designed it to be a slow burn, to be an ongoing stimulus for the economy," Donohue said.
Funded by the American Recovery and Reinvestment Act of 2009, better known as the stimulus package, the program provides rebates ranging from $25 to $300 for Energy Star clothes and dishwashers, refrigerators, water heaters, room air conditioners and a variety of heating systems purchased from Idaho dealers.
When it was announced, some believed buyers would need to act quickly to reserve their rebate. Prospective buyers of the qualifying equipment are required to sign up online at www.seearprewards.com/idaho or by calling (877) 223-6975 to reserve a tracking number, then make a purchase within three days.
Qualifying Energy Star products and their rebates are:
• Room air conditioners, $25
• Dishwashers, $50
• Clothes washers and refrigerators, $75
• Oil furnaces, $110
• Gas furnaces, $125
• Electric heat pump water heaters, gas storage water heaters, solar water heaters with electric or gas backup, $150
• Gas boilers, $200
• Air source heat pumps, including ductless, $250
• Oil boilers, $300
"The Idaho state rebates are considered a bonus now with federal tax credits and utility rebates still the driving force," said John Hoffman at RDI Heating and Cooling.
Even with the cumulative rebates, a home owner will spend at least $5,000 on a furnace and heat pump, he said.
"You're not going to convince somebody to buy a furnace they don't need," he said. But that is a short-sighted view, because the energy savings can be significant enough to pay for the system within a few years, he added. "I've never found rebates or incentives to be productive."
But shoppers who know their old appliances are near the end of their life are buying sooner rather than later, said Jeff Cushman, manager of Fred's Appliance in Coeur d'Alene. Some who come to the store are not aware of the program until they talk to a salesman.
"It is nice for the consumer to get an unexpected benefit," Cushman said.
Since appliances are generally seen as a needed item, they are often not replaced until they break down - which can be a while.
Connie Hammell of Bayview was at Fred's on Thursday looking at new freezers, and definitely plans to take advantage of the available incentives and energy savings of a new model.
"My freezer is 30 years old, and it's going out," she said. "I know my electric bill is going up."
Information on the state program is available online at http://www.energy.idaho.gov/stimulus/appliance_rebate.htm.
Recent Headlines
---